At least 52 people were killed and 98 wounded on Friday when two missiles hit a train station in the eastern Ukrainian city of Kramatorsk as the invasion reaches its 44th day, the governor of Ukraine's Donetsk area said. Pavlo Kyrylenko.
Located in that area, the station is used to evacuate civilians from areas bombed by Russian forces. Some 4,000 people, most of them elderly, women and children, were there when it was hit by Russian-made rockets, Mayor Oleksander Honcharenko said.
However, it is not clear what type of missile was fired, only that it was Russian-made. Ukrainian public figures claimed that it was an Iskander or a Tochka. Only Russia has access to Iskanders, military sources said.
Photos from the station in Kramatorsk showed the dead covered with tarpaulins, as well as the remains of a rocket that had the Russian phrase "For the children" painted on it. Around 4,000 civilians were in and around the station at the time of the attack. They had been asked to leave the area before fighting escalates in Donbas, Ukraine's prosecutor general's office said.
The UK's ambassador to Ukraine, Melinda Simmons, said it was "unspeakably brutal Russian depravity".
"The Russians knew that the Kramatorsk train station was full of civilians waiting to be evacuated. However, they attacked it killing at least 30 people and injuring at least 100," Ukrainian Foreign Minister Dmytro Kuleba tweeted. "This was a deliberate killing. We will bring all war criminals to justice."
Kyrylenko posted a photo online showing several bodies on the ground, along with piles of suitcases and other luggage. Next to them were armed policemen in bulletproof vests.
"The rashists [fascistas rusos] they knew very well where they were aiming and what they wanted: they wanted to spread panic and fear, they wanted to take as many civilians as possible," the minister wrote in a post online. He also added that his objective was to prevent civilians from being evacuated and said that the missiles carried cluster munitions. But so far there are no images of that assertion.
According to adviser to the Office of the President of Ukraine Oleksy Arestovych, the attack started from Russia and was preceded by a thorough reconnaissance. "It must be understood that such attacks are preceded by careful reconnaissance of targets," he said on Facebook.
The White House, for its part, denounced on Friday the "horrible and devastating images" of a deadly attack on a train station in Ukraine.
The United States will continue to support Ukraine against Russian aggression, White House spokeswoman Kate Bedingfield said in an interview with CNN.
Russia blames Ukraine
But Russia emphatically denied this. In response, Eduard Basurin, press secretary of the Donetsk People's Republic (DPR), the separatist-controlled pro-Russian state, claimed that the rocket attack was not carried out by Russian troops or pro-Russian forces, and that it actually constituted a " provocation of the Ukrainian army, the TASS agency reported.
"The Purpose Of The kyiv Regime's Attack On The Kramatorsk Railway Station Was To Stop The Mass Outflow Of Residents Of The City To Use Them As A 'Human Shield' And To Defend The Positions Of The Ukrainian Armed Forces, As In Many Other Centers population of Ukraine," the Russian Defense Ministry said in a statement.
DPR President Denis Pushilin, personally appointed by Russian President Vladimir Putin, even criticized the missile attack as a war crime, TASS reported.
According to the ministry, the missile used to attack the station is only used by the Ukrainian military and was the same type used by Ukraine on March 14, when they allegedly attacked a city in Donetsk, killing 17 people.
This type of missile is a Tochka, he stressed in an interview with the Russian television channel Channel One. And he specified that it was not used in Russia or in the attacks controlled by pro-Russian separatists.
Tochka missiles are tactical ballistic missiles from the Soviet era.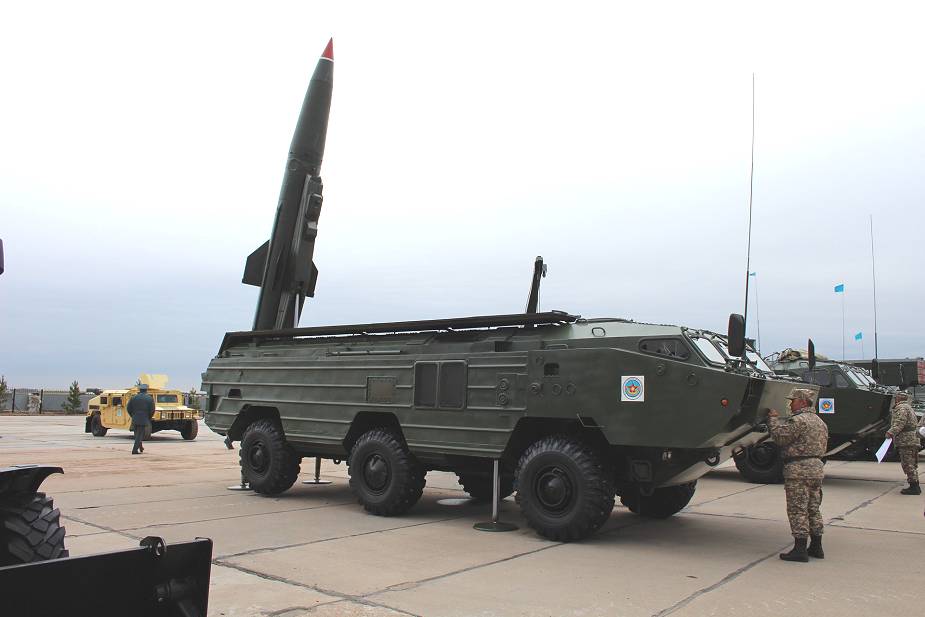 Russia has used Tochka missiles before, specifically during the South Ossetia war in 2008.
In addition, they have been widely employed by the Syrian military, which serves President Bashar Assad's Russia-aligned regime until at least 2018.
While Ukraine has used them in the current conflict with Russia, Russia is also believed to have used them at the beginning of the invasion to attack near a hospital in Donetsk. In fact, Amnesty International identified the Russian missile as a Tochka.
Russia denies having any more Tochka missiles and claims to have replaced them with Iskanders since 2019, according to TASS.