The Dominican Government is beginning a consultation process with the business sector to prepare a free trade agreement with Colombia.
Diario Libre confirmed that the business community was invited by the Government last week, through a written communication, to be consulted on the possibility of an agreement with Colombia and meet this week to discuss it. In fact, last Friday the Business Commission for International Negotiations (CENI) met.
The National Association of Young Entrepreneurs explains in one of its reports that the CENI "is a body whose objective is to follow up on private sector negotiations in international trade negotiations, as well as to ensure efficient implementation and administration of agreements and treaties resulting from them".
It points out that, in the context of the entry into force of the Free Trade Agreement with the United States and Central American countries (DR-CAFTA), the CENI designed a parallel structure to the National Council for the Implementation and Administration of International Trade Treaties.
On April 29, during an official visit by the president of Colombia, Ivan Duketo the Dominican Republic, he signed five agreements with his counterpart Luis Abinader, including on hydrocarbons and security, with the purpose of strengthening bilateral relations.
Duque's presidential term ends on August 7. During a meeting with Dominican businessmen when he was in the country, he expressed: "In these three months that we have left (in the Presidency)…, I would like to practically start, and hopefully in a great state of progress, an Agreement of Partial Scope with the Dominican Republic. I believe that we are at a point of maturation and at a point where negotiations are so easy, that I believe that, if we set ourselves to this task, in a period of no more than 70-80 days we can, suddenly, close it with the teams , because I believe that we do not have a great competition between products".
"We do not have the details of how it would be done (the consultation for an agreement with Colombia). Everything was very fast," a source from the business sector told Diario Libre, who preferred not to be identified, considering that it is the Government that should provide official information in this regard.
"We are experiencing a moment of great uncertainty on the global and regional stage, and really these types of decisions because they entail seeing a little with a cool head, what is the position that the Dominican Republic has and how could we do it," said the source. .
He added that "in any commercial agreement, it is necessary to be clear about the defensive and offensive interests of the country and seek some kind of balance, and, in the case of ColombiaSo you have to watch it very carefully."
When asked what he means by "very carefully", he replied that it is necessary to analyze how the country can support the existing sensitivities in the productive apparatus in the face of a greater opening with Colombia and, at the same time, what are the Dominican products with potential in the Colombian market that could benefit from an agreement.
balance in favor of the south
between the Dominican Republic and Colombia there is a trade balance in favor of the South American country. There are more imports from that country than Dominican exports.
While in 2021 Dominican exports to Colombia totaled about US$57,702 million, imports from the South American nation were US$589,564 million, according to data from the Trade Map platform, of the International Trade Center.
In the pre-pandemic 2019, exports were US$58,642 million and imports US$442,655 million.
"That is why consultations are made," the source told Diario Libre, "to identify if there is any interest, both in Dominican products that can go to Colombiaas well as those who would like to be imported or continue to be imported from Colombia; how they compete and how they affect national production".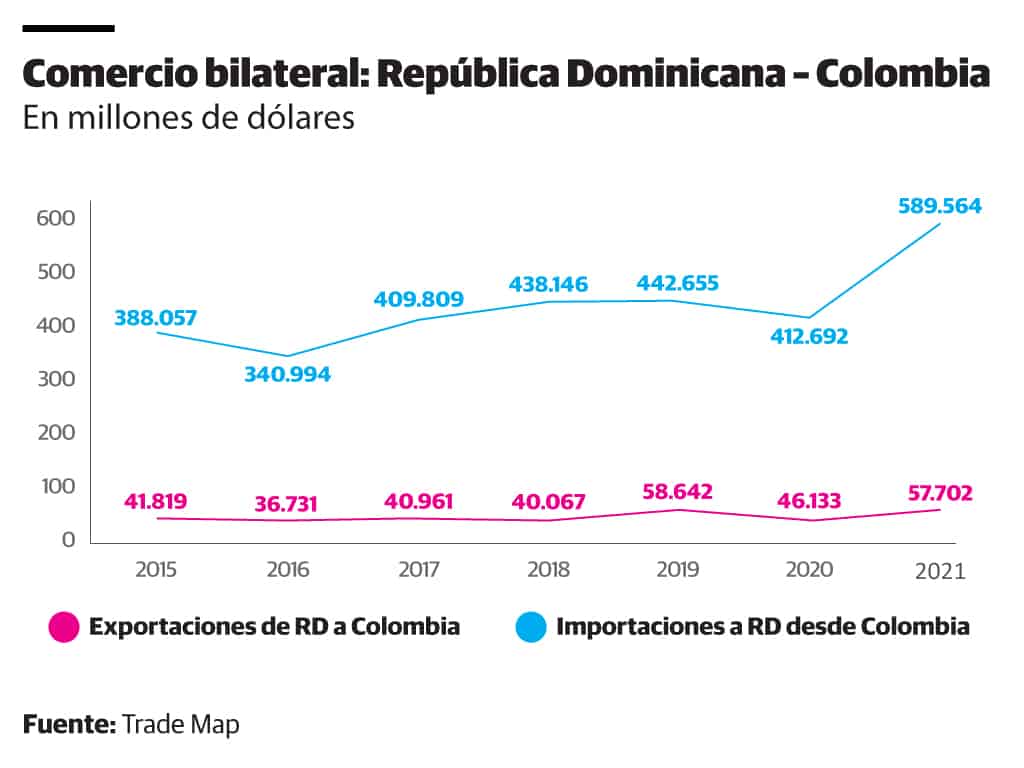 What is imported and exported?
Oil and its derivatives have preponderance
The Ministry of Industry, Commerce and Mipymes reports that the largest Dominican imports from Colombia correspond to Chapter 27 of the Harmonized System, that is, oil and its derivative products. Last year, the Dominican Republic imported US$192,907 million from Colombia under Chapter 27, which represented 32.7% of the total imported. In second place, the most imported products are from the "Plastic and its manufactures" group. Regarding exports to that market, the main products belong to the group "Essential oils and resinoids; perfumery, toilet or cosmetic preparations", followed by "Pharmaceutical products and "Beverages, alcoholic liquids and vinegar".