Residents of the Parque del Este residence where he lived Cynthia Estefany de la Paz Silverwho was arrested last Saturday for alleged illegal arms and ammunition trafficking, say they are shocked by the news.
For some of these it was a surprise to find out what the young woman was doing, since despite the fact that she had lived in the place for a short time, she showed herself with attitudes that did not attract attention.
However, one of the inhabitants of the I-2 building, Elpidio Abreu, commented that strange people and vehicles visited the place during the night hours, although he never imagined that it was a business of arms trafficking.
Mr. Abreu indicated that young Cynthia had been residing in house 4-B for about six months, and that she is the niece of the owner of the building. He added that the defendant lived with her relative's husband and a girl.
It may interest you
Another community member of the sector, Roberto Vizcainoassured that the news was a surprise for him, since the attitude that the young woman appeared was a calm girl, from her home and with good principles.
"That's why I say that sometimes appearances are deceiving, who would have imagined that this girl was involved in that type of situation, in that type of business", said the man, who has been residing in the area for more than 10 years.
Some of the community members who valued the raid carried out on the building commented that the authorities entered the house before 7:00 in the morning and that they took down all the weapons, boxes, clothes, technological devices and all the items that could be used to research purposes.
De la Paz Plata must serve three months in preventive detention at the Najayo Women's Correction and Rehabilitation Center.
While Kelvyn Peña Romero, who allegedly accompanied Cynthia during the raid, "does not figure in the focus of the investigation", for which an economic guarantee of 20 thousand pesos in cash and periodic presentation was imposed on him.
According to the head prosecutor of Santo Domingo Este, Miltiades Guzmanthe case was declared complex.
The accused was arrested by means of search and arrest warrant number 973-2022-EMES-05879.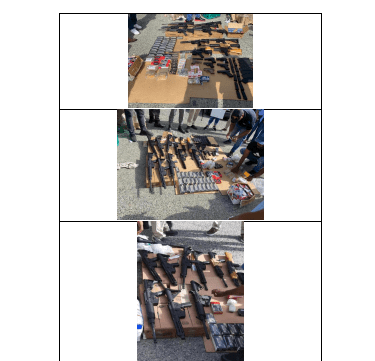 According to an official arrest warrant document, to which Free Journal had access, during the raid two magazines for 9-millimeter caliber pistols and four 22-millimeter capsules were seized.
Also, a capsule dispenser for a 9-millimeter charger, a plastic case with a capacity for 100 capsules, a capsule for a 5.56-millimeter rifle, a Gamoro brand scale, Platinum 600SS model.
They also seized a black scale, a Samsung cell phone, Galaxy Note 9 model, another Motorola brand, an iPhone, a man's wallet, a set of keys, including those of a Honda brand vehicle and a Reward brand watch.
Long weapons (11 rifles)
AM-15 rifle, caliber 5.56 millimeter

Ruger AR rifle, caliber 5.56 millimeter

Smith Wesson rifle caliber 5.56 millimeter, MIP-15

Springfield Armony Beneseo rifle, IL, caliber 5.56 millimeter

Springfield Armony Beneseo IL rifle, caliber 5.56 millimeter

AK-47 rifle, caliber 5.56 millimeter DB rifle, caliber 5.56 millimeter

Anderson rifle, caliber 5.56 millimeter

Springfield Armony Beneseo IL rifle, 5.56 mm

Smith & Wesson Springfield, MA rifle, caliber 5.56 millimeter

Colt Defense rifle Hartford, Conn, caliber 5.56 millimeter
Short arms (6 pistols)
Occupied evidence inside an air fryer
Glock 19 pistol, caliber 9 millimeter

Glock 40 pistol, caliber 40 millimeter

Glock 43X pistol, caliber 9 millimeter

Sigsawer pistol, caliber 9 millimeterSigsawer pistol, caliber 9 millimeter

Glock pistol, caliber 9 millimeter
According to the authorities, the accused belongs to a supposed network of Dominicans that was dedicated to the illegal trafficking of weapons and ammunition.
According to a press release from the General Directorate of Customs, the modality used by the members of this gang consisted of using the services offered by the delivery or mundane, to bring said contraband into the country from the United States.