The hurricane fiona has left a trail of havoc after passing through Puerto Rico. Not as intense as five years ago she left the hurricane mariabut similar, and power has not been restored for the most part.
Thus, more than a million people on the so-called Isla del Encanto and the neighboring Dominican Republic are waking up without electricity or running water since the start of the week, while crews of workers are busily working to repair critical utilities crippled by Fiona, now a Category 4 monster headed for Bermuda, cut off from the things from Florida.
The first major hurricane of the Atlantic season this year has killed at least five people throughout the Caribbean: one in Guadeloupe, two in Puerto Rico and two others in the Dominican Republic, the authorities of those countries confirmed to the chain. Cnn in Spanish.
"This was something incredible that we had never seen before," said Ramona Santana in Higüey, Dominican Republic. "We are on the streets with nothing, no food, no shoes, no clothes, just what you are wearing. We have nothing. We have God, and hope will come."
Now packing sustained winds of 130 miles per hour (209 km/h), the eye of Fiona will pass just west of Bermuda early Friday, the meteorologist at CNNRobert Shakkelford.
The island nation is under a hurricane warning and advisories have been issued to tourists to refrain from traveling there and the State Department has evacuated its staff.
"The National Hurricane Center is confident that Bermuda will experience tropical storm force winds," Shackelford said. "Once Fiona passes Bermuda, the storm is forecast to impact Nova Scotia in eastern Canada.
in Canada
In the Canadian province, residents should prepare for tropical storm or even hurricane-like conditions starting Friday night by securing outdoor items, trimming trees, charging cell phones and creating an emergency kit, he warned. Jason Mew, director of emergencies at the government office, quoted by the CNN.
The Canadian Hurricane Center issued a hurricane watch for Nova Scotia from Hubbards to Brule, Prince Edward Island, Isle-de-la-Madeleine, and the coast of Newfoundland from Parson's Pond to Port aux Basques.
A tropical storm watch was also issued for parts of Atlantic Canada, from west of Brule to Cap Madeleine, Quebec and Anticosti Island.
"Fiona is expected to impact Atlantic Canada and eastern Quebec with heavy rain and powerful hurricane-force winds beginning early Saturday," said Environment Canada, the Canadian national weather service.
ermine
Meanwhile, a developing storm about to be named Hermine could become a monstrous threat to the US Gulf Coast as soon as next week, forecast models now show.
In Puerto Rico, where Fiona caused torrential rains and an island-wide blackout when it made landfall on Sunday, more than 450,000 people lacked or had intermittent water service on Thursday, and 1 million homes and businesses were still without power, according to with the government emergency system.
For his part, in the Dominican Republic, where Fiona moved ashore on Monday morning, more than a million customers did not have running water and almost 350,000 homes and businesses were dark, as confirmed by Major General Juan Méndez García, director of the country's emergency operations center.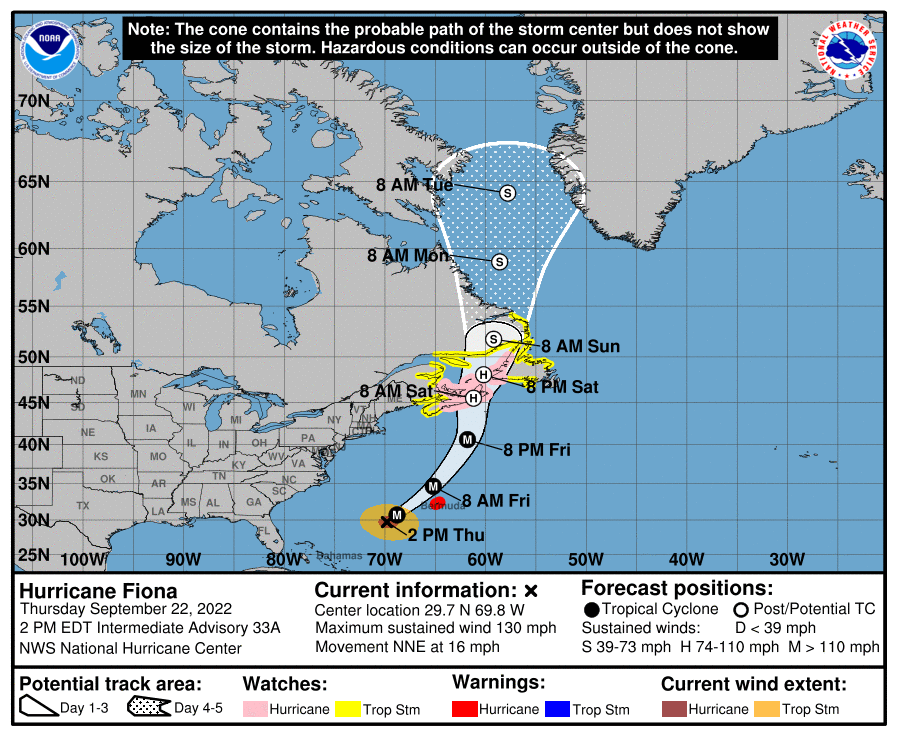 In addition, more than 600 houses were destroyed and some communities were cut off from aid, making it difficult for rescue forces to arrive.
Meanwhile, Puerto Rico was making modest progress on the aid front: President Joe Biden on Wednesday approved a major disaster declaration for the US territory, FEMA said. The measure allows residents to access grants for temporary housing and home repairs, as well as low-interest loans to cover uninsured property losses.
"This ensures that our people will have access to additional help from FEMA to recover from the damage caused by this event," Puerto Rico Governor Pedro Pierluisi said in a tweet.
But rescue teams have faced setbacks in restoring power.
Fiona hit Puerto Rico almost exactly five years after Hurricane Maria plunged the island into a prolonged blackout.