Every cinema has its self-referential touch. Beyond simply highlighting her style, the director finds a way to introduce a bit of himself/herself into her work. These brush strokes are sometimes visible to the viewer; on other occasions the intimate touch is imperceptible in a canvas that is made by several hands.
In non-fiction cinema, the objective and the emotional are mixed, taking care not to unbalance that balance that allows the viewer to recognize himself in a totally foreign story or in a personal story of the filmmaker, told from the affections to create a link between the public and the audience. projected work.
for the filmmaker Carla Valdes, beyond the genres, the important thing is the stories that he finds or has lived, events that he seeks to tell from a personal and intimate level, small stories that "generate larger echoes". This is what the young artist confessed to me, recently winner of one of the Film Academy Residencies in Spain with her project before the roadreleased later The Puredocumentary short film various joys has given the young filmmaker since its premiere.
"During 9 months —a time of gestation— the program of Film Academy Residences It gives us the opportunity to develop our feature film projects accompanied by widely recognized filmmakers in consultancy spaces, workshops, and in the exchange with other residents. Do this in the space of the film academy It is also a very valuable opportunity", Carla pointed out during our talk.
"I think that the spaces dedicated to development and writing are very important for us as professionals, and for the films that we want to make. I really appreciate having the opportunity to dedicate myself to writing, to thinking, to dreaming about the film I want to make. And the Residence gives us peace and a suitable space so that this time is very fruitful", adds the filmmaker.
before the road is one of the two winning projects by young filmmakers from the island, on which he comments: "The fact that two Cuban projects have been selected is a recognition, not only of our projects, but of the health of Cuban cinema, and of the Documentary film. It really gives pride and invites us to be more competitive, more active, more aware of the urgency of our stories. Our projects want to talk about the country, from our place as a generation and as creators; and they are listening to us."
In before the road you resume what you saw in the cigars. Why continue with this family story?
Since I was filming The Pure, editing and thinking about the short, I always wanted to do something else. It was something that happened, their meeting was going to happen, I took the camera and the sound equipment and with the help of a friend it was filmed. It was built on the fly not only the shooting, but also the edition, until reaching what exists now.
I was left with the desire to tell something else, in addition to the desire I had to get to know that world that is Minsk, Belarus, in the former Soviet Union, which was the time of my parents' youth, beyond what they tell me. and the photos they treasure.
before the road It's a bit of that, the desire to tell the story of my parents, travel to the past in their youth in Minsk and tell a little more than what is seen in The Pureunderstand my parents better, their relationship, my relationship with them, the contradictions we can find in the questions we ask ourselves.
That's it before the roada return journey of two generations to rediscover the past and confront the wishes of a younger generation that accompanies them, which would be me.
The theme of the family is recurrent in your work, a phenomenon that is also repeated in several of your contemporary filmmakers. What do you see in those everyday stories that drives you to document them?
The Pure and this project are films about my family. It's a very basic desire because who doesn't want to make a movie about their family; also because I feel that in that story I can find certainties about other things, where there are the generational debates of a group of people, a house, a country.
I feel that they do not stay strictly within the walls of the house we live in, but rather expand from identity and when one can understand those relationships, debates and conflicts that exist within one's own family, —the essence from which those stories—, it is possible to understand other things such as: where we can go as a country and who we are. They are very big questions, but if I don't ask them I don't live here today, hence that interest.
Sometimes when we talk about family or intimate stories, one might think that we are not talking about very big things, that something small is being named, but I feel that those little things that are there generate much larger echoes. Those echoes tell you about more universal and fundamental issues for human beings.
Finding that in everyday life is a tremendous interest for me, as well as being able to film it, document it and narrate it. I would like to work much more on that in the future, on that echo that these universal stories generate, I think that when we talk about the referential we talk about the "I", about oneself: about stories of my family and about how I also think, but the self-referential is in many places, in some films more present than in others, but it is always, in some way, in the cinema.
With this project I want to travel to the past from a present that is in constant debate and that questions that past of my parents. In this journey and dialogue, the search is towards a place, a common homeland that I would like to find in the film from the affections, that can empathize and make us feel from different places.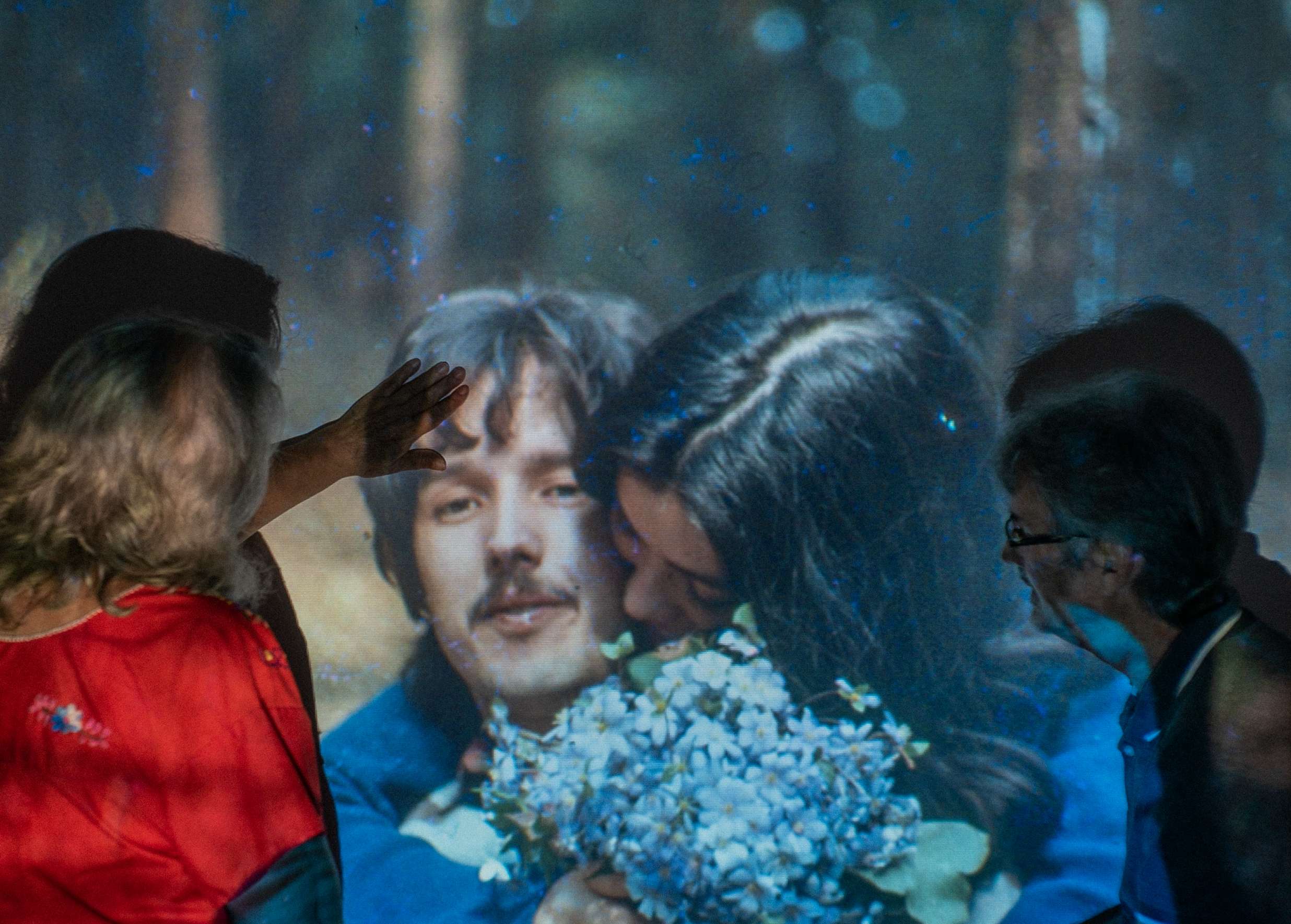 Cuban independent cinema is currently experiencing an excellent moment. How independent is your work?
Cuban independent cinema is experiencing a tremendous moment, it is something wonderful that makes you want to make films. There are many people making beautiful cinema with very interesting stories and that gives tremendous pride, even if they are not one's films; That's the beauty of independent cinema.
There is also a new door open to new ways of telling or recent stories to tell; a new generation that begins to tell facts from another place. It's nice to find that in the cinema of friends.
I want to think about it Independent from where my idea is born and where the story is born, in that sense, mine is as independent a cinema as it can be, it's how I feel. Of course, movies are not made just by thinking about them, but with a lot of will and resources, and the latter come from many places, but the main thing is will, a character of independence and irreverence that is not only in what I do, but also in those other stories that are having a beautiful moment, that is something that marks us all a little and also has to do with where we come from and what we want to do as filmmakers.
An issue to resolve is the exhibition and safeguarding of Cuban independent cinema in Cuba. How do these obstacles affect the filmmakers?
It remains to find a place, something to think about well, work on that, in safeguarding the cinema made in Cuba, not only the one that is made now, but also the one that has been made in the last 20 years, it is a delirium that I have with those movies.
Where are they going to stop? In which file will they be saved? Where are they going to be exhibited and who is in charge of that? Who will be in charge of remembering those images and turning them into future documents for cinema and for the country?
Those films keep in themselves the meaning, the feeling and the identity of Cuba in a time that has not been able to be registered by other people in the same way, I think there is a face and a word in the independent Cuban cinema of the last 20 years that it will not be in another place in the future and now it is time for the shelter for tomorrow. All those films that were screened, or not, those projects that were sent or not, ideas that were not finished and had a place in the Young Sample for two decades.
All those films that were part of the "Young Filmmakers Exhibition" are now scattered in some physical place and it is time to rescue them and group them in a new archive where they can be accessible and can be seen, programmed in samples, known beyond that file that right now can be behind a door in a closed room.
The "Exhibit…" was the space for that and it will always be that space dreamed of in many ways, but now that it is not present it is time to think about it. I think I am not alone and there are many who think like me, in that desire. Retrospectives and compilations have been made, there are albums scattered around Havana, Madrid, all over the world with salvos of films that we won't know if they will be there tomorrow.
About a month ago there was one Immense retrospective of Cuban independent cinema in documents 15 in Kassel and I think that the work of José (Luis Aparicio) in compiling all those films, programming them and safeguarding them later is invaluable. Knowing them, as well as their group, is very important, it is something that must be continued.
Now I am curating a sample to be exhibited soon in the Canary Islands, a retrospective of Cuban independent cinema of those years and of the most recent, there I also found a pleasure, in curating and compiling all that information.
The exhibition in Cuba continues to be our "Achilles' heel" and I hope that with the amount of recent production this can have another way out, in addition to the production generated from the Development Fund, the Creator's Registry and other also places that are not only the Icaic. Also that other exhibition spaces can be achieved, that do not depend even only on institutional theaters and that there can be movie theaters, walls of houses, cultural centers that are open to show Cuban cinema not directly linked to Icaic or television, or to the AHS, but one that is linked to the creators directly. Hopefully, the party for Cuban culture understands what that can mean.
before the road It was also the winner of one of the ICAIC Development Fund calls.
This is a space that allowed me to make a lot of progress in my project and that allows me to economically and productively make access to resources to write, develop, produce and post-produce viable, I even hope that it reaches the distribution stage, but so far I think it is an achievement and a longing for many years and it is working well in that sense.
Many things remain to be seen, but it is only the beginning, that will also depend on us, on the relationship with the institution and the general context of the country, which are several mediations that have never been easyhave been very complex and will not stop being so, but I will always defend the possibility of accessing resources and comforts to be able to tell our stories and bring the film to fruition.
Documentary or fiction? What catches you in one genre that you don't see in the other?
The stories and not the genres catch me. It is difficult for me to decide at this time, where the borders have been swept away a lot, and to be able to say which genre grabs me, rather the stories grab me, the desire to tell something, film, make a movie and if this one has more of a cut of documentary or fiction, that's something I can't deal with.
In the case of documentary cinema, it helps me to put myself in the place of the film, in relation to what I am narrating and that clarifies many things for me and helps me to better walk through the stories and better understand where to go, that is legitimate. and consistent, it also helps me feel good about myself.