Above karamberos, the most recent album of the band is ready and it is, from beginning to end, a surprise. During the press presentation, the musicologist Heidi gave us some clues about this EGREM production:
"Something that caught our attention the first time we heard about this proposal is the selection of the songs. They are well-known songs, in their original versions almost all were caciones, boleros, ballads, masterfully taken to the salsa genre by the hand of several very important arrangers of Cuban music. We believe that, indeed, the novelty lies in how Jorgito goes out of his comfort zone to take on such well-known themes in a genre that is practically new to him, so I think the most interesting thing goes there From this project".
But how did Jorge Luis Robaina come up with "daring"? He himself told us:
"The proposal for this album came into my life a few years ago, we took a long time to develop the product. It was a commissioned album. From a series of tours, from our presence in Colombian territory and in Venezuelan territory, well This proposal arises, which was precisely why don't you unfold and do this work? "
And Jorgito Karamba, as he has been baptized for almost two decades of music, assumed this phonogram with the most responsible audacity:
"I think that the title comes to underline a little the respect that I have for the genre, for Cuban dance music and obviously I say that this is a great daring on my part, to leave what has already been a brand for us. of distinction, a seal that properly identifies the arrangements, the way of saying musically of our group, of Karamba, throughout these 20 years.
"We accepted the challenge, we got into the studio, precisely with all these great arrangers and endearing musicians, multi-award-winning, who already have Cuban music under our belt, all young, with a lot of information and it was clear to me that I did not want to get involved in complicating myself Too much, otherwise I wanted to do salsa as it is usually done in Colombia: the songs from top to bottom, without many guides, respecting a little that way of saying musically about Colombian or Venezuelan salsa. The arrangers understood it in its dimension and they also looked for musicians sessions that have been on hundreds of records and it was a real luxury to learn with them, to be able to share in the studio, how they approach production ".
Sauce is here to stay? Take it easy karamberos:
"Obviously, we are not going to dedicate ourselves to salsa, absolutely. This has been an accepted challenge, an idea that caught me, that made me fall in love and, well, I was clear that it had to be done with the greatest possible decorum and with everything. the respect that the heritage of popular dance music deserves in Cuba. That has been our highest claim ".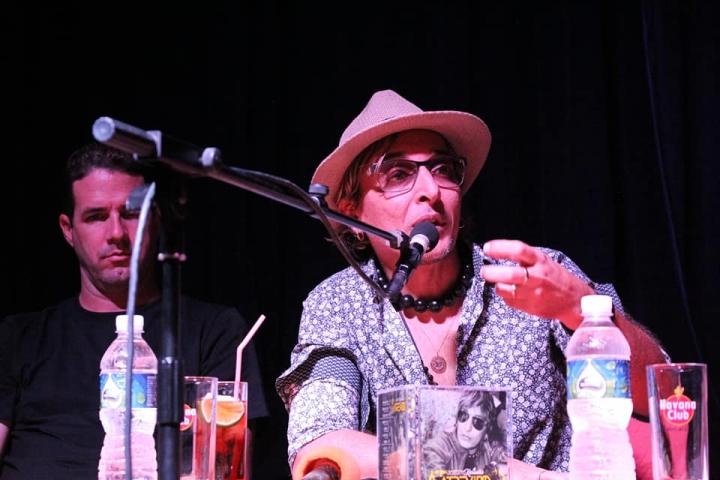 This is how Jorgito confessed it to us and since he was mentioning lines of desire, he also recognized that he has proposed with Daring "to touch that market of nostalgia, of songs that I listened to at home with a cassette, with a tape recorder and, well, songs with which we downloaded at family gatherings mainly, that is, while I was recording the album I felt like I was in a download at home with friends and with my family. Topics like What will become of you, Blame me … my mother She is still a staunch fan of José José, that is, I have that in my DNA, there were too many cassettes of José José in my house, Roberto Carlos, Braulio de Diango and that's where the information line that I have about it comes from and Well, I put it to the consideration of the people, who in the end is the one who has the last word, if they put it at home for a New Year's Eve party, then I am exceedingly happy. "
How did one of the members of Habana Alternativa manage to get into the voice of a salsero? That was also recalled by the leader of Karamba:
"When we started to really work on the production of the album, I began to listen to a lot of salseros that I had in my training as is the case of the group Niche, Frankie Ruiz, Jerry Rivera, a lot of albums that at some point were part of the soundtrack of the lives of many Cubans, who were also mine and looking for, well, how I could get out of that image of the most rogue pop rock interpreter and assume, let's say another way of addressing even the accents, the dynamics , the metrics themselves that bring the songs. It was listening and listening to all these records and assuming this to start the topic without complicating too much in the guides, as it is approached in the Cuban timba that carries much more aguaje and then staying calmer, more melodic. … "
Any favorite topic? I don't know, but at least he mentioned a few that he's particularly satisfied with:
"There are songs that I really like the result, such as For you I will marry by Eros Ramazoti, it is also the case of Where the love goes, which is one of the songs that I like the most on the album or When you go with me, from José José too ".
He thanked Juan Kemel's contribution in the choruses to "nuance them, take care of the melodic turns, so that I did not leave the original melodic line of the song" and highlighted the inclusion of some songs that were already hits by Karamba "as is the case of Vivir Life, I want to bring it more to Cuba, in a more sonorous way, I believe that the result is also there, for this I heard a lot from Isaac Delgado, who has been a reference for me.
"In the case of Dale, who has already assembled, which was also the theme with which we really broke into the Cuban market in 2002, I wanted to pay a modest tribute to the joys he brought us. That was the theme that made us Many artists will notice us, that many television and radio directors will notice us and listen to it now more complete, more mature, with metals, the truth is that for me it has been a real pleasure and I thank all the colleagues, to all the musicians. "
The romantic voice of Cuba, Waldo Mendoza, is one of the guests of an album in which the producers preferred not to include many collaborations, but when JOrgito said, this could not be absent: "Waldo is a beloved of my life, he is a A great friend who accompanies me in everything, we are both mutual energy and I said, I have to do it with Waldo. And there it is, we did a Bonus track of "The best of your life" by Julio Iglesias and another of "La vida remains the same ", also by Julio Iglesias."
On December 17 at the capital's cultural center on 31 and 2 and on the 18 at the Casa de la Música de Artemisa, Atrevido was presented to the public.
"While I was doing the program Un ratico con Jorgito en mi casa, in the middle of Covid, great exponents of dance music passed there, in the case of Maykel Blanco, Will Campa, Enrique Álvarez and Alain Pérez. Me, always after we finished the program I said: look at what you think of this and they said: Jorge, but he doesn't even look like your voice. I don't know what happened, I don't know if it was the microphone, but since these great colleagues compliment me too, well for me it is already an achievement in itself. I am very grateful to all those who supported me, "said Jorgito.
In the celebration of the first 20 years of Karamba, its founder and director declares himself "a full artist: I have a wonderful work team and I have also had the support of EGREM, for every madness that has occurred to me, for each project, I have had those two luck: EGREM- Musicuba and my work team, that obviously allows you to dream.
"I am an artist who gets up at 7 in the morning every day and goes to bed at 11 at night with the complaint of my wife, my children, my family, because, it is not that I am addicted to work , because if not I would have to be hospitalized, I am truly privileged, because I do what I like, music is not the way in which I look for life, but it is the meaning of my life and that It has made every dream come true, every idea that it reveals to me. I think I have many things to do as an organizer, as an event producer, I believe that what remains for me is that everything I am going to do I have to do better than before, that's my line, my brand now.