Keyla is the owner of Domitech, a computer and tablet repair and camera installation business.
Against any negative forecast that may have arisen, Keyla María López's microenterprise has exceeded expectations. And she has overcome them in a context that has been complicated, not only for the Dominican Republic, but for the rest of the world.
Keyla María, 38, created her company Domitech shortly before the world began to be hit by covid-19 and has managed -with effort and sacrifice- to overcome each of the obstacles that often arise along the way, especially in the path of those entrepreneurs who have begun to lay the first "stones" of a project.
It offers repair services for PC computers, laptops, tablets, camera installation and sale of accessories. Some of these devices are precisely in high demand in these times, when the country has experienced a peak in citizen insecurity.
what is sought

At the level of homeowners and commercial premises there is a need to protect these spaces from antisocials, and Keyla María has a part of that solution that is sought, specifically, because it has cameras, as she explains.
His business is located in Los Chalecitos, Los Guaricamos, Santo Domingo Norte. And he can be reached by phone/cell 809-701-4732. She is an entrepreneur who has known how to climb each step, without fear of falling.
It has worked for her and she is willing to grow much more, as she says, in a mid-morning conversation. She has taken a space from her work to talk about a topic that she is passionate about. And she doesn't hide it.
She has two children and is completing her studies in computer system engineering. Additionally, she works teaching at an institute where he started as a support repairing computers and installing networks.
"My business emerged in difficult times. I think this situation created a niche for me that I identified when I saw that everyone had to digitize their production and educational processes" he recalls.
ability to grow

Keyla María is among the statistics of those businesses that emerged precisely while others were in decline. It is a phenomenon that occurred while the health crisis was taking its course: Some companies went bankrupt, others faltered, and a good part – hand in hand with people willing to fight – was born, grew and is multiplying.
"There was a greater need for computers, laptops and tablets in good condition. At the same time, I solved problems in society by repairing equipment that allowed the population to stay productive and educated during the peak of the pandemic", he assures.
Keyla began to promote through social networks and through her WhatsApp account, which I have as a company account, and from there she offered to solve the problems of those who needed their computers in optimal conditions to work from home and the children to have an education. from distance".
Put to work a project without support and push someone the difficult. Fortunately, Keila had the umbrella of the Dominican Development Foundation (FDD), an organization that has come a long way in granting microcredits and in training and financial support in the country and strengthens its actions every day.
According to a numerical cut from the beginning of October 2019, the FDD managed almost 400 million pesos in its annual portfolio and by then it reached 20,000 microcredit clients in the DR
It has little more than half a century of history, a time in which the commitment of the Dominican business community has been made clear. The institution's average loan is less than 19,000 pesos. "When we talk about the Dominican Development Foundation we are talking about reducing poverty, reducing economic inequality, creating opportunities for those who are most vulnerable and allowing those who do not have access to the formal financial system to access credit" , the organization told the elCaribe newspaper.
In order to sustain her business idea, she remembers, Keyla determined that in addition to repairing the equipment that she has in her catalog, she had to include other services, such as the sale of laptops, accessories, and the sale of security cameras.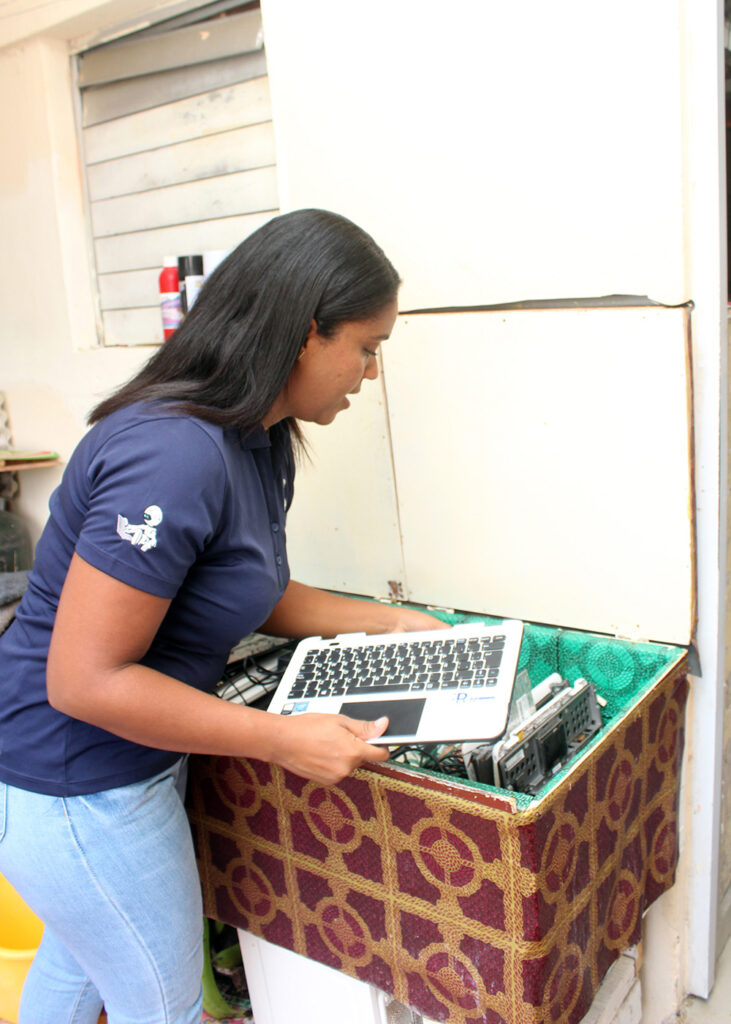 The ability to draw strength and continue
Keyla defines herself as a resilient woman who, in the midst of a situation that threatened her job, her family's livelihood and the stability she had in her home, managed to adapt well to adversity.
He is happy to own his own company, with which he has big plans such as registering it and locating in a place located on a busy street, where he can increase the inventory of items for sale, attract more customers and hire staff.
Among his achievements, he highlights that he covers the basic needs of his family. "We want to motivate with the example of Domitech, because the business arises to support the main clients who are the students of República Digital; they did not know how to solve many of the problems that were presented to them with the laptops that the Ministry of Education gave them during the pandemic. We arrived," he says.
The entrance "We emerged in a convulsive moment and here we go" was first published in The Caribbean Newspaper.