The entry into force of the Tax on Large Financial Transactions (IGTF) forced a large part of Venezuelans to increase payments in bolivars and thus avoid paying the 3% for the use of foreign currency
---
Oswaldo Ramírez, a Venezuelan who makes tables in Maracaibo (Zulia), paid for several silicone tubes in a hardware store with a 50-dollar bill. All that remained was to resolve a difference of 89 cents in his account, which he preferred to pay with bolívares. He ended up regretting it.
He took out his debit card from a Venezuelan bank and, when he was going to use it, he realized that the owners of the business charged him with a higher exchange rate than the official one: five bolivars instead of 4.8 for each dollar unit. He was furious.
No matter how small the difference, he complains because little by little, he says, his family budget is diminishing each month between markets, kiosks, drug stores and other businesses in his community, in Milagro Norte.
«They allege that they buy their merchandise above the official rate. All our money goes on food. There is no vacation to enjoy, or anything », she tells the voice of americafrustrated by the effects of inflation and speculation in a nation whose government insists on reviving its legal tender.
* Read: Maduro lies when he states that the tax on the dollar "will only charge those who have the most"
IGTF
President Nicolás Maduro authorized the entry into force at the end of March of a new tax on any payment with dollars in Venezuela. Official spokesmen and economists explained that the measure seeks to increase tax collection and stimulate the use of the bolívar, which is in decline.
For citizens like Ramírez, however, this tribute is one of the many obstacles that still make them prefer dollars over bolívares.
"It is difficult for us to have bolivars. My clients pay me with dollars, almost always. We have more cash in dollars than in bolivars », he explains, noting the bank limits for withdrawals in Venezuelan currency.
Increase in transactions in bolivars
The Superintendency of Banking Sector Institutions (Sudeban) reported in April, a month after the implementation of the new tax, that payments in bolivars through electronic systems increased "exponentially."
According to the Maduro government, the increase in the use of bolivars for biopayments, cards and immediate transfers was 22% throughout the country.
"In compliance with the Tax Law on Large Financial Transactions in foreign currency, Sudeban strengthens the use of the digital bolivar through the various means of payment towards 100% of the digital economy," he said.
Maduro has denounced that the United States uses the dollar "to twist the arms" of Venezuela's banking systems. His vice president, Delcy Rodríguez, assured last December that dollarizing the Venezuelan economy would be "a historic error" and defended the continuity of the bolivar as currency.
The private firm Ecoanalítica registered a slight decrease in foreign currency payments from 60% to 58.2%. The opposition Venezuelan Finance Observatory also admitted a 3.7% increase in the use of the bolivar in commercial transactions in April. Ramírez, meanwhile, says he feels trapped.
"If I sell my dollar at the official rate, when I go to make the transfer to pay in bolivars, they charge me three points above the rate," he laments.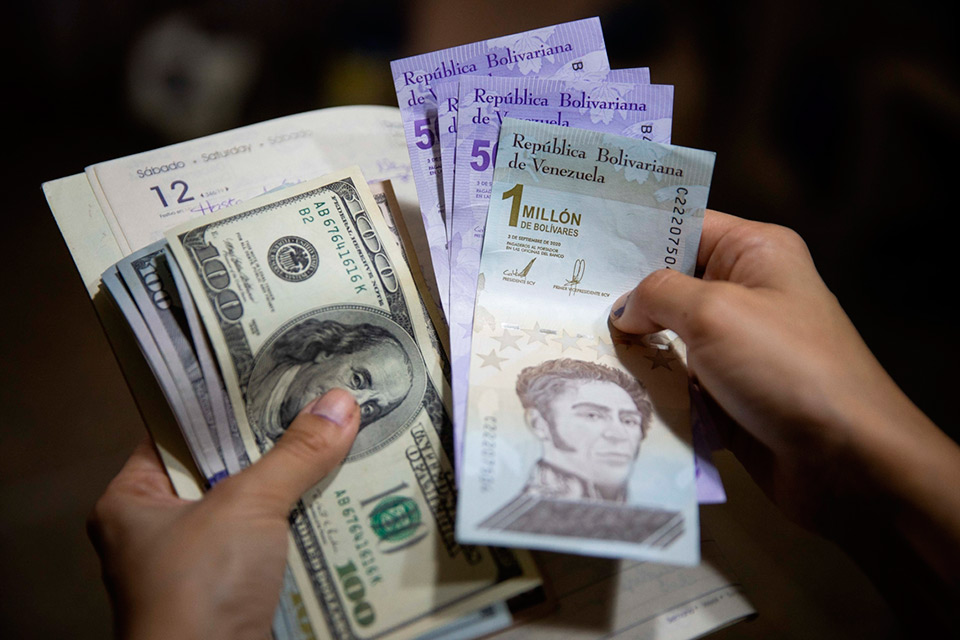 Bolivars in fashion?
There are economists who partly agree with the official version that the bolívar is back in fashion among users and merchants in the country. Aldo Contreras, a specialist in international economic relations, highlights that the government increased monetary liquidity by 34% since March.
"Venezuela had 5,600 million bolívares and now it has 7,100 million, according to figures from the Central Bank," he details in an interview with the Voice of America.
Contreras calculates that the country has "de-dollarized" by only 10% in the last 45 days. Total dollarization, he says, fell from 85 to 75% of transactions.
"Exponential would not be the correct term to describe the increase in the use of the bolivar in Venezuela," he considers. Henkel García, analyst and instructor in Finance at the firm Econometrica, for his part, believes that there is an increase in the use of the bolivar, although only through "threat and coercion" strategies.
"I doubt it is exponential, but surely there has been an increase. The amount of bolivars in Venezuela has increased », he tells the VOA. "A year ago, we had (circulating) 360 million dollars and today 1,500 million dollars. The bolivar has gained space in that monetary mass », he concludes.
"some fear"
This increase is sometimes born of the fear of losing money, that it will not yield enough, as the Econometric spokesperson suggests. The cashier of a clinical laboratory in eastern Caracas recounted how her clients have "a certain fear" that their rates will increase if they are going to pay with dollars, due to the new 3% tax.
Most pay with dollars, do not have bolivars on hand, and say they have no choice but to settle their bills with US currency. A patient decided to pay more than 100 dollars for her exams, tax included, because she preferred to reserve the few bolivars she had in her account for minor transactions.
Jesus
, the manager of a home delivery pizzeria in Maracaibo who asked not to be identified, warns that bolívares seemed to be scarce in the two weeks following the tax on foreign exchange transactions. They all preferred to pay with foreign currencies. [de su uso]A few days ago, the Venezuelan currency did rebound in his business accounts, however. "This weekend there was an increase . Customers paid much more with bolivars", he specifies to thevoice of america
.
No tax machines
In addition, there are merchants who are not prepared to collect the 3% tax from those who pay them with dollars. In Maracaibo, for example, the Chamber of Commerce reported that "more than 70%" of its affiliates do not have the necessary tax machines to collect this tax on foreign exchange transactions.

For citizens like that client of the Caracas laboratory, it is "tedious" to pay with two coins due to lack of change from the merchant, even more so if they are careful not to overpay or if they try to avoid a tax. "Not everywhere they are charging it. I was surprised that here yes », he expressed.
Post Views:
481

Source link