The price index of the main agricultural products last August, such as bell peppers, garlic, red onions, green bananas and bananas, stood at 96.3 points, equivalent to a monthly expansion of 1.2%, positioning itself above the level registered in 2021.
The report is given by Ministry of Economy in its monthly report on agricultural prices, in which it highlights that prices in 2022 show an upward trend, with an accumulated growth rate of 21.7%.
The document publishes that the price index of the main livestock products (smoked chops, eggs, chicken and beef) stood at 133.3 points in August 2022, equivalent to a monthly contraction of 0.6%.
For 2022, the result of the livestock price index is higher than that registered in 2020 and 2021, showing an upward trend with an accumulated growth rate of 11.0%, specifies Economy.
From a list of 43 agricultural items analyzed in the report, 46.5% registered drops in their prices compared to the previous month. In August, the average reduction in agricultural prices was 3.1%.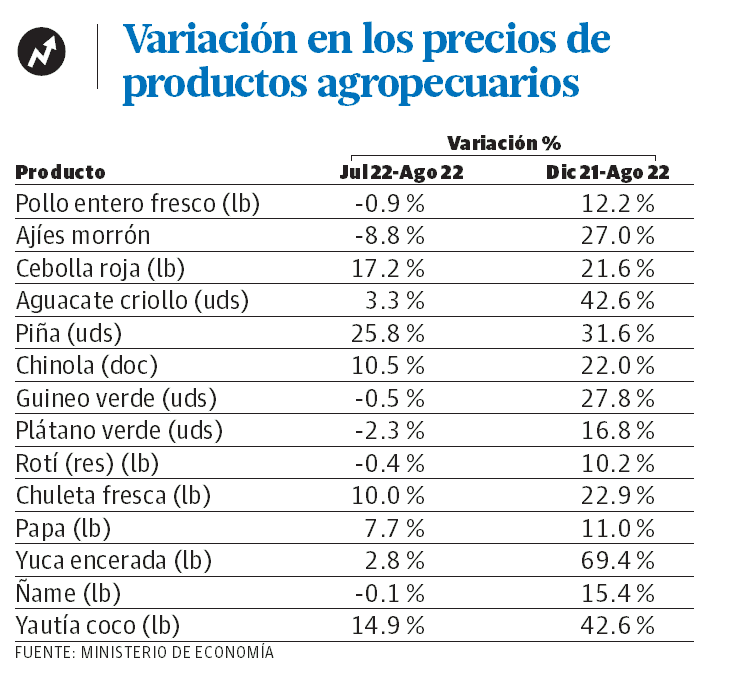 The item that presented the highest price increase was pineapple, with 25.8%. In addition to this, it registered an accumulated increase of 31.6%, reports Economy. This behavior is mainly explained by a seasonal factor.
The estimated consumption of pineapple in the Dominican Republic is 9,621,371 quintals and the intake per day is 0.25 pounds per capita.
The country does not import pineapple, supplying local production for consumption. The sector has a participation of 101.6% in the national production.
The lemon keeps going down
The Persian lemon was the product that presented the greatest decrease in its prices for the fourth consecutive month, with 19.9% ​​compared to the previous month. In addition, it presented an accumulated reduction of 32.0%, reports Economy.
The category of livestock products, which includes the different cuts of beef and pork, registered a price reduction in five of its seven items. In the musaceae, plantain and green banana had a reduction in their prices with an inter-monthly variation of 2.3% and 0.5%, respectively. In contrast to this, they show a cumulative increase of 16.8% and 27.8%, respectively.
Difference by type of business
During August, the average prices of some of the main agricultural products in retail markets and supermarkets show significant differences, highlights the Ministry of Economy.
"Specifically, Creole avocados, potatoes and pinto beans, which present differences in their prices with respect to the markets that amount to 72.3%, 35.5% and 24.8%, respectively. Smaller gaps are observed in the other products. In the case of green bananas, they have a higher price in markets than in supermarkets", details the report.