Visual poetry experiments on various levels with the relationships between words and images and founds its results in a unique context.
NN Arganaz
A few months ago I read a suggestive interview entitled "Poetry is a very effective means of knowledge", whose arguments excellently validated this opinion. Taking advantage of this true budget and adding the visual universe that today bombards our daily and professional life, the result will not be less provocative and encouraging, that is, visual poetry is also an effective means of communication. In the communion of poetry and image (as old as human existence itself) is a powerful vehicle for dialogue between people. In Cuba this experimental work has been very little developed. At present —and up to now— we only find the award-winning writer of Dirty Havana Trilogy, Fabian and chaos Y Dialogues with my shadowjust to mention some of his well-known narrative books, as a sustained practitioner of said expression.
Pedro Juan Gutiérrez (Matanzas, 1950) Cuban novelist, short story writer and poet, also gives us his fascination with the visual arts, especially with the gestation of his personal visual poetry, through the technique of collage. Whoever has read his novels, short stories or collections of poems will not be surprised that his talent is also deployed in this area of ​​artistic creation. His literature is reflective, dynamic, erotic and provocative and visual poetry is also about that: to stimulate, to seduce the imagination through images, words and phrases that give body to the internal universe that the artist exposes. So, both his entire writing and his visual creation are communicating vessels of the same expressive system.
Since childhood he always liked to read comics and I understand that this was the embryo for as an adult, make visual poetry. Tell me about it.
I think so, that comics are the basis of my work and there are some communicating vessels between comics, visual poetry, my narrative (whether novels or stories), in short, it is my way of thinking, of expressing my obsessions, my nightmares, which are channeled through the comics. The comic has quick and short dialogues, it has a lot of action and I think that this is present in all my narrative work and even in my poetry.
My most comprehensive poetry is based on these principles: from minimalism, from fast dialogues, from action and also from letting the reader put in fifty percent of the work, they have to make an effort to understand what is between the lines. I think that the origin of all that is in the comic, definitely. Later it was very important to work in a news agency, in a cable agency (The National Information Agency) that also gave me tremendous training in handling the language, in short, there were many things, but I think that comics are the base of everything, it is my starting point for creativity.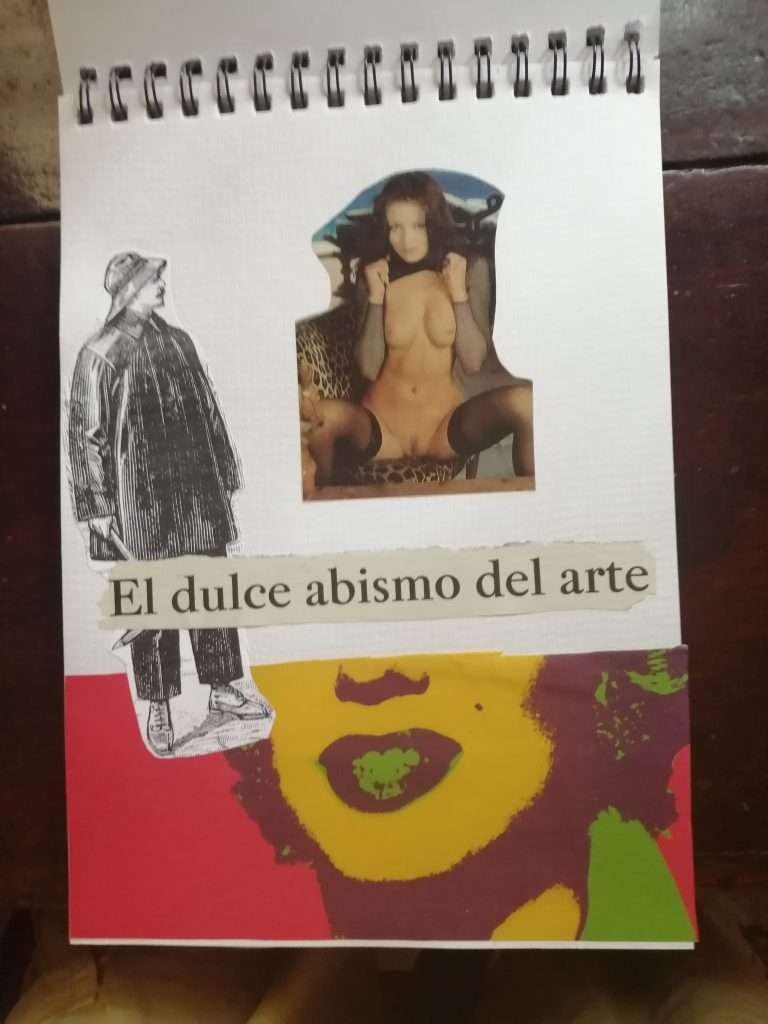 What did his first book of visual poetry mean for Pedro Juan Gutiérrez, The Roaring Reality?
The Roaring Reality, it was very nice because I was doing poetry to entertain myself and I had no major pretensions, it was to spread a little my poems that I had been writing for years when it was very difficult to publish. Poetry is very difficult to publish and I began to write on sheets of normal paper and put some figures on it and my wife photocopied them at her work and I gave those sheets to my friends, I sent them by mail to others and that's how it all started, Like a game. And, ultimately, that is life: don´t compete, play (don't compete, play). That's my motto in life, don't compete, it's not worth wearing yourself out competing, you have to play, play every day. 24 hours a day I am playing without much desire for transcendence, far from it.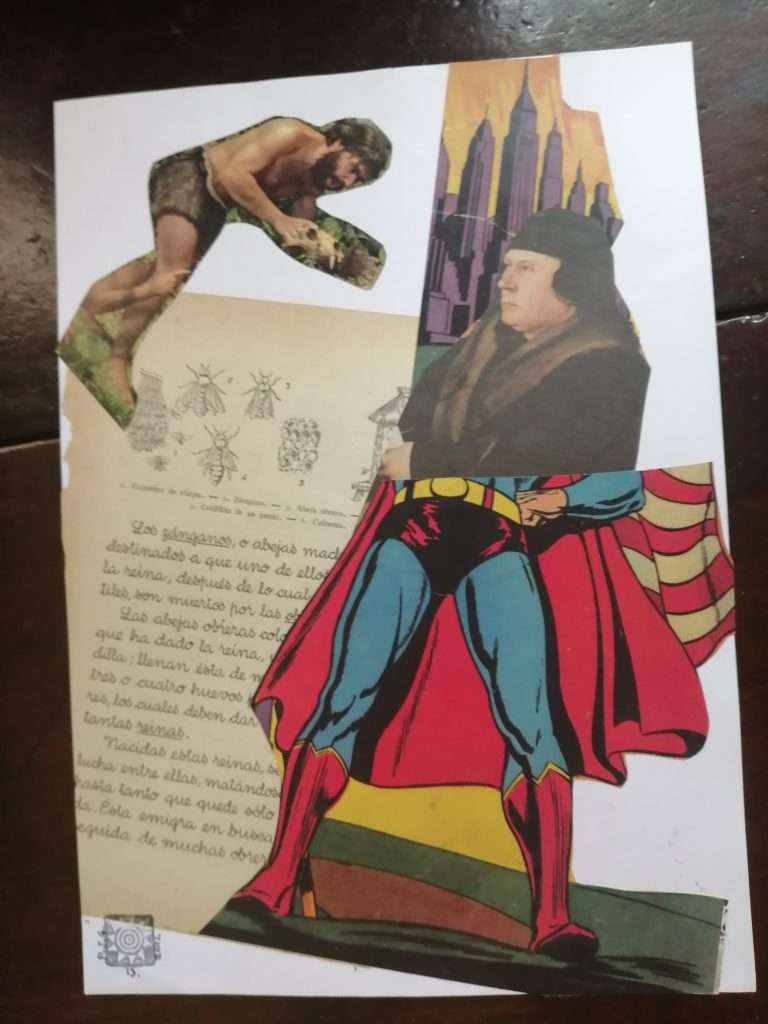 The Roaring Reality It came about after he had already done three personal exhibitions of visual poetry in Pinar del Río, Havana and Matanzas. In Provincial Culture of Pinar del Río they told me that they had a budget with a printing press to make a book. I quickly designed the book, seized the opportunity and an edition of 500 copies was made. I have a few left and I have seen on the internet that they sell them very expensive. There are people who have them on sale, from time to time there is an offer of The Roaring Reality and I don't know how much they ask, it's an exaggeration. But it was that, it was another step in my visual poetry. And everything, I repeat, has been unexpected. I am a member of the UNEAC (Union of Writers and Artists of Cuba) thanks to visual poetry because the evaluation commission, in the year 1982-83, liked visual poetry, not my verbal poetry, the normal one they were interested.
I found out later that visual poetry was what made me enter the UNEAC and then they began to invite me to Biennials of Visual Poetry in Mexico, where I have been many times, to Sao Paulo I have also gone several times (to Biennials of Visual Poetry and Experimental), to Spain, to Italy, to Genoa, well… I don't know how many places and it has been very comforting. For me it's a game, but when I get to a place like that and they call me "the avant-garde artist", it's a very unexpected thing for me, that they give me those treatments, when I'm just playing, nothing serious, I think.
Is visual poetry an extension of its narrative or vice versa?
Yes, there are communicating vessels as I was saying before, I think there are definitely communicating vessels between visual poetry and everything else that I do and I think I explained it to you before in the first answer. There are communicating vessels because, ultimately, one has his obsessions, his own nightmares, his own fears, fears, longings, desires, all of this forms my personality and what I do is express it in different ways: through poetry, through of a story, of a normal written poem, of whatever, to express everything that you have inside.
What does your Infinitesimal Manifesto or infinite universal code consist of?
Actually, that was a Spanish group and very circumstantial. That didn't have much significance, or any greater importance and I was with that group for a couple of years, I don't know, but in reality today I distance myself from all the clubs, lodges and groups and manifestos, that doesn't interest me. I don't know if I'll be a little antisocial or that's just my character, I prefer solitude and not be with that group and nonsense that, if you have to do this, the other and there putting rules and putting concepts. I repeat, as I said before, what it is about is playing.
Visual poetry is, especially for me, a tremendous game and perhaps narrative is not, because to write a novel, a story is something very serious. You have to think a lot and analyze a lot and think about it a lot and have patience and come back and give it a go. But visual poetry is very spontaneous, well, in general all poetry for me is very spontaneous. Also verbal poetry, normal, is very, very spontaneous. It comes out or it doesn't come out, sometimes I spend months and months and I don't write a single poem, nor do I remember that poetry exists. One day I need to let go of something I have inside and I write a poem and the next day too, and when you come to see I'm making visual poetry again, with all the old magazines and glue and scissors and everything around me. I spend my life looking for materials for visual poetry. Wherever I go I collect materials, magazines, images, things to work on later at home.
Have your displays of visual poetry had critical repercussions?
In Cuba, practically nothing. It recently came out in bearded alligator something. Rafael Grillo reproduced about six or seven of my visual poems and used a text about transgression and I don't know what else. But, in general, there is very little published about my visual poetry in Cuba.
The first visual poets aware of what they were doing, Cubans, were Samuel Feijóo and Fayad Jamís, I think, I don't know, that I am the third one who works visual poetry knowing what I am doing. Visual poetry comes from the oldest cultures, from the origins of writing and it is nothing new, but you have to have a theorization and know what you are doing to be able to insert yourself into that current. Sometimes I also work on my painting, which is mostly acrylic, I don't like oil, and I really like canvas and acrylic. Sometimes I also write and mix the two things, the image itself and the writing as well. I have many paintings done in acrylic on canvas and it works like that. I feel very comfortable mixing the two. Is that writing is a vice, one spends the whole day writing like crazy, everything. The day I don't write poetry I have a diary to write. There I am writing all my conclusions of each day, the meditations, the daily reflections.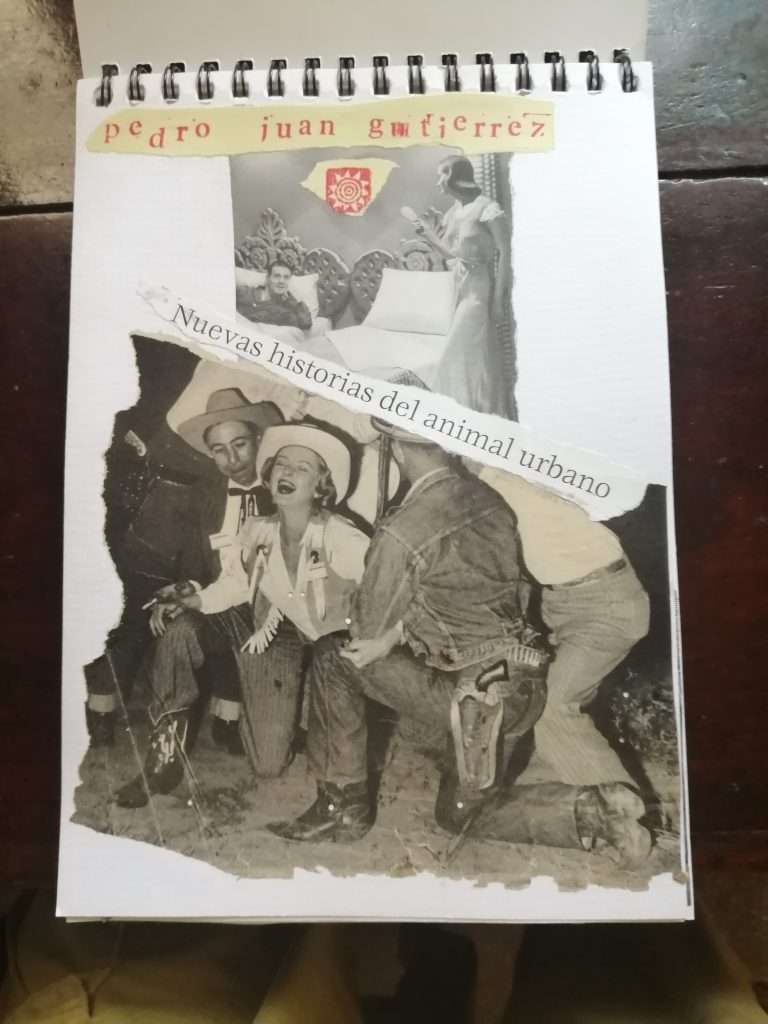 What projects do you have in mind or are close to consolidating on visual poetry?
Rafael Acosta and Omar Valiño have been asking me for more than a year to do a personal exhibition of visual poetry there at the National Library and the truth is, I'm a bit lazy, lazy and nothing, I'm always looking for an excuse not to do it, not because nothing, but because you know, I'm very lazy when it comes to producing an exhibition, all that stuff about having to look for the frames, make the catalogue, all of that makes me sick.
What I like is working on poetry, but well, if I find someone, a producer who takes care of all that material part, well, I think so, at the National Library we will do a personal exhibition. Until now, in Cuba, I have done exhibitions, the one I was telling you about in the art gallery of Pinar del Río, Matanzas and in Havana and a few years ago in the Spanish embassy and also in a hostel in Old Havana and I don't remember If anything else, I think not.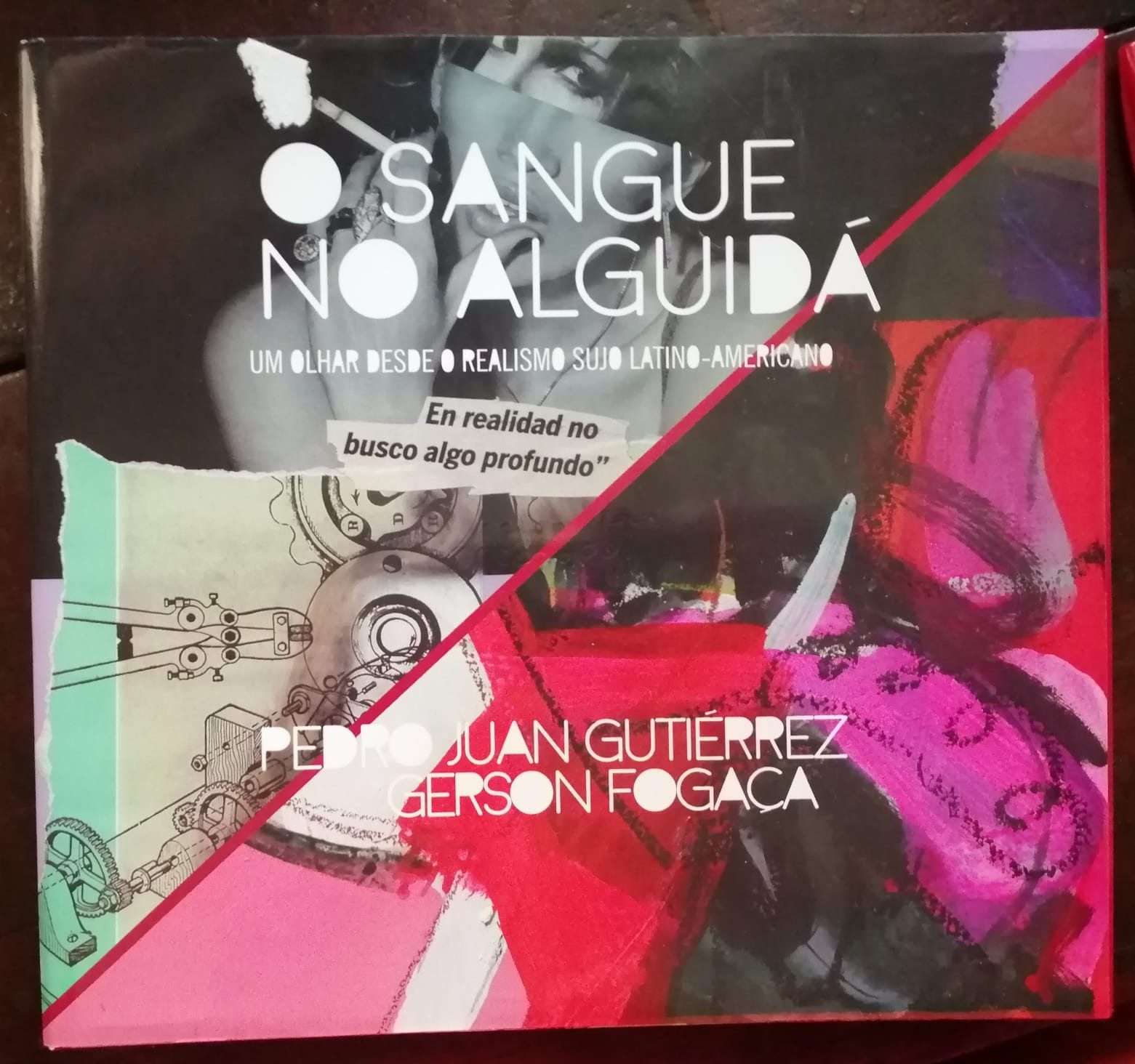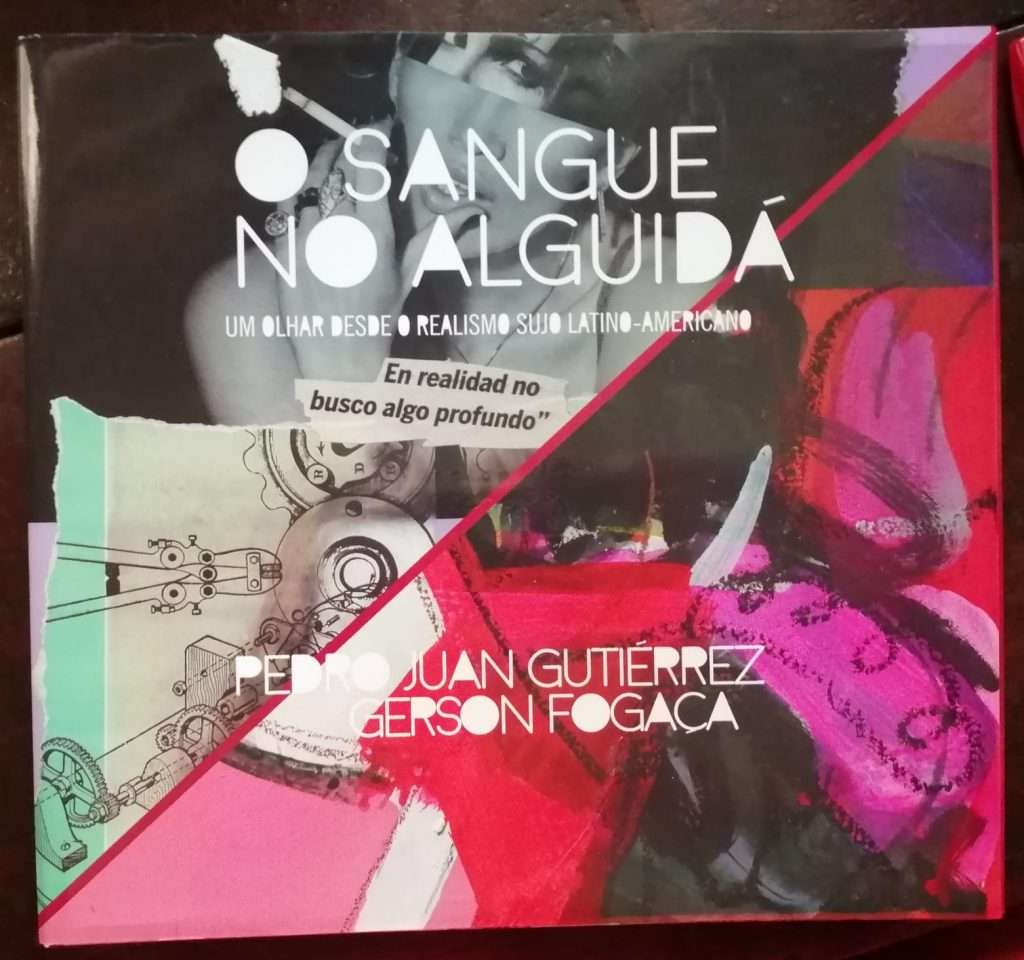 However, outside I have had much more activity and the last exhibition was with Gerson Fogaça, a Brazilian painter, from Brasilia. He painted twenty-four pictures about my work, dirty trilogy…and I made twenty-four visual poems. They were very large, a very good thing. The exhibition was held at the National Museum of the Republic, in Brasilia. That was in July 2019 and it was beautiful. They made a beautiful catalog, all in color, with all the reproductions of Fogaça's poems and paintings also reproduced. The truth is that the catalog turned out wonderfully, with a hard cover, beautiful. That was the last thing I did, in 2019, then the pandemic came and everything kind of came to a standstill. But I'm working right now, I'm making visual poems. In the afternoons, sometimes I lie on the floor and start making my visual poems, I have many. I have a collection of 134 visual poems, quite anthological, because there I included visual poems from the 80s, when I started, from the 90s, from the 2000s. That collection is in the Princeton University Library. I think it's the most complete, widest collection I have and it's there and you can't consult it online, you have to go there in person. Half of my files are there, manuscripts, diaries, notebooks with notes, there are many photos, there is correspondence, in short, half of my files, the other is here in Havana. By the way, I have just received an invitation to participate in a Congress on visual poetry that will take place in October of this year in São Paulo, Brazil.