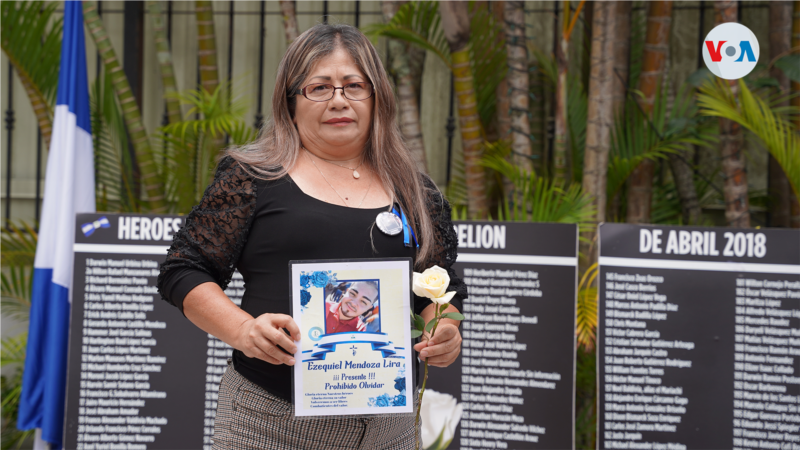 San Jose Costa Rica –
Nicaragua celebrates Mother's Day on May 30, a date decreed as a national holiday by the government of Daniel Ortega and which is used for family reunions. However, on the other hand, activists, human rights defenders and civil society organizations commemorate the victims of state violence that emerged in 2018.
And it is that, in September of that year, at least 19 young people were murdered in Nicaragua in one of the most massive demonstrations against President Daniel Ortega that took place at that time.
According to collects a report of the Interdisciplinary Group of Independent Experts (GIEI) for Nicaragua, the authorities did not clearly explain the events at the time, and they barely gave a conference where "a distorted version was presented" of what happened in the demonstration.
Martha Azucena Lira, mother of the young Ezequiel Mendoza, who died in 2018, told the voice of america that five years have passed since then, and the outlook looks "difficult" and far from achieving justice. He also assures that "there is persecution" against the relatives of victims.
Teresa Díaz, aunt of Carlos Manuel Diaz, also assassinated in 2018. Díaz assured that in five years Nicaragua cannot even go to cry in front of the graves of their loved ones. "We demand justice without impunity and that international organizations do something," he said.
In different cities in the United States, Europe and Costa Rica, the diaspora has accompanied the mothers of the murdered protesters, in an effort to keep their memory alive.
Call for those responsible to be brought to justice
In fact, this Monday an activity was held in San José, Costa Rica, where former Costa Rican President Luis Guillermo Solís was a special guest, who sent a message of hope to the families of the victims and stressed that in Nicaragua "what there have been are crimes against humanity", for which made a call to "bring those responsible to international justice".
"I believe that we must continue making all efforts to bring those responsible to international justice. Acts like today's explain very well the close human dimension of what has happened in Nicaragua and, therefore, it seems to me that we must persist, "she declared.
For his part, Brian Nichols, Undersecretary for Western Hemisphere Affairs of the US Department of State, indicated that "the unjustified and vicious attacks by the Ortega regime on a peaceful Mother's Day march 5 years ago failed to extinguish legitimate aspirations of Nicaraguans for a democratic change".
"We stand with those who courageously seek to restore human rights in Nicaragua," wrote the official on Twitter.
Connect with the Voice of America! Subscribe to our channel Youtube and activate notifications, or follow us on social networks: Facebook, Twitter and Instagram.