In his most recent report on the Dominican economy, the central bank observed that the capital expenditure public has been less to the budgeted in this 2022 and its execution slower than expected, impacting to the moderation of growth rate of the sector building.
In the current national budget are budgeted 167,044.6 million pesos for capital expenditures, of which the amount had been accrued 73.4% until December 16, when there were 15 days left to complete this 2022, according to data from the Treasury.
The capital expenditureswith which the State's patrimony can be increased, for example, through the construction of public works, have been minor that the current expenseswhich are those that are executed for the daily functioning of the State itself.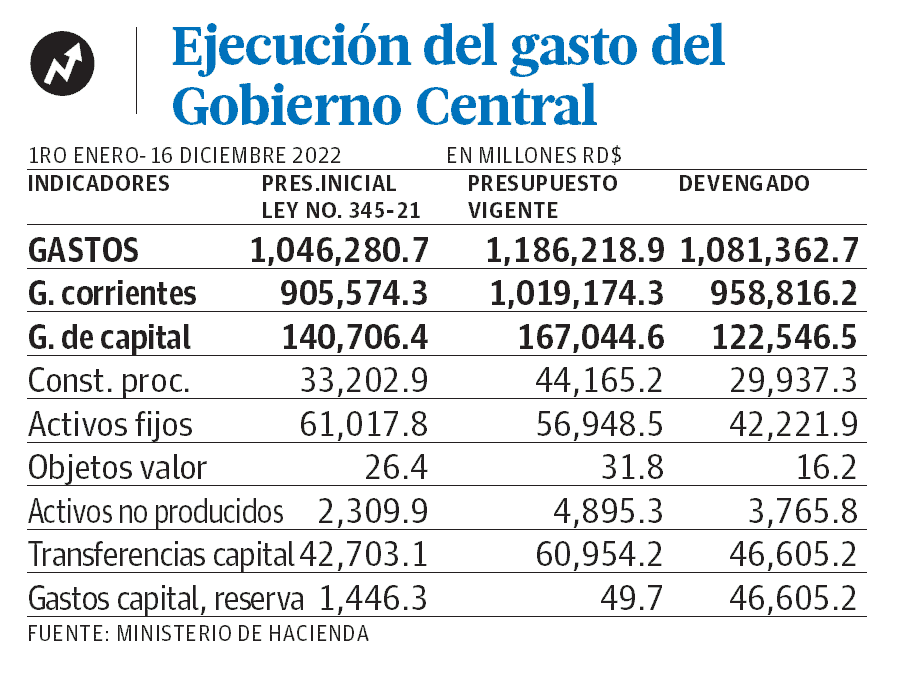 Lower proportion to GDP
According to the preliminary data shared the day before yesterday by the Central Bank, at the end of November 2022, the capital expenditure represented 1.8% as a proportion of gross domestic product (GDP), 0.8 percentage points below the 2.6% of GDP contemplated in the supplementary budget for the year.
This impacted the growth of construction activity in 2022, which presented a variation of 0.6% in January-November, compared to the same period in 2021.
The bank explained that the variation reflects a moderation in the growth rate of the sector, associated with the combination of substantial rise recorded in the prices of inputs, such as the cement, rods and paintsand a readjustment of construction schedules due to the effect of higher interest rates.
"Also, the public capital spending lower than budgeted and a slower execution than expected has also been reflected in the aggregate performance of the activity", he added.
In turn, he highlighted the statistical effect observed for construction activity due to the dynamism it showed during the October-December 2021 quarter, when it verified a YoY increase average of 13.5% in its real added value, "so it would be expected that the relative variations in the last months of the current year would be more moderate, given the high base of comparison of the previous year."
However, in October 2022, the Minister of Finance, José Manuel (Jochi) Vicente, during a meeting with journalists, acknowledged that the capital expenditure it's little in the country, but considered that it is the level that can be applied given the economic context since, otherwise, the fiscal deficit and indebtedness would have to be increased.
By 2023, the current expenses consolidated in the national budget have been set at 1,155,432,968,090 pesos, for 16.8% of GDP, and those of capital at 165,917,849,902 pesos, for 2.4%.