Democrats on Wednesday showed a new sense of optimism about the political climate of the election year after voters in Kansas, traditionally a conservative state, overwhelmingly backed abortion rights.
At the White House, President Biden hailed the vote as the direct result of outrage over the Supreme Court's decision in June to strike down a woman's constitutional right to an abortion. Republicans and the high court "have no idea of ​​the power of American women," Biden said. "Last night in Kansas, they found out."
Senate Majority Leader Chuck Schumer, DN.Y., said, "Last night in the heartland of America, the people of Kansas sent an unmistakable message to Republican extremists. If it happened in Kansas, it will happen in many states."
Political commentators argue that with three months to go before the November elections, optimism may be premature. But it represents a much-needed reprieve for a party that has spent most of the past year reeling from crisis to crisis, including the failed withdrawal from Afghanistan and rising prices for gasoline and other goods.
Those developments have contributed to Biden's low approval ratings, leaving Democrats without a leader in a position to rally voters ahead of the election with control of Congress at stake.
Still, the Kansas vote suggests that threats to abortion rights can energize Democrats in a way that few political leaders can. And it comes at a time when the party is gaining momentum on other issues, including a legislative package to cut prescription drug prices, combat climate change and raise taxes on corporations.
The challenge for Democrats will be to maintain that energy for several more months and defy the tendencies that normally trip up the ruling party.
In recent history, the party that controls the White House almost always suffers heavy losses in the first midterm elections of an incoming president. And an overwhelming majority of voters believe the country is headed in the wrong direction amid inflation and other economic concerns.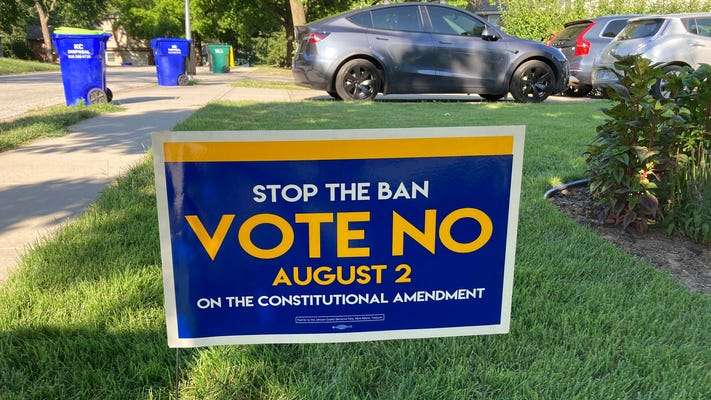 Abortion rights supporters went to the polls in Kansas, where abortion was literally on the ballot. By a margin of about 20 percentage points, they rejected a measure that would have changed the state constitution to allow state lawmakers to impose abortion restrictions, or even a ban. Turnout in the early August primary was on par with general election contention for a governor. But few elections this fall will present such clear-cut bets on abortion rights. Only four states — California, Michigan, Vermont and Kentucky — are expected to feature a Kansas-style abortion referendum on the November ballot.
In most states, Democrats must convince voters that they can only protect abortion access by defeating anti-abortion Republican candidates at the state and federal levels.