The Smithsonian National Museum of American History, in Washington DC, treasures this unique costume in its permanent collection, whose design and production is signed by a Cuban woman. Honoring the nation's flag, in the tricolor fabrics two countrywomen fused their love for their land and their tradition, two Cubans who were linked for more than fifty years and for whom the uprooting did not make a dent in their sense of belonging. It was proudly dressed by our Celia Cruz, the most universal Cuban, and it was conceived and made with the sensitivity and hands of another Cuban, the designer and dressmaker Irma Peñalver.
At 91 years old, Irma does not hide her pride in the history that unites her with La Guarachera de Cuba, and sums it up with admirable elegance and loquacity. beyond taffeta, paillettessatins and rhinestones, Irma Peñalver and Celia Cruz have many points in common, marked by passion, by the job to which they have dedicated their lives, the struggle to achieve their purposes and dreams, success in personal entrepreneurship, and the sense of belonging.
The telephone conversation with Irma – pandemic confinement involved – reveals to me a sweetness that contrasts with the firmness of character that her own life has amply demonstrated:
How do you know Celia?
I met Celia in Cuba in the early 1950s when she started singing with La Sonora Matancera. At that time, I was the head seamstress at Pepe Fernández, a very famous fashion boutique, where she had made-to-measure clothes. I arrived there recommended by a friend, from my position as a teacher of cutting and sewing, and dressmaker.
Who was Pepe Fernandez?
Pepe is one of the most renowned designers and dressmakers in Cuba, along with Bernabeu —who sewed for the wealthiest people—, and Julio Inza. The boutique was in El Vedado, in what is now La Rampa, on the corner of O and 23, second floor. The fashion followed in Pepe Fernández's atelier was French. The figurines were bought — French fashion magazines — and that's where we oriented ourselves, those designs were imitated. The general line in the 50s, which is when I met Celia, was dresses, pants had not yet been imposed in women's fashion, as happened later.
What do you remember about Pepe Fernández's relationship with Celia Cruz?
It was a very cordial relationship. Celia was cheerful, polite and of course, everyone already knew that she was an outstanding artist. Pepe designed her dresses, gave her ideas and chose the colors, but Celia never objected to the color. All of her colors suited her, she made him stand out. At that time she had no preference for one or the other. She also had a very nice body, especially her shoulder area, she tolerated low-cut styles very well, such as "strapless" or "strapless".
And his relationship with Celia there, in the atelier-boutique?
We had no friendship there, only sometimes I tried on her dresses. I remember her as a very kind person, with her feet on the ground, she did not give herself importance, despite the value that she already had. She was never proud. Then I stopped working there and on January 9, 1960, I emigrated to the United States.
And what happened to your life then, Irma?
I lived in Boston for 8 years and there I started doing what I knew: sewing. I always sewed in boutiques and shops. I had clients of some renown. I remember that there I sewed for a very famous chef who appeared on TV shows and I also tried the Hungarian-American artist Eva Gabor. I got tired of the cold and so I decided to come to Los Angeles, where I started working at I.Magnin, a very popular store, although of high standing, where Oscar de la Renta, Bill Blass, Christian Dior, Ives St. Laurent went to present their collections. During the seasons the representatives came with the models and they did a show and the clients made their orders. There I was a "fitter", that is, the one who fitted the clothes. I was the last one to enter and I suffered discrimination, because I was Latina, despite everything I knew how to do, despite the quality of my work. They believed that I did not speak English and spoke ill of me. Out of 12 of us, only 3 decided to offer me their friendship; the others don't.
About a month later, a mixed-race fitting room from Texas tells me that I would never get to work with Jack Mayer, the main buyer and manager of the haute couture floor, because he couldn't stand black people. I smiled. And I replied: "I am not white, nor black, nor yellow. I am beige. I appreciate this country a lot and I owe a lot to this country, but I am not from here, I was born in Havana, Cuba and where I come from the color is not important, but your knowledge, and the day that Jack Mayer Give me a chance, I'll tell you if he works with me or not!". Two months passed and one day Jack came to my salon and told the manager: "Miss May will come tomorrow" (a client who spent 50,000 and 80,000 each time). The absence of two colleagues gave me the opportunity. I was sent to work with Mr. Mayer. And from then on, that was my new position.
There I was a "fitter" for Bette Davis (I said to myself: Am I dreaming?), for Olivia de Havilland; For several years I've tried clothes on Tonny Benett's first wife, Gene Autry's wife, the cowboy in the movies, Cameron Mitchell's wife, Johana Mitchell, and many other celebrities. My clients lasted me, in many cases, close to 25 years. The bad times passed, and over time I found my place here and new friends.
And what happened to his bond with Celia?
When I arrived in the United States, I lost contact with her. She only had news of him through a mutual friend who lived in Spain: the singer Gilda Cánovas, wife of Rolando Columbié, ex-pianist of the Benny Moré Giant Band. I continued to live in Los Angeles, and in 1987 it was announced that Celia would come to my city to unveil her star on the Hollywood Walk of Fame. She is the first Cuban to receive such recognition and she wanted to give her something of hers, but at the same time she told me: "What could I give her that she didn't have?" I spoke with Gilda and she tells me:
"My sister, you can give her something that she does not have: a dress made by you!"
I entrust Gilda to take her measurements on the trip that Celia would make earlier to Madrid. One day they call me on the phone. It turns out that I had a friend who was also called Celia and was Cuban and when I pick up they say: "Irma, how are you, I'm Celia" (Celia Cruz was a very natural person, and she spoke to me as if we had spoken the day before, but I don't recognize her). I ask him: "And René —referring to my friend Celia's husband— how is she?" And she answers me: "Irma, I'm Celia Cruz. Gilda told me that you wanted to make me a dress and for that, I'm fitter than a sock. When I go to Los Angeles I'll call you a few days before and see you."
There we recovered contact and what was the beginning of a friendship in Cuba, was strengthened forever. I tried a "toile" on her, I caught her flaws and that's where I started making dresses for her. First I made him two, which were my gift. She loved them, so much so, that the manager at my job at the time told me: "Are you the one who made Celia's dresses, the one she wore last night and this one?" She kissed my hands. And he tells me that he hadn't seen Celia wear clothes like that for years.
From her dressmaker's gaze, what was Celia like in those years?
Celia preserved her body very well; she used to wear wide kaftan type dresses. She always had very nice legs and I decided that some dresses should have slits that let them show. Peter [Knight] did not object. She also introduced other changes: her dresses would be more fitted to her body, because she still admitted it. We are talking about 1991, that is, 12 years before she died. She sent my designs to New Jersey, two or three for her to choose from, and when it was time for the third dress she made for her, she told me: "Don't send me any more little drawings. You make me the dresses, you give me the surprise, which I know I'm going to like". And so we did. I had the freedom to make the design I wanted and she was always very happy.
"Make me something black and green," he tells me once. And I didn't know that she was going to premiere the song "Azúcar negra" here in Los Angeles. She made her a dress all by hand that was emerald green lace embroidered with stones, sequins and beads, everything was by hand, the seams… everything. I also made him a coat, because I thought I'd make him two outfits: that he enter the stage in a certain way and that in the middle he take off his wide coat, a black silk coat lined in green. She came in singing "Azúcar negra" wearing a black coat and when she finished the song, two of the musicians came and opened her coat and she saw her dress all made of green beads. I noticed that people applauded a lot when they took off his coat. Through Celia I had met the director of the newspaper "La Opinion" and that man got up, left his seat and came to congratulate me.
Celia had a very good character, making jokes, always in a good mood. On another occasion, when I get to try it on, and I enter the suite with my daughter Mercedes and my mother, I open the package, she sees it, and says: "How nice!", but I answer: "I didn't find the green lace that I wanted, so I bought the tulle and some embroidered appliqués and I mounted all that on the tulle, as if it were lace; my daughter helped me, because we Casanova women have to know how to sew." When I open the dress, Celia praises the lace and I told her how we made the sleeves with those appliqués. She said that Merceditas was her niece.
Then something occurs to him: "When Mercedes comes in, you stay quiet" —Celia tells me. And she suddenly says that she didn't like the applications and the sleeves. My daughter is surprised and she begins to get sad when Celia pounces on her, hugs her and tells her that it is what she likes the most. That was Celia.
A very nice thing that I will never forget: she got very used to my mother, who always went with me everywhere, she liked music a lot, at 90 years old she went to dances and parties. When she met Celia and she was over 80 years old and one day, Celia told me: "Don't come to try me without bringing Nana" (my mom). I noticed that when I saw my mother, it was as if I were seeing Ollita, her mother —both were the same age—, and it was as if she needed to give that affection, because it was a way of feeling that she gave it to her own mother. "Nana, ask me what you want, I'll sing you what you want", and she sang it to her a cappella. And he kissed her and hugged her… He loved her very much; and when my mother died, she sent a wreath with the dedication: "From your children Pedro and Celia." These are things that are not forgotten. She was very respectful to me, a very, very special person.
Do you connect with Cuban music, beyond the costume-stage relationship?
Totally. My family was musical. The restaurant "Mi Bohío" on Marianao beach belonged to Feliciano Casanova, who was the brother of my mother's father, Daniel Casanova, that is, he was my great-uncle. Miguelito Valdés debuted there and when I was very young I saw him sing and play the bongo. Whenever I saw the plundering of Desi Arnaz, who usurped the name of Mr. Babalú, it bothered me a lot, and I wondered what I could do to make amends. By the way, Celia acted in a movie where Desi Arnaz's son was (The Mambo Kings) and wore a suit made by me. She thanked me in public for that dress.
And how did the Cuban flag gown come about?
Celia wanted me to make her a rumba gown with the Cuban flag. It was her idea. I did it for her with red and blue ruffles. And she asked me to put her tail on with velcro, so she could take it off and put it on whenever she wanted. But it is not known how, that part, the tail, was lost. It is the Cuban robe that is in the Smithsonian Institut, with my signature as its creator.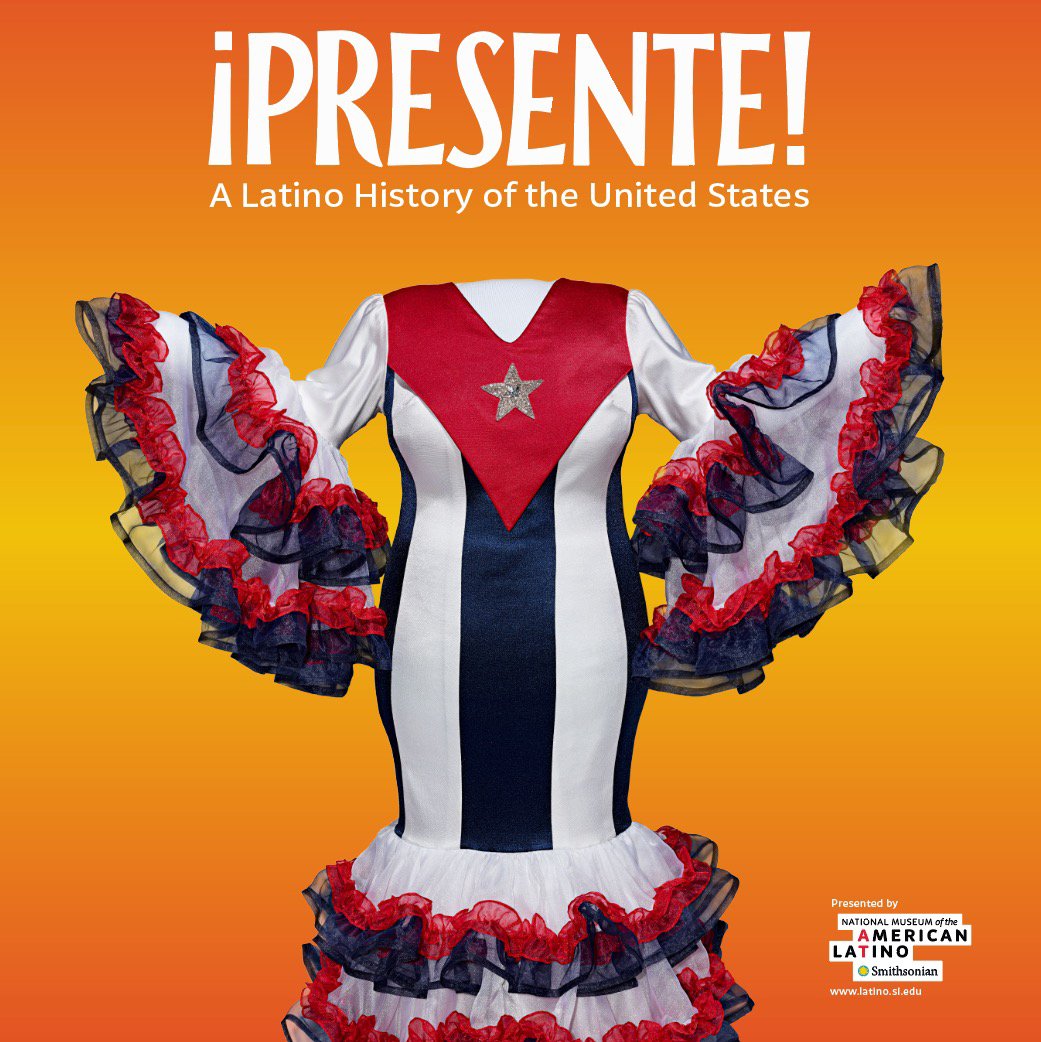 This has not been the only recognition of Irma Peñalver's work between fabrics, needles and pins. Throughout her life, there have been many joys that designing and sewing have brought her. In 2015 she received a trophy from Long Beach College and the community for her work in sewing for celebrities. But nothing meant as much to her as having sewn Celia Cruz and her own work, the challenge that always meant for her to empower herself through what she was and is her passion.
"I liked to sew, therefore nothing was impossible for me in sewing" —is the sentence with which Irma Peñalver Casanova sums up her life.
***
* This interview was conducted via telephone by the author with Irma Peñalver on June 19, 2020.