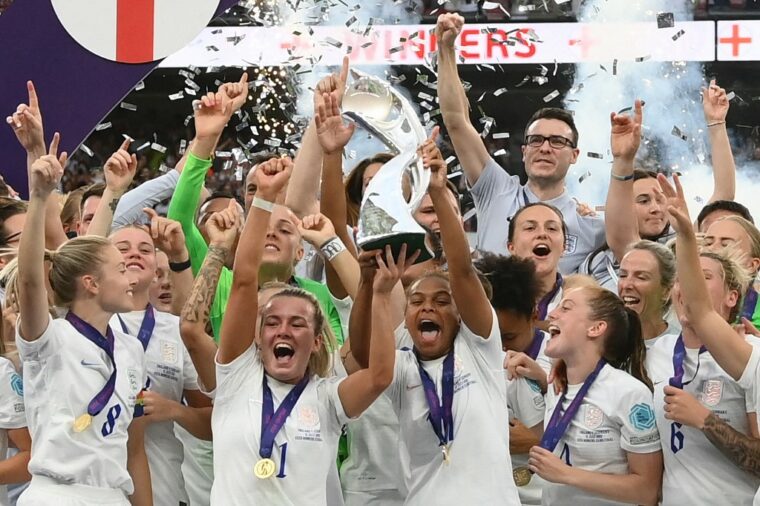 Before more than 87,000 spectators, a record in the European Championship (men's and women's), Chloe Kelly scored the winning goal for the 'Lionesses' in the 111th minute. In regulation time Lina Magull (79′) had answered Ella Toone (62′).
By inflicting on the Germans their first loss in a European Championship final after winning 8 of 13 editions, the English won the hearts of a country at their feet throughout the tournament.
Three years after a World Cup-2019 in France that had already shown signs of the upward trajectory of women's football, and despite the covid-19 pandemic in between, the English European Championship ends with an indisputable success.
A popular success in the first place, as evidenced by the 87,192 spectators in the stands at the final, much more than the previous record for a match of the men's Eurocup, 79,115, for the final of the 1964 edition between the hosts Spain and the USSR (2-1).
The total influx of this European Championship, with 574,875 spectators present in the stadiums, also smashed the best mark for the women's continental competition, held 5 years ago in the Netherlands with 247,041 spectators.
"The figures are extraordinary, but the biggest surprise, for me, are those who are surprised that women's football is at such a level," UEFA president Aleksander Ceferin said during a forum in London on Sunday.
Germany may regret having been deprived since the semi-finals of their covid-positive winger Klara Bühl and, a few minutes before kick-off, of their captain and top scorer Alexandra Popp, due to "muscle problems" during the warm-up.
Chloe Kelly's goal, coming out of a corner (2-1, 111), will not remain in the memory due to its beauty, but it goes down in its own right in the history of English football.
The entrance England beat Germany in extra time to win their 1st European Championship was first published in diary TODAY.