"Me prendo sin cadela" says one of the songs with which he has made us dance with his group Primera Clase, and he really is "on" working and creating.
We talked to this young exponent of popular dance music in Cuba about the projects that keep him very busy.
We have seen on the networks that you have been advertising a television program. Can you tell us?
"That is an idea that arose some time ago, I think that more than two years ago, I was traveling through Mexico and talking with my company's salesperson it occurred to me to make a documentary about my career in Cuban music that, modesty Besides, it is not small, I have had the opportunity with several of the great groups of our country and to shine in them and I found it interesting that people who could not enjoy me at that time, can see the work I did with those orchestras.
"The original idea was to do a concert with some interviews, a documentary concert. And then I chose two songs that I sang when I was with Maykel Blanco and I did them with the Maykel Blanco orchestra, two songs from when I was with Manolito and I did them with Manolito's orchestra, as it was with Pupi and already with my orchestra, which has been around for eight years, I did three songs.
"I made that gift to myself, I think it will also be a gift for the people who lived through that, because however you want it awakens nostalgia. Then the idea came up, between Maristani (TV Director) and me, to do several things with this: a documentary concert, a live album with all the audio tracks and, at the same time, a television program that will be divided into four chapters of 27 minutes each. A program will be dedicated to my time with Maykel, one to my stage with Manolito, another to my stage with Pupy and now to summarize, like this in order, another to my stage and with my orchestra ".
And from what we have seen in the photos, do you start as a driver?
"I also made my debut as a conductor, which was a challenge for me and I tried to do it in the most dignified way possible, it is a new experience, I tried to make it as organic and natural as possible, that is, not the typical announcer who has a voice. rung for that, so it was a challenge, but I really enjoyed it too.
"One of the difficult things was to ask these great great musicians questions, say Pupy, Manolito, Maykel, about myself, it's a bit strange … then, rather, through my voice who asks is the public, people who want to know what happened and many nice things were talked about there.
What is talked about in Así fue? Can you tell us something?
"They talked about music and personal things were also talked about, there are several interviews that are very emotional, that I liked a lot and, as I tell you, I relived all those times that were wonderful and are part of my history.
"We also talked about my origins as a human being, where I was born, we went to the town where I was born, Pedro Betancourt and we spoke with neighbors of the building. Within each program there will be a report on things in my life that have nothing to do with music especially. For example, one is going to deal with when I was a university student at ISDI. "
"I am very happy with what was done, the wonderful production team, the director of photography, Luisito, spectacular, the wonderful art direction too … Everything was played live, nothing was recorded in the studio."
And after these four programs that are almost ready, have you thought of anything else?
"The idea we have is to continue doing it with other musicians, tell yourself to do the same with Pupy, and it doesn't have to be only popular music, I can do it to Frank Fernández, I can do it to Ivette Cepeda, Haila María Mompié, So the idea is for the program to continue, we are looking for all the support that is needed for that.
And would you stay as a driver?
I'm thinking, I don't know if I dare to go on an adventure like that, to continue being the driver and interview all those figures that we have in mind. I have not decided that yet, but it is an option.
You were saying that this program should come out before the end of the year, but I know you have other projects on your hands …
"I recently finished a symphonic album. I have not released it, I have not launched it because of all this pandemic situation. It is a mega production, a large production. I have the privilege that my label Abdala financed a project of this magnitude for me. Basically, ninety percent of that production was recorded in Spain with high-quality musicians in the classical world, practically the entire Madrid symphony, with special guests such as Stamen Nikolov, from the Swiss symphony, one of the best cellists from the classical world at this time, I also have in this material a quartet that is an early music award called the Habemus Quartet, because there is a song that was made with a baroque arrangement, for clavichémbalo and string quartet. All the orchestrations are to in charge of a great musician and personal friend of mine, who is Dagoberto González, who did a wonderful job.
"I had the privilege of having the Cuban National Symphony, under the baton of Enriquito Pérez Mesa, the National Choir directed by Digna Guerra in two of the songs and I also have the privilege of having maestro Frank Fernández on a song called Just in case".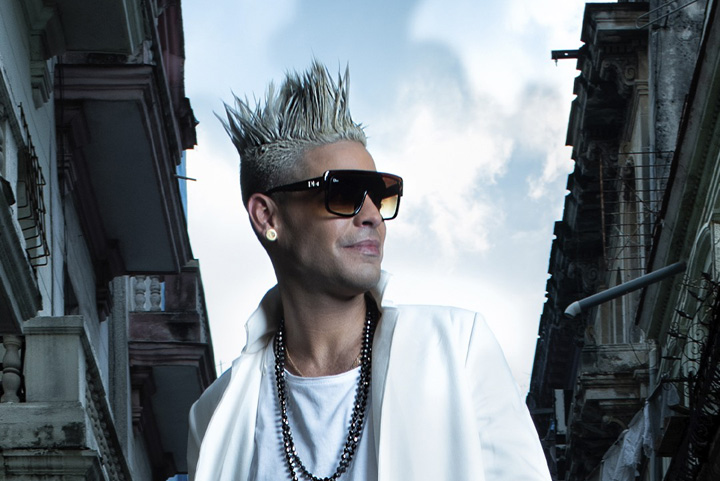 Are they all your issues?
"There are ten songs of my authorship. In this time of pandemic for me that the muse seized me, then there are ten songs that I composed in two months nothing more. We did the musical work through WhatsApp, because Dagoberto was on Spain and I was in Cuba. I would send him there the melodic line of the song I had composed and he would send me the arrangements, all the technical details of the arrangements were made like this. Everything was recorded, both the part that was done in Spain. like the one made in Cuba is very well documented, so we are going to do a making ".
Any plans already for the launch?
"The idea we have to release this material is to do it in a great theater right here in Cuba and we are going to record it as well, but I want all those elements that were on the album to participate really. I am going to have the privilege, which is one thing. that has already been discussed, to have the National Choir of Cuba, the Symphony, the teacher Frank Fernández and the intention that there is is to bring some, at least the first lecterns that participated on the foreign side, bring them to Cuba to participate in the concert and at the same time find a way for them to give some workshops in our schools. That requires an infrastructure that is quite large and I am lucky and fortunate to have the support of the institutions, I have the support of my record company Abdala, from Ministry of Culture, from my company Musicalia and ARTEX, so I think it will be a very nice gift for the Cuban people and that they will enjoy it a lot. "
Any other projects in the immediate future?
"Now the most recent thing that I am going to do, that I am going to start recording in a few days, is an idea that arose as a result of this song that I did with Frank, he was the one who proposed it to me and it seemed like a wonderful idea to me. , which is to make a bolero album with Frank Fernández, that is, Frank presents Noro. It's a very nice thing we're working on and it's another gift I'm going to give myself and I hope you enjoy it a lot.
"We are in the process of selecting the songs, because we want to make boleros that have been popular, but that are not the most hackneyed, so we are in that process. We must start recording the first days of December, so it will be a interesting stuff too. "