A total of 92 new infections of COVID-19 were detected in the last 24 hours, of which 59 are community and 33 importedwhich raises to 547 thousand 204 the accumulated confirmed, with a thousand active caseswhile the number of recovered stands at 540 thousand 377 patientsthanks to the free treatments guaranteed by the Bolivarian Government.
This was announced this Friday by Sector Vice President of Communication, Culture and Tourism, Freddy Ñáñezduring the usual daily balance offered by the Presidential Commission for the Control and Prevention of COVID-19through his account on the social network Twitter, @luchaalmada.
It reported that the 59 community cases are located in: Caracas (13), Zulia (11), Miranda (9), Carabobo (6), Bolívar (4), Yaracuy (3), among others shown in the following slide:
Caracas today presents the highest number of infections in six of its 22 parishes: Caricuao (4), Sucre (4), El Valle (2), Catedral (1), El Paraíso (1), Santa Rosalía (1).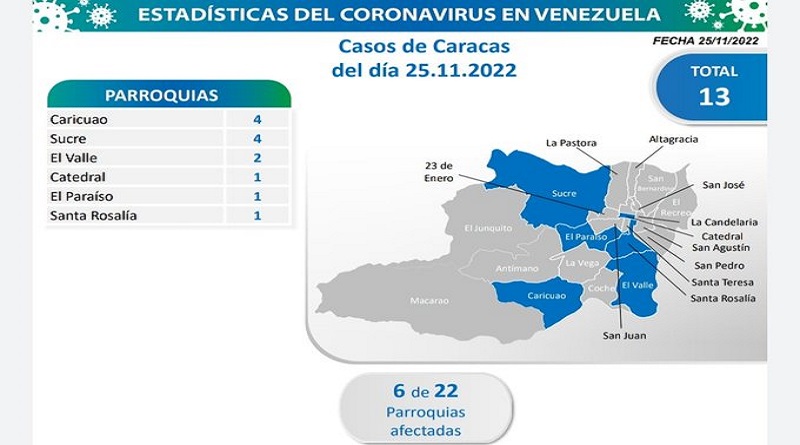 The 33 imported cases come from: Panama (12), Peru (8), Dominican Republic (6), Spain (4), Cuba (3).
Finally, he reported that to date we have a total of 547 thousand 204 confirmed cases, thousand active cases and 540 thousand 377 people recovered, which represents 99% of infections.
In week 141 and day 985 of the pandemic in Venezuela, these are its general statistics:
– Total infections: 547 thousand 204.
– Recovered patients: 540 thousand 377 (99%).
– Current active cases: One thousand
– Total deaths: Five thousand 827
VTV/YR/EMPG