In addition to covid-19, another of the reasons given by Aruba for this measure is that many Venezuelans have left the country "and do not come." He regretted that there is no interest on the part of Venezuela to study the border issue and announced that they are seeking to open the maritime border only for commercial purposes.
---
The Prime Minister of Aruba, Evelyn Wever-Croes, issued a statement on Tuesday, June 7, announcing the extension for six weeks of the measure that keeps the borders of her country with Venezuela closed due to the covid-19 pandemic; a measure that came into force as of this Wednesday 8.
That is to say, that approximately by July 20, information about it will be known again.
Wever-Croes, in the text published via Facebook, argued for his decision considering that "it is not prudent" to still open the border due to the presence of the virus and because Aruba still "has not recovered from the devastating effects" of the disease.
Another reason why they keep the border closed is that many Venezuelans have left our territory in search of a better quality of life "and they no longer come" to Aruba.
On the other hand, the document also pointed out that the Government of Aruba is contemplating the possibility of opening the maritime border, but with very strict conditions.
"Among others, only certain material can be transported from Venezuela to Aruba. These conditions have been announced so that both the Venezuelan and Aruban authorities can control the promise of the ship that leaves and arrives," the text adds.
According to Prime Minister Wever-Croes, there is not much interest on the part of the authorities of our country in the issue of opening the borders, while she asserted that from her nation they do what is in their power to open maritime traffic but only to allow trade.
"Later on, the right moment to open the border for direct flights between Aruba and Venezuela will continue to be evaluated. At this time, the border with Venezuela could be made through another country between Panama, the Dominican Republic and Colombia," the text reports.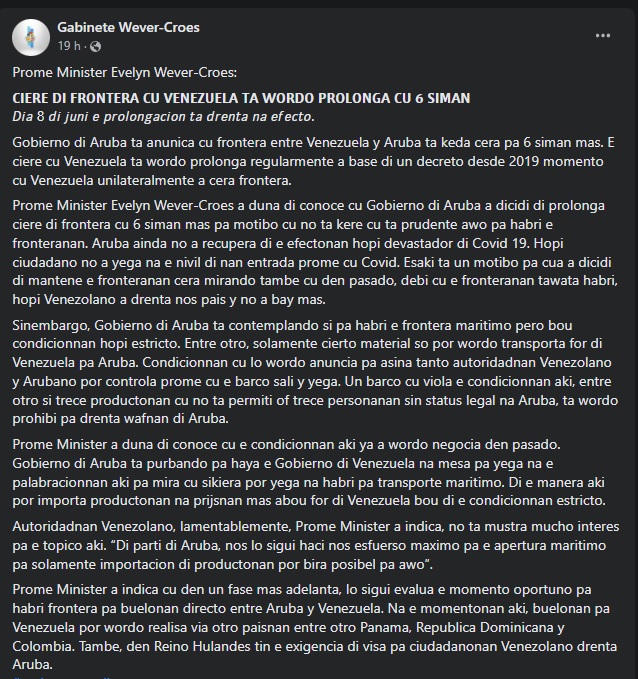 On March 10, it became known that Aruba had extended the ban for three more months to all passenger, cargo, mail and general aviation flights to and from Venezuela, according to a Notam from the International Civil Aviation Organization (ICAO).
Since February 2021, Venezuela has been on the list of countries that threaten national security, published by the Intelligence Service of the Netherlands (Aruba, Curaçao and Bonaire). In the opinion of the intelligence agencies of that country, the instability in our nation will last for many years and the ABC islands, which respond to the Netherlands, are already suffering the consequences of the crisis.
With information from We monitor

Post Views:
6