October 31, 2022, 8:53 AM
October 31, 2022, 8:53 AM
Russia launched more than 50 missiles at critical infrastructure in Ukraine, including the capital Kyiv, on Monday, causing power and water outages, Ukrainian authorities said.
Kyiv Mayor Vitali Klitschko said 80% of residents had no water and about 350,000 apartments had no electricity.
Power facilities in the northeastern city of Kharkiv were also attacked.
Russia said its high-precision, long-range weaponry was targeting Ukraine's military command and energy systems.
The country's Defense Ministry added that all "designated objects were hit."
The bombings come after Russia blamed Ukraine for a drone attack on its Black Sea fleet in the Russian-annexed Crimean peninsula.
Klitschko reported a lack of water in Kyiv after a power facility near the city was damaged in the Russian attack.
He also said that engineers were urgently dispatched to restore power to the city.
The authorities noted that "no hits were recorded" in Kyiv due to the "effective work of the air defense forces."
Missile strikes were also reported in the central Vinnytsia region, as well as in Dnipropetrovsk and Zaporizhia in the southeast, and Lviv in western Ukraine.
According to reports, a facility at the Dnipro hydroelectric power plant in the Zaporizhia region was also attacked.
Total, 18 installations, most of them power generators, were attacked in 10 regions of Ukraine, said Prime Minister Denys Shmyhal.
He added that "hundreds of towns in seven regions" were left without electricity.
It was not immediately known if there were any casualties.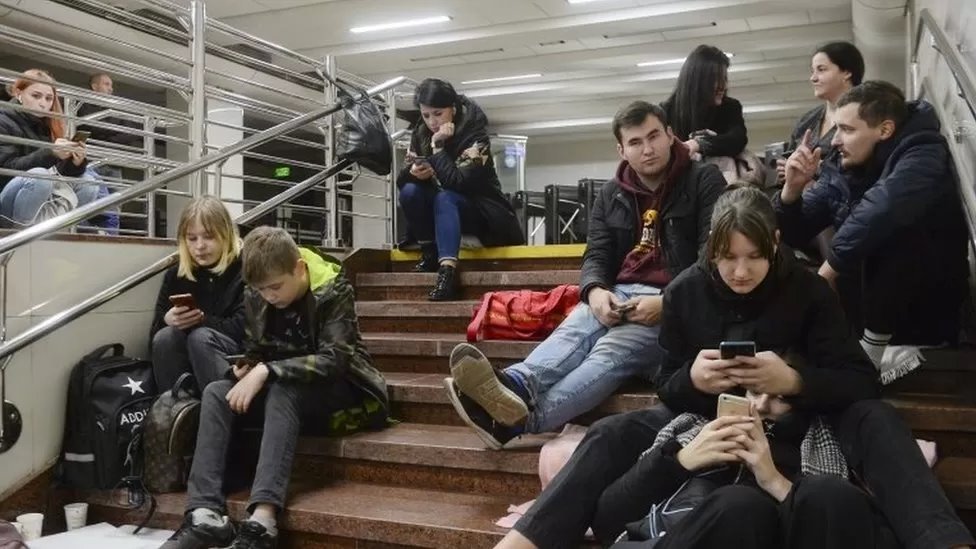 massive attacks
Authorities urged residents of the targeted regions to stay in shelters, amid fears of more attacks.
They were also warned that there were taking place "emergency power outages" across the country.
In neighboring Moldova, authorities reported that a missile shot down by Ukraine landed on the "northern edge of the city of Naslavcea" near the Ukrainian border.
There were no reports of casualties, but windows were broken in several houses.
Ukrainian Air Force spokesman Yuriy Ihnat told Ukrainian television that Russia had used its strategic bombers to carry out "massive" attacks.
Ukraine's military later said that 44 of more than 50 X-101 and X-555 cruise missiles launched from Russia's Rostov region and also from the Caspian Sea had been shot down.
Ukrainian Foreign Minister Dmytro Kuleba noted that "instead of fighting on the battlefield, Russia fights against civilians."
In recent weeks, Russia has been carrying out several waves of deadly missile and drone attacks, reportedly destroying almost a third of the country's power plants and other energy-generating facilities before the cold winter set in. .
Ukraine and its Western allies have repeatedly said that targeting civilian infrastructure amounts to war crimes.
On Saturday, a Russian warship was damaged in the port city of Sevastopol in a drone strike, the Russian Defense Ministry said.
He also accused British specialists of having trained the Ukrainian soldiers who later carried out the attacks in Crimea, the peninsula south of Ukraine that Russia annexed in 2014.
Moscow he offered no evidence to support his claims.
Ukraine has not commented on the matter, but the UK Defense Ministry said Russia was "selling false claims on an epic scale".
Now you can receive notifications from BBC World. Download the new version of our app and activate it so you don't miss out on our best content.