Feelings do not understand borders or languages. For this reason, Rayo celebrates its 98th anniversary conquering all corners of the world. That feeling has traveled from Vallecas to Brazil, Argentina, Colombia, Venezuela, Cuba, the United States, Ireland, Portugal, Italy, Poland… From one neighborhood to the entire planet. Your meeting point is a chat WhatsApp called 'Rayistas around the World', with some 40 participants from different countries and places in Spain, such as Andalusia, Galicia, Catalonia, the Basque Country…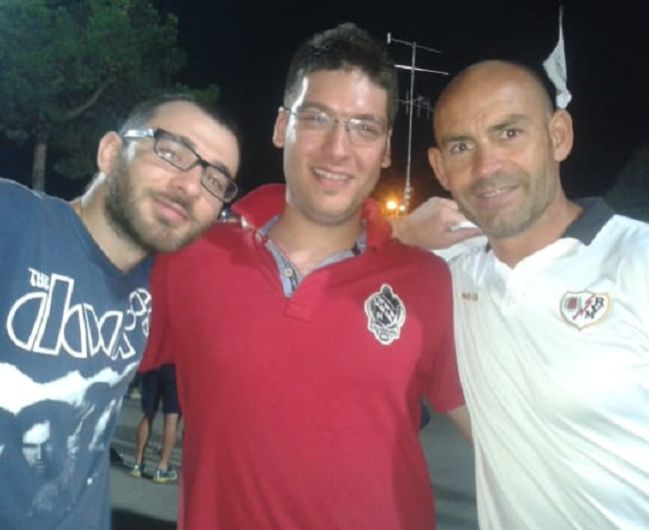 One of its founders, Stefano Picasso, is also the creator of the 'Rayo Vallecano Italian Fan Club'which celebrates this May 29 —day of the birth of the El Rayo Sports Group— with a very special meeting: "We will see each other for the first time at a meal". His crush on the Strip comes from afar and he still remembers even the music that was playing… "I met Ray thanks to Ska-P, one of my favorite bands. I fell in love with the fans and their ideals. I have never been to Vallecas, but I saw the team here, in a friendly against Cesena, in 2014", recalls the Genoese.
The other alma mater of the group of WhatsApp -also present in networks- is Natxo Ini. In turn, driving force of the 'Argentina Rayista Group'. His name is a nod to the history of the club, with whom he shares a birthday. Today Sunday. to Buenos Aires he was captivated by "the idea of ​​politicized football". As soon as you land in Madrid "Curiosity about this stadium, identical to that of Argentinos Juniors and for that song of 'We are the fans, the most anarchist, the most drunk, the most anti-fascist'. Here you say that and they point at you. Talking about politics on the pitch is a problem, a sin…".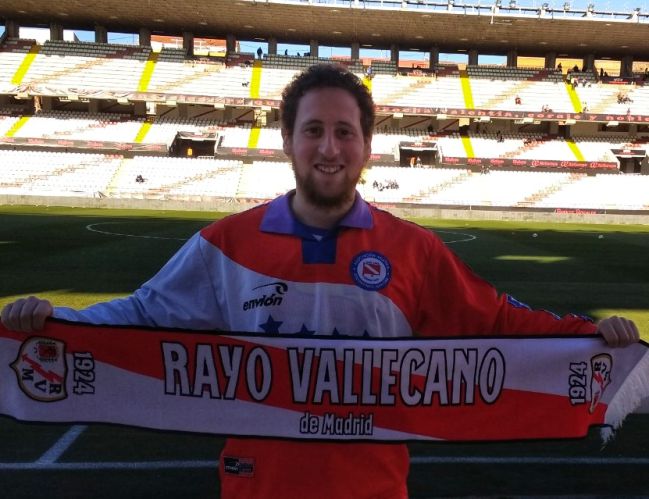 For Natxo, love is this: "February 24th became my new Valentine's Day because I went to Vallecas for the first time and I saw a Lightning-Huesca". Therefore, it is not surprising that his only tattoo is "the ray of the shield". Her partner, who lives in Spain, laughs when she catches him looking sideways at football in the middle of a video call. "She put the TV on one side and she was aware of it, yes," she confirms.
This rock has 11 members, several of them —such as Christian Gandolfo— linked to the 'Peña Rayista Riverplatense Argentina', nicknamed the 'River Rayista' and created by Fernando Luis Puente, who passed away 3 years ago. That rock was the first abroad. Pablo Branda, his vice president, narrates his origins: "In the summer of 1999 I went with my family to the stadium and Fernando López attended us, who let us enter to the lawn and gave us some souvenirs. Upon returning, I handed them over to Fernando and he started it all. In 2000 it was born with a party attended by 500 people, among them, the players Berizzo and Bonano". Yes indeed, they came to have 3,000 members and the father of Patricio Graff, a red-haired footballer at the time, brought them all the cards.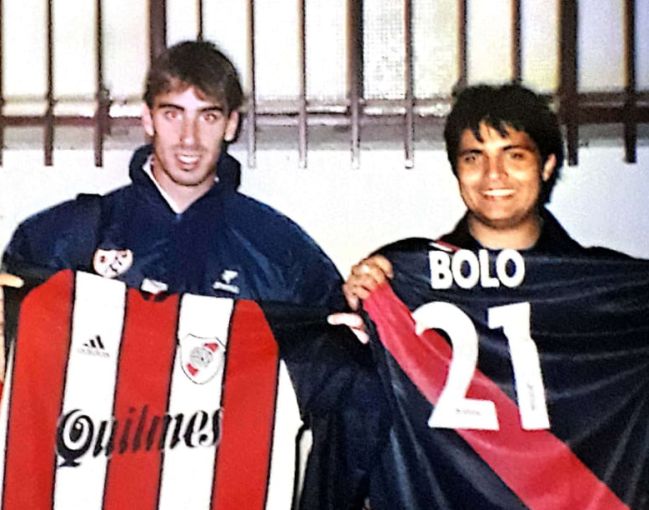 "Now only the shirt seduces you. You see the strip and you want me to win", tries to explain the lawyer, who cultivated a great friendship with the 'Planeta Rayista' rock, through their forum. In fact, he lived with her part of the UEFA match against Lokomotiv. "They raffled off a trip and it fell to a friend. We saw the first half in the box with Teresa Rivero, we had a lunch at the break and in the second half we were in the stands with 'Planeta'. Later, Bolo gave me his shirt, "he says excitedly. And it is that the striker became the protagonist of a famous image: "He celebrated Rayo's 400th goal by showing a River shirt that Fernando Puente sent him. He always carried that picture everywhere".
For John González, being a rayista in Venezuela has more merit. "They are all from Barça or Madrid. I'm alone against 500…"confess this Rare aviswho had it clear since he was a child: "The Strip caught my attention, the wall behind the goal, then Ska-P came out and the auction was the signing of Daniel Noriega, the first Venezuelan who played there." He clarifies that he is not a rayista for Miku, with the same emphaticity with which he assures: "If we had reached the Cup final I would have stood up in Seville. I don't know how, but I would have." His passion for Rayo has once played tricks on him. Without going any further, as photographer at a theater performance with the mayor: "I shouted a goal by Baby in the middle of the corridor. I had to leave because everyone turned to look and I thought they were throwing me out."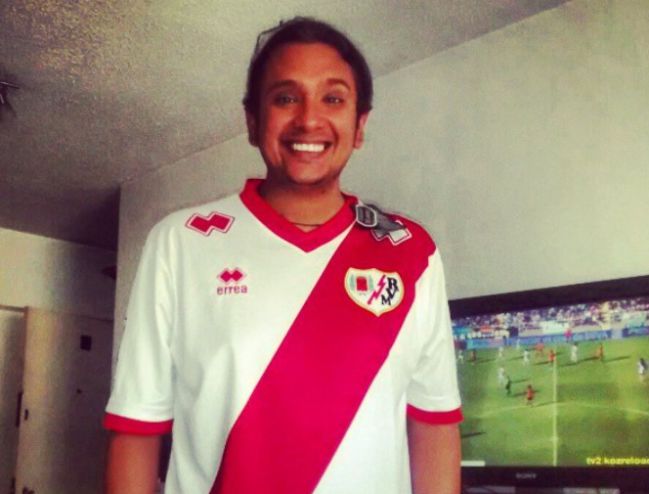 His laugh turns into emotion when he talks about his shirt: "I am the only Venezuelan with an original flannel without having been to Vallecas. I set up a cry for my best friend to bring it to me. Went to the store and there was only one XL left. She swiped the card twice and was denied. She went to one of the bars across the street and the bartender helped her. She made a transaction for him and he gave her the cash. After training, all the players signed it and Jémez recorded a video for me. When I saw him he looked like a fifteen-year-old with the Backstreet Boys (laughs). My friend did not want to charge me because what she experienced was too magical. Although John He never misses an opportunity to joke about the club's chaos: "El Rayo is the most Venezuelan thing in Europe…".
For its part, The supporters club 'La Franja de Cuba' has a peculiarity: its president, Reinier Crespo, lives in Havana and its vice-president, Javier Piñas, in Vallecas. That tandem works. "We are about 30, since September 2021," says Javier, who threw himself into the team made up of supporters clubs. "I created it here and instilled in them a love for these colors. We participated in a La Liga SNET tournament. We are second, with a game postponed, "says Reinier proudly.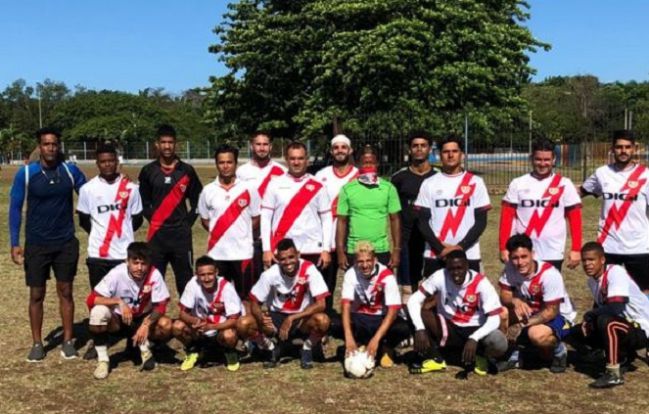 It cost more for everyone to be able to wear the Strip… "We asked the club for help and they never answered us", laments the Cuban. Yes, donations from rayistas arrived, T-shirts among which were that of Captain Trejo and that of the president of the veterans, Cota. "We want to set up a museum with those", adventures the Vallecano, which mobilized to acquire and send thirteen. "Everyone behaved like ten, showing their solidarity", thanks Reinier and Javier concludes: "I hope one day I can come and sing 'La Vida Pirata'. El Rayo and Vallecas welcome everyone".
California is also the epicenter of rayistas, of two Josephboth from Madrid. Vallecano José González lives in Los Angeles and became a subscriber the season in which Hugo Sánchez signed, the same one he met years later at Universal Studios. "We were going to the bathroom and it passed right by. When I left, I greeted him with my Rayo shirt and we took a picture," says José, whose last appointment in Vallecas before heading to the United States was the Tamudazo: "I came to live here, got married and renewed my subscription".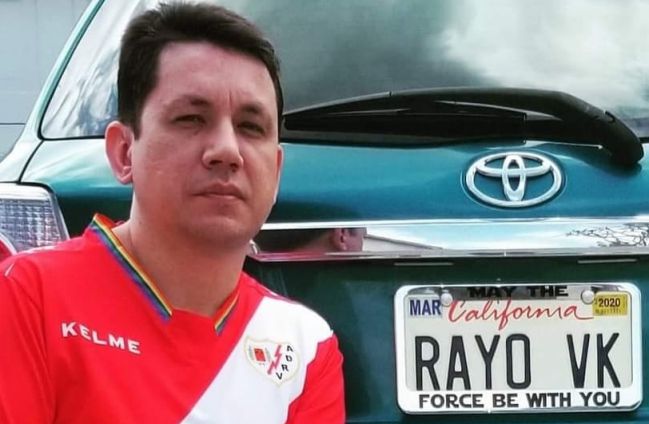 There the paths of these namesakes crossed. To those who only separate two hours by car. "We met through Twitter and we saw this last match against Valencia together at home", acknowledges the Vallecano, who has always Franja keeps in mind: "My registration is Rayo VK and I pay 45 dollars a year".
José Ramírez is from Las Musas and has lived in San Diego since 2005. Her first flash back rayista, has it with his brother. "We played the plates, which were from Rayo. One day he took me to Vallecas and I sat in the back where now there is no public, because before there were some lines… He instilled that feeling in me. There, in California, they see the Premier. The people I play soccer with on Sundays know that I'm from Rayo, he sees me in jerseys and asks what division he plays in", reveals.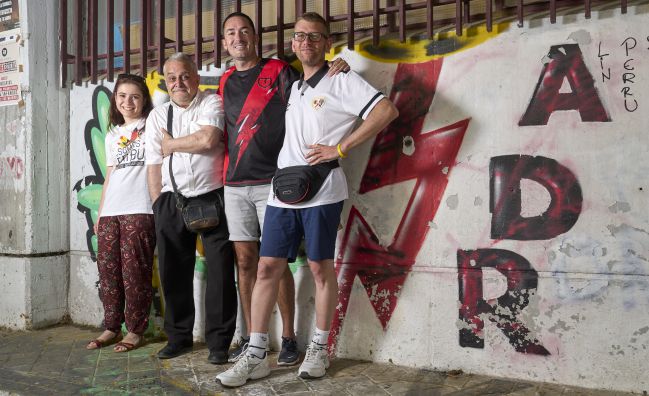 José will spend the whole week in Spain. "My idea was to come to the Cup final and I managed to book the flight. In the end, I came to give my mother a surprise and run the Rayism Race", assures this small shareholder: "I have a stock! (laughs). I still have the BBVA receipt for 10,000 pesetas".
Edyta Pieron, sitting next to her mother Marta, listens attentively to her testimony. Both live in Krakow and will spend a month in Madrid, thanks also to the hospitality of another rayista, Luismi. His life turned around in the 12-13 campaign, because of Lightning. "That's why I learned Spanish! The colorful football of Paco Jémez hooked me. It seemed like a super fighting team. He conceded goals to Cascoporro, but he kept fighting. So, he didn't speak the language, just hello, thank you and a couple of swear words. I wanted information, so I started studying, I did Hispanic Philology and now I teach Spanish", he comments.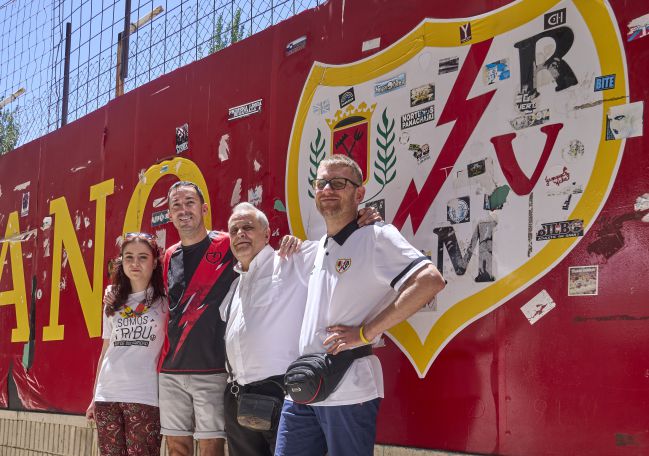 His knowledge and admiration for every corner of the neighborhood is overwhelming. "I am passionate about his story. Rayo would not exist without Vallecas and Vallecas would not be the same without Rayo. I was amazed at that feeling of being one more from the beginning", he admits. There are more red-haired fans in Poland, although they continue to be a minority: "Young people are the ones who win. We are going against the current."
Simone Sperduto nods. For the Italian journalist, the Rayo is unique. "This crowd reminds me a lot of what Roma was in the 80-90s. Very hot, who continues to sing even though the match is over. That is no longer seen", she sentences, just before listing other qualities that she admires:"It is difficult to explain in Italy what Lightning represents. There is no such team, with a neighborhood behind. I like that union, also in social matters. Besides, here they greet the rival fans through the stadium's public address system. There they would tell me that we are crazy".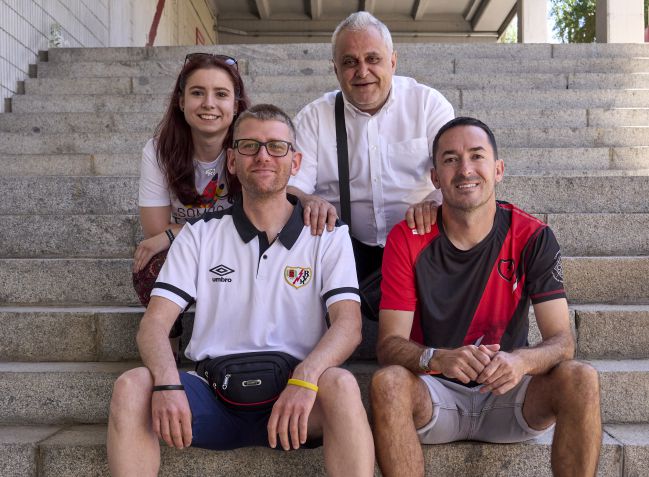 Precisely, those more earthly and close things captivate him. "You can take photos with players, who leave the locker room walking down the street. it seemed impossible", reflects, with a hint of disbelief, this member of the 'Rayo Vallecano Italian Fan Club', to whom he always sends photos from the field: "I was in the Cup quarterfinals with Mallorca and there were people crying. I lived something historical".
Another regular in the stands is the Irish Robbie O'Sullivan, who has taken his father, his brother, his uncle… to check all those things he tells his friends, from afar, and they don't quite believe: "It's a different, old field. I tell them about the nearby bars, they are amazed that the toilets don't work… This year I queued for seven hours to buy a ticket against Getafe and ordered a pizza. I ate it there (laughs)".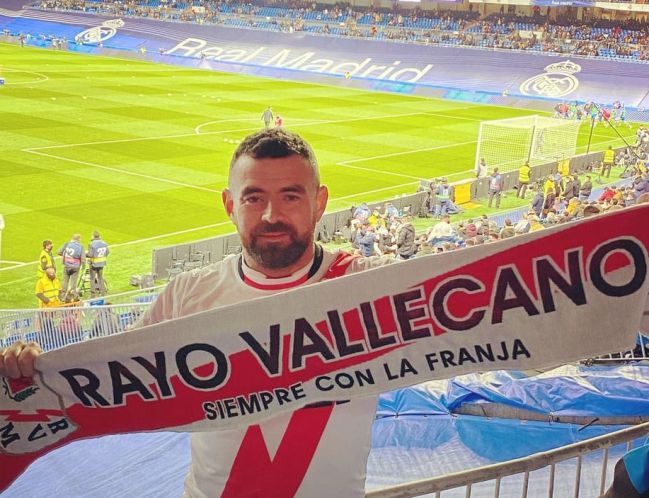 That has not been his only madness. The last? "I went alone to Mallorca, without a hotel, without a backpack. I left on Sunday morning and came back on Monday at 06:00 a.m. ", maintains the teacher, who always faced the same question when he went home for Christmas: "Are you from Madrid or Atleti? Well, I'm from none, I'm from Rayo (laughs). There are many Irish fans, we are fighters, like Vallecanos. With them you can talk not only about football, but also about life".
This is what happened to Camilo Prada on his only visit to the neighborhood. When he went to buy the shirt, his accent gave him away and they asked him in surprise: "Do you know Rayo in Colombia?" Your story is the answer. He follows, suffers and feels with the Strip from Bogotá. It was a song that discovered his existence to her. "I wasn't a football fan, but listening to Ska-P made me curious", he reveals. As of 2015, his interest grew, both his own and that of his best friend. Now more followers have come out, thanks to the signing of his compatriot, Radamel Falcao. "That day was crazy, they didn't talk about anything else. Before they saw me with the shirt and many did not recognize it. Today everyone knows her", defends proudly.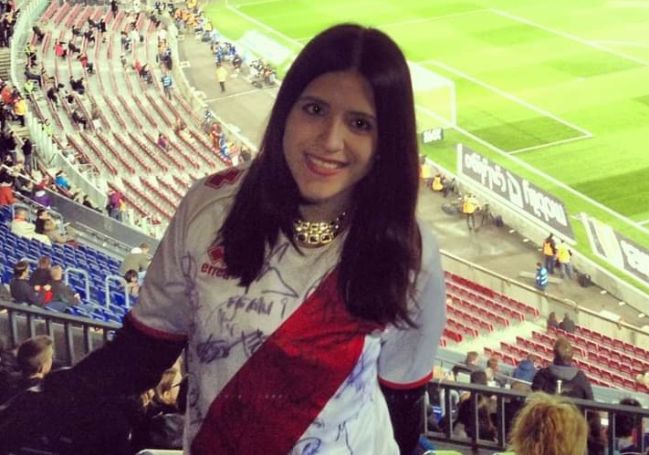 Portuguese journalist Filipa Santos landed on Rayo to cover it and caught her. "The first time I stepped on the field I started to cry like a fool. There I was, listening to 'A las Armas' and remembering the Portuguese anthem, 'às Armas, às Armas'. I was hooked by his feeling of belonging and his social side, that fight for a more just world", he wields. Three times he has escaped to Vallecas, since he left Spain. "It is more difficult to support a team that is not from your country, you cannot be there as much as you would like," she says. The flame does not go out, despite the distance, because there are no kilometers capable of separating the same feeling…