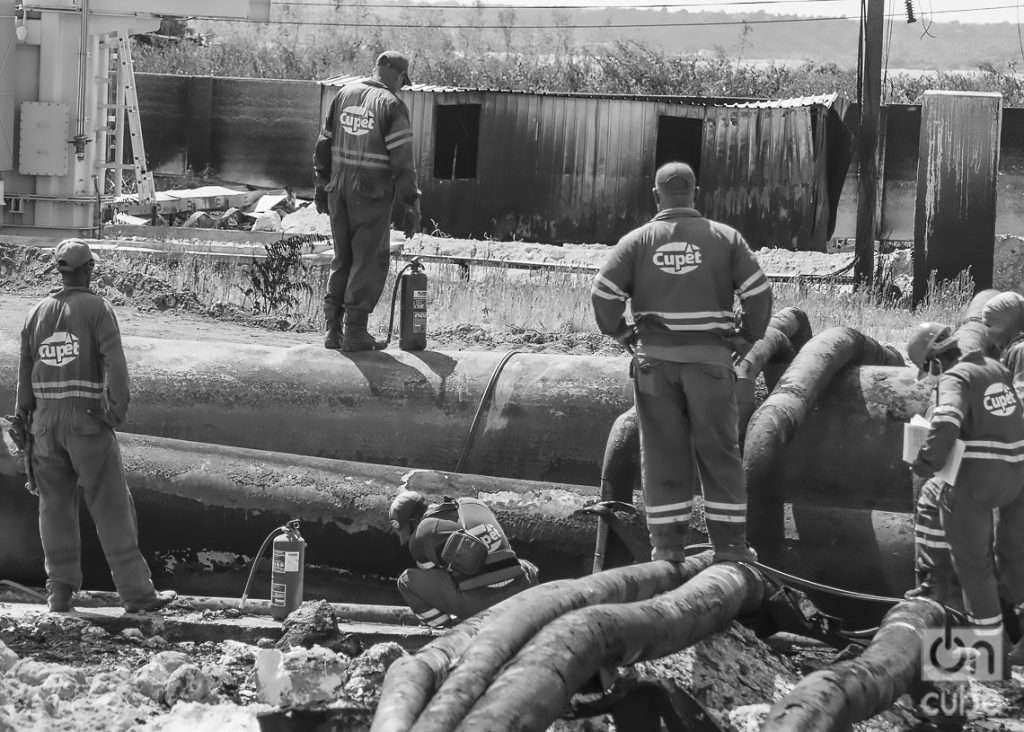 Archive image of the Matanzas Supertanker Base, after suffering the effects of a large-scale fire in August 2022. Photo: Otmaro Rodríguez / Archive.
Venezuelan experts collaborate with their Cuban counterparts in the adjustments to the lightning rod system of the Matanzas Supertanker Baseaffected by a large-scale fire last August, reported official media on the island.
The participation of specialists from the company Petróleos de Venezuela (PDVSA) in these works became known during a visit to the place of General Ramón Pardo Guerra, head of the National General Staff of the Island's Civil Defense, as he refers the newspaper Granma.
According to the information, in the largest fuel storage facility on the Island, work is being done on the total restoration of the lightning rod and fire protection systems, with the advice of Venezuelan experts and following current international criteria and standards.
Rigel Rodríguez Cubells, director of the Matanzas Fuel Marketing Territorial Division, explained to Cuban News Agency (ACN) that the priority in these works is to minimize any risk associated with the tanks, mainly those with a capacity of 50,000 cubic meters, in order to increase the safety distance and also the area to contain the product in the event of a spill or fire.
Another priority is the recovery of the water supply to the Supertanker Base, based on various solutions such as a new well, while it is expected to incorporate new pumps as part of the fire-fighting infrastructure, adds the source.
During Pardo Guerra's visit to the base, it emerged that in general the estimated material damage from the incident, considered the largest industrial fire in the history of Cuba, exceeds 1.6 billion pesos.
As part of the actions carried out after the extinction of the fire, the Territorial Division carried out an investigation on the danger of thermal radiation in correspondence with different types of fires, through simulations and other techniques. The objective of this study is to offer a better response to similar events, the report highlights.
Secure the ACN that the incorporation of drones as necessary technological means to increase the effectiveness of surveillance systems in the area was a measure proposed by the Chief of the National Civil Defense Staff.
According to the official version, an electrical discharge generated by a storm that occurred in the area of ​​Matanzas Bay was the origin of the fire that completely destroyed three tanks at the facility, and left 17 people dead, most of them firefighters who were participating in the extinction work.
In addition, another 129 people were injured, who received medical attention in various hospitals in Matanzas and Havana. the last one received a medical discharge 90 days after the fire occurred.