A few months ago I found the literary recommendation of the novel unhappy by the Spanish author Javier Peña. The edition of blackiebooks, an independent publisher based in Barcelona, ​​caught my attention. The "crush" was instantaneous, I must admit that it was an aesthetic thing, and the fact is that the books also enter through the eyes, there are editions that are so beautiful that they invite you to read, and this publishing house knows how to make attractive books. same thing happened to me with agnesthe second novel by the same author, again with Blackiebooks.
I said to myself: you have to have them, and when I managed to get someone to bring them to me from Spain, I told Javier Peña on Instagram and he asked me to upload a photo of agnes on the boardwalk, which I did, under a sun that cracked the stones and next to a bottle of rum, in honor of Agnes, the protagonist, who, if she came to Havana, would drink her little rum well.
On the other hand, the choice to photograph unhappy near the Hotel Nacional was due to the fact that precisely in that novel there is a character who stays in the famous building, and it seemed correct to do so.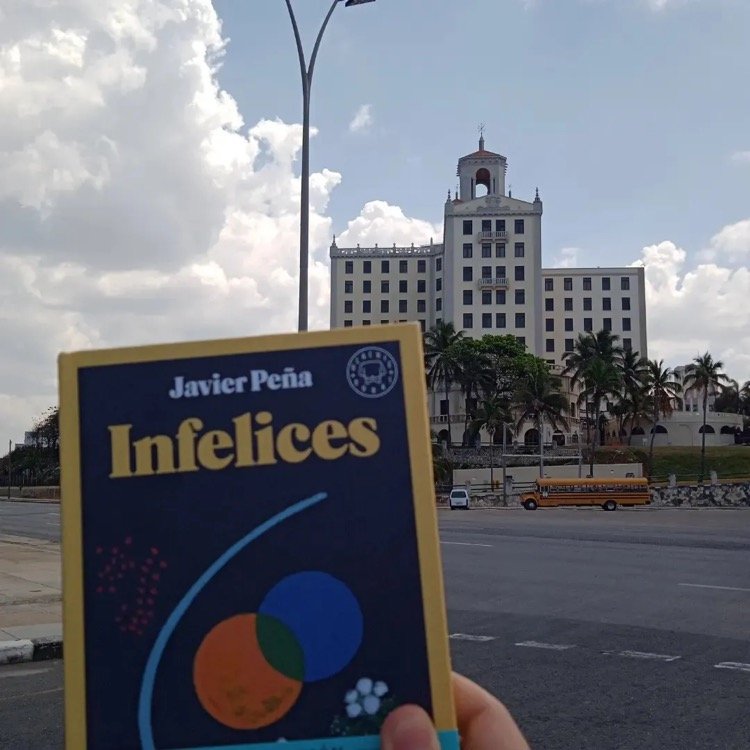 On this side of the planet, on this little island so historically connected to Galicia, Javier Peña, a Galician writer who studied journalism and later worked for a time as a "ghost writer", that is, writing speeches for politicians as an advisor in the Government of Galicia, until he got fed up with writing falsehoods and threw himself into the creation of fiction, something he already practiced in the speeches he made for others.
Javier Peña is not only a committed writer with his own titles, but he is also a great reader, student of the top and emerging works and authors; he supports the creation and development of other talent, teaches writing workshops and recently started a wonderful podcast called great unfortunates, in which he shares information about the lives and works of those essential names in literature. The podcast It is already recommended; fine cinnamon.
In his two novels, Peña touches on essential themes of modern life such as personal satisfaction, the idea of ​​success, the influences of relationships and the extent of affective ties or their absence towards other areas of life. In these works we will find people who are dedicated to journalism, because, well, ultimately it is the author's career, it is inevitable, and his way of writing has a humor that organically joins any tragic or unfavorable situation, just as we do in Cuba, yes, the sky is going to fall and the king must know it, but in the meantime laugh and enjoy, that's the thing…
Now let's talk about the novels, and let's do it in chronological order.
unhappy
Published in 2019, his debut feature is a novel with several protagonists, built through different stories, anecdotes, articles and curiosities. Full of references to works of art, music, cinema, literature and the world of crime, it is written with humor, irreverence and exquisite cynicism. He jumps from the omniscient narrator to the first person with a dynamism that hooks, sustains and pleases.
Javier Peña's way of telling is fresh, playful, precise as a bullet fired through a peephole and very entertaining, without falling into the simple and much less common places. I loved the similes, the nicknames, the names of the chapters, the construction of the characters, which are all very curious, full of substance, meat, smells, sensations, likes and dislikes. The situations in which they find themselves all the time contribute a lot to the story, and the moments of philosophy that they have give to mark many sentences in the book.
At all times these characters are super real, with many nuances; Don Quixotes with dented partitions against windmills, crazy Sanchos for witnessing and following less, grains with patches so as not to be seen, people who struggle with themselves, with their bodies, with their physical and spiritual ailments, relationships complicated by nonsense and paranoia.
The unhappiness to which the story refers, in my opinion, falls on those overshadowing things that can make us feel dissatisfied, self-conscious, impeded, intimidated, insecure, intrigued.
It could be believed that it is a pessimistic novel, but it is quite the opposite. It makes you think about the different ways we have to complicate our lives, and in a very original way it even becomes hedonistic.
He works a lot with the introspective, with the actions that contradict the will, with the memories, with the breaks, with the adjectives; in it the author plays with the lives of his characters because he has something to tell us and for this he also plays with words: «Words delimit, sculpt like the chisel».
In the novel we see several people whose stories are intertwined: the political advisor in the midst of a losing streak, the mother who has a complicated relationship with her daughter, a writer, a journalist, a super optimist with cancer.
"I have seen the best minds of my generation destroyed by mediocrity"this phrase that borrows from Howl, by Allen Ginsberg, has a level of synthesis and a charge of realism so brutal that, after reading it, I kept thinking about everyone I know, about me and even about what in my context and in my time is considered as " mediocre"… But, is not being mediocre not being unhappy? Do you have to be lucky to achieve happiness? What is happiness?: «They have forced us to believe that being lucky is that they print your name in La Revista, on the spine of a story book, on the headline of a TV newscast. That is nothing more than food for the vanity, the potatoes with ketchup of the ego, the short cut to unhappiness.
The novel rubs in our faces all the misconceptions of wholeness and joy that we believe in in these times of screens and lanterns: "Are we something more than what we teach others?"
It is a much appreciated reading, I did it almost in one go, despite its 288 pages.
since i finished unhappy It is impossible for me to see the Hotel Nacional without thinking of the character of Marga, putting on yogurt in her parts in front of the mirror and talking to the person who is spying on her in her room.
agnes
It is a novel written with several narrative resources that make it enjoyable, dynamic and very easy to read, call yourself an omniscient narrator, «Verbatim transcript of the off of a television news»excerpts from a diary, emails, jumps and shifts in time and space.
It is made up of tales or stories parallel to the main one, which is known in narrative techniques such as Chinese Box or Russian Doll: stories within stories that make up one in general, the novel. It has moments of cinematic storytelling. It is, in my opinion, a very modern novel that plays at breaking down gender barriers, as it should be today. What I'm saying is that it flirts with the noir novel, the thrillerdrama, comedy, realism, the biographical.
Agnes Romaní is a journalist who is assigned to write the biography of a writer bestseller who is about to retire: Luis Foret. The renowned author is not given to giving interviews and no one knows what he looks like, despite his success, his mediocrity and his big tricks. marketing. Agnes initiates communication with this Foret through emails, and little by little we learn the story behind the enigmatic man who, in some way, has always been too close to death or the misfortune of the women he has been with. had relations: «(…) all love stories are ghost stories. Even if they don't even give you time to make love».
why is it called agnesif supposedly there is more talk about the stories of such Luis Foret?
It is that, the writer to whom Agnes will make the biography divides his anecdotes about "how he became the recognized author that he is" with the names of each of the women who supported and made his career. Then, Agnes would be one more to complete Foret's career with the biography of such a fraud: «(…) The man who is already Luis Foret may be the usual loser. Even losers get a lucky break. Maybe, deep down, he was never the famous writer, but the loser (…) It may be the reason why he hides his real name. Who would buy a loser's books?
The cultural suggestions contained in the novel flow with the plot in a very organic way, as in unhappy. Books, authors, songs, personalities and movies are part of moments and mark them, so that the reader can also evoke them at other points in the evolution of history. Nothing is left over, as in theatrical scenery, if there is a glass, don't worry, that glass will be used at some point, you keep reading and you will see.
It has a very elegant cynicism, an acidity that reminded me at times of Raymond Chandler and his crime novels:
«The poet is a pretender, he pretends so completely, that he even pretends that it is pain, the pain that he really feels»quotes Fernando Pessoa, one of my favorite poets, to say: «Pessoa's verses always make me question whether I am a fake who writes or I write because I am a fake. It may be the same." Luis Foret, the co-starring author of this novel, also uses, like Pessoa, several aliases depending on where he is, and his farce is so capitalized that he manages to get away with it, and the fact is that the history of humanity is full of such examples ; people you applaud and when it comes down to it they're not even half of what you think they are.
Here is a round story with an ending that seems predictable, and yet it is surprising. I loved it, and it was very entertaining. Throughout its 288 pages, some of the anecdotes or stories may seem like digressions, but they are not, each one plays a strategic role.
With this novel something mysterious happened to me. Many readers have posted their photos of the book near green crickets, hopes, whatever you want to call them, the same insect that appears on the cover of the novel and that somehow manages to be close to whoever reads it. A certain mysticism began to be attributed to this edition that I, in particular, thought was exaggerated, I told myself that surely there were many of those bugs in Spain, hence so much "coincidence". Having my own copy at home, suddenly, like this, out of nowhere, I find one of those green hopes stuck to the roll of toilet paper that replaced the napkins that I couldn't find, near Agnes. I said to myself, well, this is some kind of good witchcraft or something like that, or maybe it's just that the crickets are attracted to light, and they know that's what comes out of those pages —I could have other hypotheses, but I stay with the mystique, it is prettier.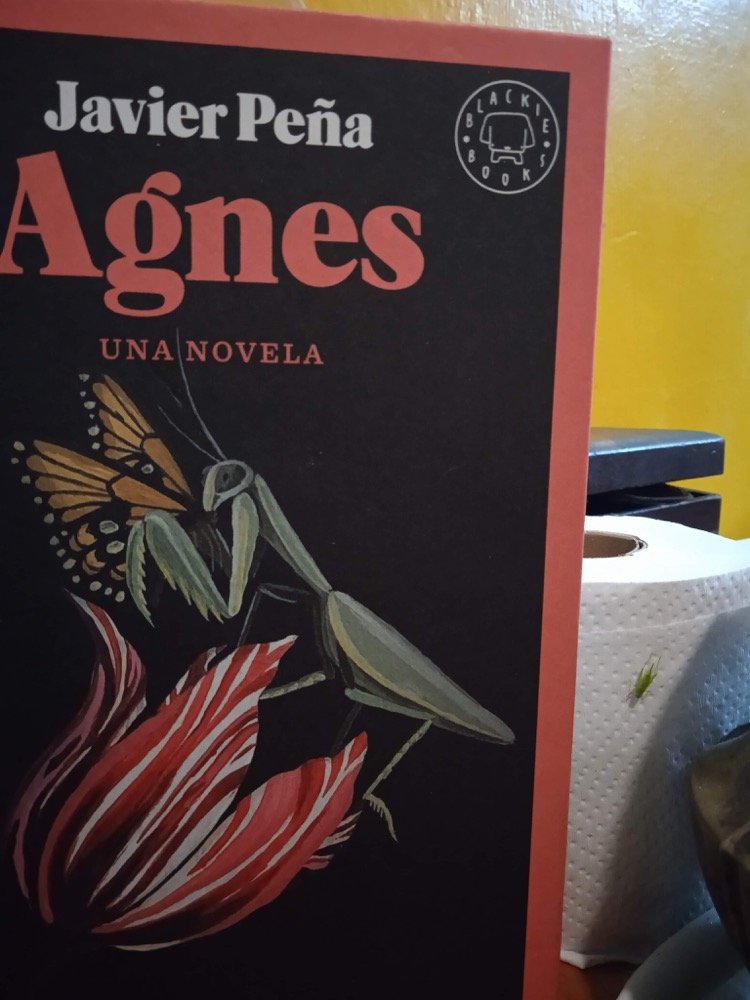 Javier Peña has a great talent for writing, he has what is said Angeland a high level of commitment to literature, his books, his classes, his postsits presentations and even the bugs it attracts.
I hope that these two of your novels that have been successful in Spain arouse the curiosity of the reader who is thousands of kilometers away, in the same way that happened with me.
What a pair of "Libbrazos". Thank you Javier Pena.
I leave you a hug and until next week.