For many of those who went to Esplanada dos Ministérios today (1st) to closely follow the inauguration of Luiz Inácio Lula da Silva, the transition from 2022 to 2023 represents more than the transition from one year to another. It represents the resumption of a path that, according to them, was interrupted four years ago, in the search for a fairer country that respects the rights of its citizens.
Many of those present traveled hundreds or thousands of kilometers to participate in this historic moment that marks Lula's return to the Planalto Palace for the third time. Indigenous leaders, leaders of African-derived religions, the LGBTQIA+ movement, people with disabilities, social movements, and other groups said they had been excluded from the priorities of the federal government, until then.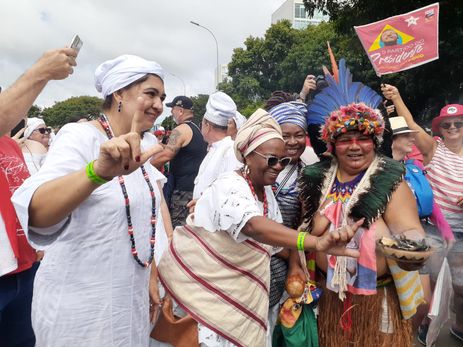 Mother from Bahia Adna Santos (in the center) and the Pataxó Indian Flor Guerreira on the Esplanada dos Ministérios – Pedro Peduzzi/Agência Brasil
THE Brazil Agency these leaders expressed optimism in relation to the Lula government which, as of today, follows a new path.
Mother Adna Santos, 60, from Bahia, is the coordinator of the Afro-descendant Health Network (Renafro), and said that her expectation is the best possible: "they [os Orixás] I was assured of this good news. The command is with Exu, Iansã and Iemanjá, and they said to come here today, and that Brazil is being watched from all sides. Lula is in power and we are with him", said the mother of saint.
The babalorixá of the Warrior People Organization Joel Oxalá confirms the optimism expressed by the orixás. "Lula is from Xangô, and Xangô told me that 2023 will be a year of justice and of carrying out all the interventions that were left aside by the past government," he said. According to him, on January 1st, with freedom of expression and democracy, the government's gaze returned to focus on "the minorities that have been excluded over the last few years".
"I am certain that this will be a government that respects the groups that make up the diversity and traditions of this country, after years of setbacks, racism, intolerance and persecution," he told the Brazil Agency.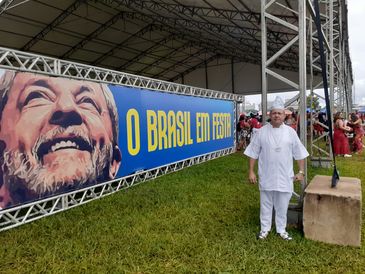 The babalorixá Joel Oxalá at the inauguration ceremony – Pedro Peduzzi/Agência Brasil
"We are here for a noble cause in defense of traditional communities, quilombolas, indigenous peoples and African traditions, and popular culture in general. Who wins with this is Brazil because what makes the country grow is the people who are at the front", he added.
native peoples
The Indian Pataxó Flor Guerreira, who lives in a village on the border of Bahia and Minas Gerais, said that the newly sworn government will bring opportunity to the indigenous people. "The new government represents an opportunity for us to resume and regain our rights and to have back the constitutional practices that were torn by the last government not only in relation to indigenous rights, but of several other groups", said Flor Guerreira.
According to her, her group's struggle is not restricted to indigenous peoples. "We fight for everyone's lives; by land, by water, by whites, blacks; for the people and the animal people; for the good people and the bad people too, for them to evolve," she added.
Bolivians
Juan Cusicauki and Aloha Queiroz came from Bolivia for Lula's inauguration ceremony – Pedro Peduzzi/Agência Brasil
Another native, but from a much more distant land – Bolivia – also came to Brasília to show support for the new president. Holding a Wiphala flag, which represents peace, unity, solidarity and harmony between the different ethnic groups of the Inca Empire, Juan Cusicauki, 53 years old, is from the Aymara ethnic group (from the Pre-Columbian Era) and lives in São Paulo. He knows the problems experienced by his countrymen on the outskirts of São Paulo.
"My countrymen have suffered many problems, ranging from documentation to oppression and humiliation. The situation has gotten much worse since the departure of President Dilma [Roussef]. Access to public school and social programs has become more difficult," he said.
Cusicauki's wife is Brazilian Aloha Queiroz, 45, who performs to draw attention to violence against women. She accompanied her husband on the trip and said she was as optimistic as he was. "I am very hopeful that the situation will improve, so that we can reverse the recent increase in feminicides, observed since the beginning of the pandemic", she said.
LGBTQIA+
Miguel Carraza (right) came from Uberlândia with Ernesto Magalhães, who extolled the northeastern people with his stylized clothing – Pedro Peduzzi/Agência Brasil
Another group that expressed identification with the guidelines of the new government is the LGBTQIA+. Architect and university professor, Miguel Carraza, 34 years old, traveled from Uberlândia (MG) to Brasília to participate in this important historical moment.
"The last 4 years were very bad because we never felt embraced by the government. We were placed as people without rights. The feeling is that the new government comes to embrace us. We are all equal and we believe in Brazil. For the country to move forward, respect for the people and human rights is fundamental".
secular problems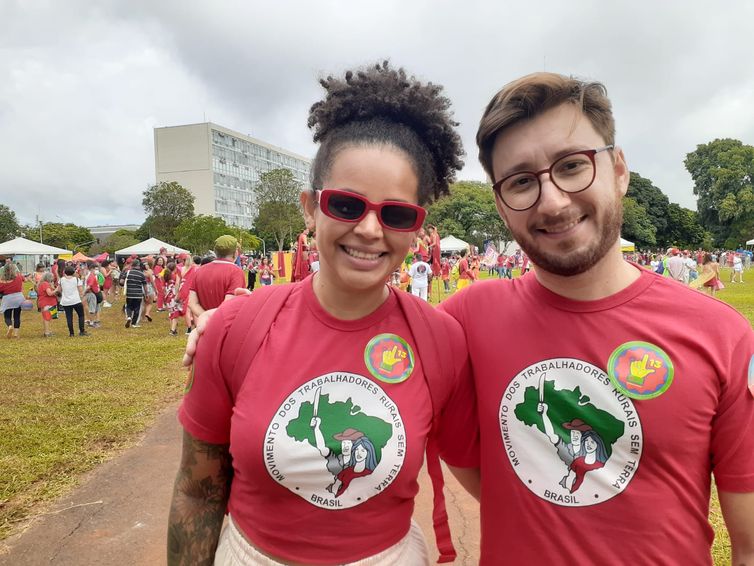 Amanda Teixeira and Evânio Guerrezi came from Paraná for the inauguration of the new government – Pedro Peduzzi/Agência Brasil
Wearing a Landless Movement (MST) shirt, Evânio Guerrezi from the Legislative Chamber of Toledo (PR) said that he was also a victim of prejudice in his state for the simple fact of claiming to be leftist.
"There is a very strong anti-Lulism in Paraná due to the influence of some powerful agribusinesses in the state. I even had my car stoned for that reason, when we tried to pass a blockade made by supporters of the former president", said Evânio.
He said that he sees in the MST an "important tool" in favor of social justice, income distribution, access to food and shelter for the population. "These are centuries-old problems that have, in the MST, a way to be solved. After all, it is small producers who put 70% of the food that arrives on the tables of Brazilian families", he added.
Also coming from Paraná, federal criminal police officer Amanda Teixeira, 36, said she had experienced difficulties as part of an "empowered and protected" category during the four years of Bolsonarist government. attributed to her. This flirtation was quite harmful in my daily work", he said.
The police officer's expectation is that today's date symbolizes "the exchange of hate for love", resuming the construction of a more supportive society and with more efficient public policies.
special education
Blind from birth, Lucas Costa, 17 years old, traveled with his grandmother Maria do Carmo, 58 years old, for 36 hours, from Belém do Pará to Brasília. A 3rd year high school student said that education policies have been undermined in recent years for those who, like him, need special care.
"I noticed the first difficulties from 2018 onwards. The last year we had some support was 2019, but in 2020 all projects were cut. During the pandemic, things got even worse, but I have good expectations for the next four years. It will be a period of great struggle, not least because changing the government is not enough. It is necessary that there be collaboration of the Legislative, the Judiciary and society itself, which in general is directly influenced by its rulers".
Maria do Carmo, who raised Lucas, said she had cried over the last four years over the situation of her "grandson" at school, with the loss of professionals who helped him with his school development.
"Fortunately, we are changing from an insensitive government to one that is extremely sensitive to people who are in a situation similar to my grandson's."
The two came in a caravan with about 50 people who throughout the trip sang songs that mentioned the name of the new president.
affected by dams
Longina Miliana de Oliveira, 78, is one of the victims of the dam collapse in Mariana (MG). "Until the disaster, I could fish and I had a garden, but since then I have nothing," said the member of the Movement of People Affected by Dams (MAB), who traveled 1,000 kilometers from Periquito (MG) to the federal capital.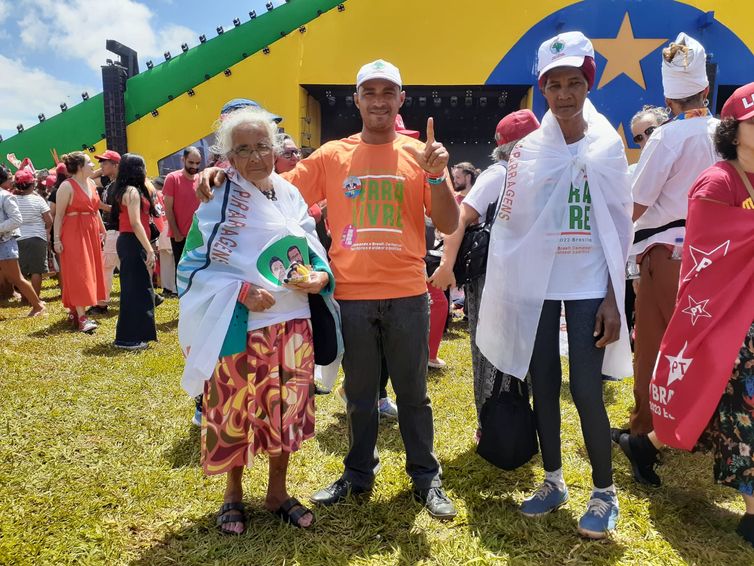 Longina Miliana de Oliveira (left) traveled a thousand kilometers from Periquito (MG) to Brasília – Pedro Peduzzi/Agência Brasil
"It was an 18-hour trip with a lot of parties, but I feel like my soul has been washed because since the incident [em 2015] I did not receive a penny from those responsible for the dam collapse". Now, with the expectation of support from the new government, her expectation is that this situation will be reversed.
Northeasterners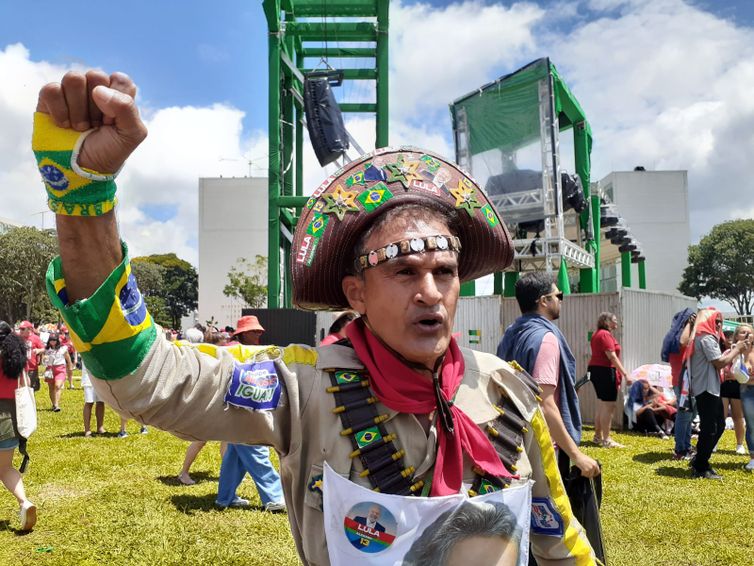 Francisco Ricardo stopped running to São Silvestre to come to Brasília – Pedro Peduzzi/Agência Brasil
Known by the nickname marathon runner cangaceiro, bricklayer Francisco Ricardo, 55 years old, stopped running in São Silvestre this year to be in Brasília and closely follow Lula's inauguration. The trip, from Iguatu (CE) to Brasília, was a long one: more than 1,700 kilometers.
"My motivation for coming was the hope of having a government that creates more jobs for people from the Northeast. The situation in our region has gotten much worse in recent years. Since Dilma left, politicians think that we, Northeasterners, are ignorant and try to deceive us. But we know that everything that had been done until then stopped since the beginning of the Temer government", he said.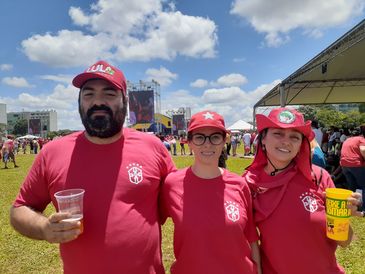 Wearing a red shirt from the Brazilian national team, architect Ivanil Costa, 38, said that the recent New Year's Eve was not from 2022 to 2023. "It was a turn from 2018 to 2023", he said when criticizing Lava Jato's interference in that election .
"I understand that it is important to have, from time to time, alternation of power because competition between different political groups is positive. But I think that Lava Jato ended up interfering in a negative way, by subverting the judicial process, arresting even before hearing the version of the accused. It was a strange attitude that only later could we understand the real motivation: to remove Lula from the scene and make room for an extreme right-wing government", added the architect who traveled from Belo Horizonte to Brasília.
listen on National Radio Agency: