The US embassy in Cuba does not expect to be able to reissue non-migrant visas (tourism, business, study or medical treatment, among others) "soon" due to lack of personnel and the expectation of "extremely high" demand.
"I don't know when we're going to be able to," he acknowledged in an interview with EFE the US charge d'affaires in Havana, Benjamin Ziff, when asked about when the legation in Cuba could issue non-migrant visas again.
"I don't think it's going to happen anytime soon. We have to be in a position to do it, "added Ziff, who stressed that" the intention is there ", although he avoided talking about deadlines.
The diplomat recalled that the embassy "had a minimum of staff for five years", thus referring to the bilateral controversy surrounding the so-called Havana syndromesupposedly caused by some sonic attacks that have not been tested.
The embassy now has "one third" of the staff of six or seven years ago and returning it to that situation "will take time" due to the bureaucratic processes of the US administration and logistical difficulties in Cuba, said its top official, who came to Havana in 2022.
He also pointed out that "there are a good number" of other visas "that still have to be processed", among them those for family reunification —which are "the priority" for Washington— and pointed out that his forecast is that the demand for visas of no migrant is "extremely high" among Cubans.
Cuba is going through an unprecedented wave of migration in the midst of its biggest economic crisis in decades. In 2022, more than 313,000 Cubans migrated irregularly to the US alone, which represents around 3% of its population. Several tens of thousands more marched to Mexico, Spain and other countries.
The charge d'affaires pointed to economic causes to explain this trend and assured that the factors that "push" migration from Cuba "are more important than any other factor" of attraction, when questioned about Washington's economic sanctions and regulations such as the Cuban Adjustment Act, which facilitates permanent residence for these nationals.
"I believe that the Cuban economy is the responsibility of the Cuban government and that the Cuban government is responsible for improving the economy so that people do not want to leave," he replied.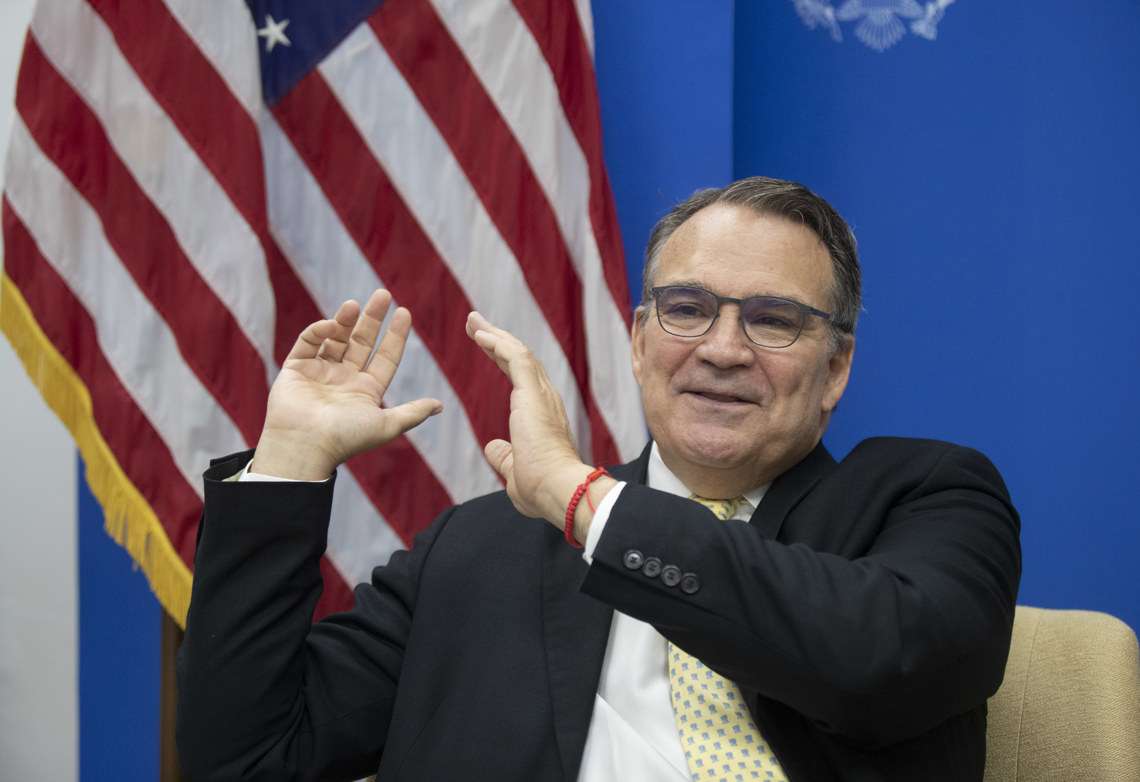 Title 42
Ziff did not foresee major changes for Cuban migrants with the controversial end this May 11, Title 42a norm that allowed the immediate expulsions of migrants who crossed the border irregularly for reasons of public health during the pandemic.
He stressed, however, the emphasis of the Joe Biden Administration on controlling migration: "while we expand legal channels, we are trying to make the penalties for irregular migration more rigorous."
"Cubans should take advantage of the humanitarian parole program, the family reunification program, the diversity visas,… all these legal programs. Because if you are going to (try to reach the US through) the sea (…) you can no longer qualify for the humanitarian 'parole' program, you will be returned to Cuba. You will have put yourself in danger and risked your life for nothing," he stated.
The charge d'affaires added that trying to access the US irregularly through the southern border also has negative consequences, including the new measure that considers these migrants as ineligible a priori to request asylum.
He also indicated that the US anticipates "an increase in deportation flights" of migrants nominated "inadmissible" to all countries, "not only to Cuba." "We expect a regular flow (of flights), depending on the needs," she added.
Regarding the humanitarian parole program, he indicated that more than 20,000 Cubans have benefited from it since it started at the beginning of the year and assured that he is not aware of "any particular plan to change" this system, in which people from Cuba , Nicaragua, Venezuela and Haiti can migrate to the US if they are legally and financially supported by a "sponsor".
The US charge d'affaires considered it "extremely constructive", "effective and useful" to have a "technical, correct and limited communication channel" with Cuba to talk about migration, "an issue that is of great importance" for both countries.
Cuba and the United States hold thematic meetings at least twice a year on this issue, within a series of medium-profile technical meetings held by both countries.
Cooperation in other areas, he continued, is limited by the issue of human rights, the "main concern" of the US with Cuba. It is "the main obstacle to improving relations in all areas, it is something that we frequently deal with the Cuban government," she said.
In other concerns, Ziff referred to the situation of the rule of law, migration and the private sector.