There are eight requirements that must be met by companies that want to use the new seal on their products Made in the Dominican Republic
The label was released yesterday by the Dominican Government, through the Ministry of Industry, Commerce and Mipymes (MICM) and the Association of Industries of the Dominican Republic (AIRD).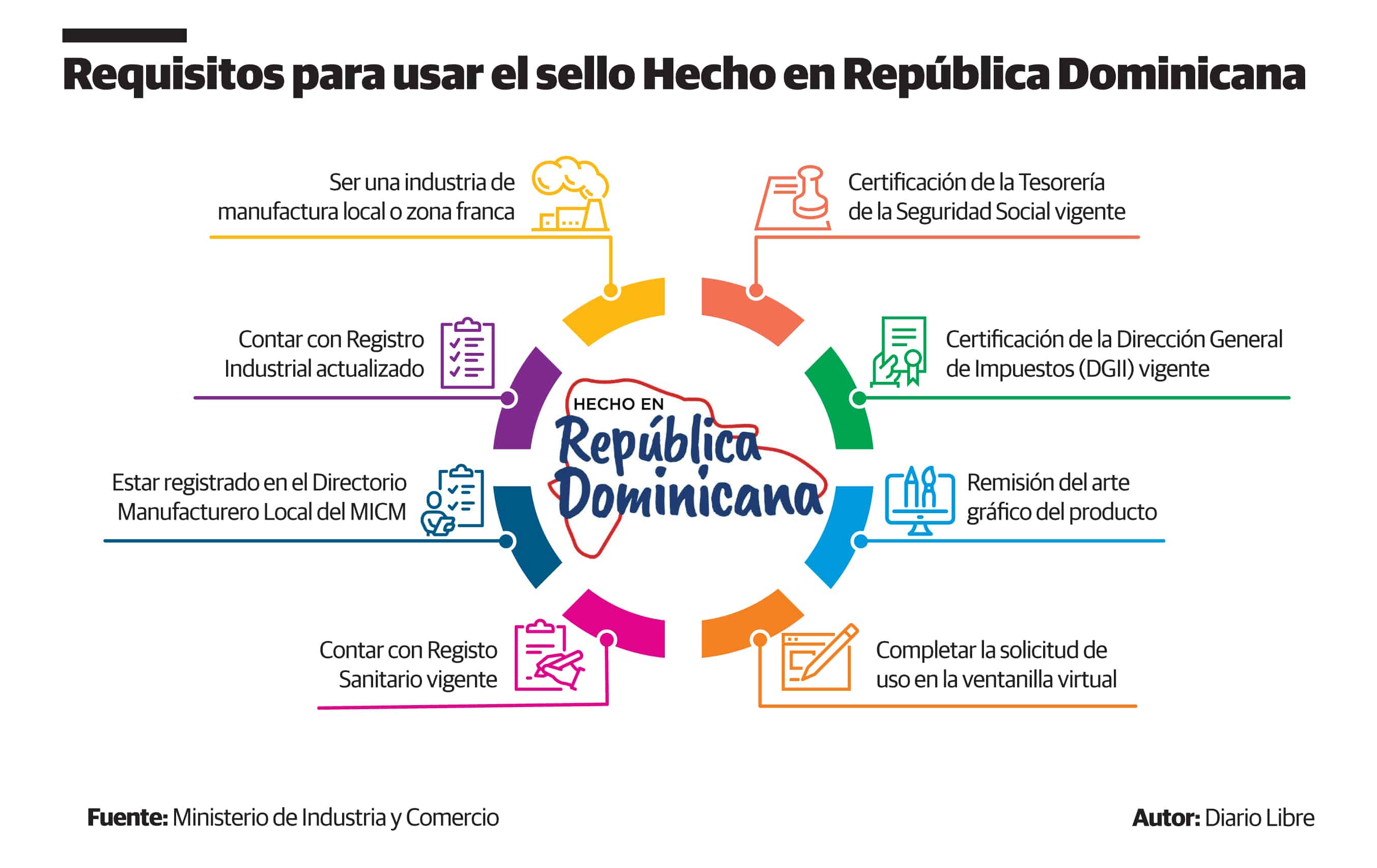 What is the application process to affix the seal?
Access to the user in the virtual window

User creation in virtual window (in case you don't have)

registration in the Local Manufacturing Directory (in case you are not registered)

Seal service selection

Service description

Click on "apply here"

Fill the application form of the seal

Attach documents

display of state of the application
The Ministry of Industry, Commerce and MSMEs (MICM) presented yesterday the seal Made in the Dominican Republicwith the support of the private sector, which will allow national and foreign consumers to identify locally manufactured products, as well as to raise the identity of what is manufactured in the manufacturing industries. local manufacturing or free zones.
The event was headed by the Minister of Industry, Commerce and Mipymes (MICM), Víctor -Ito- Bisonó and the president of the Association of Industries of the Dominican Republic (AIRD), Julio Brache, who highlighted that 29 industries have authorization to use it.
The MICM initiative arises to respond to the need for a unique seal to identify products manufactured by local manufacturing industries and industries of free trade zone that meet the requirements established in the Manual of Use and Graphic Identity of the Seal Made in the Dominican Republic.
"Today, together with you as witnesses and allies, we launch Made in the Dominican Republica seal that represents the products that are manufactured with passion in our land, by our people, for the world, as an authentic symbol of Dominicanness", expressed Bisonó.
Julius Virgil Brachepresident of the AIRD, said that Made in the Dominican Republic It is a seal that will contribute to strengthening the country's image as an industrialized economy in the Central American and Caribbean region. "It is a unique, harmonized seal," he said.
Brache indicated that the seal will represent an added value that will contribute to the competitiveness of companies that adopt it in their products. "This stamp undoubtedly puts the signature as a country on our exports and will also increase our competitiveness," he said.