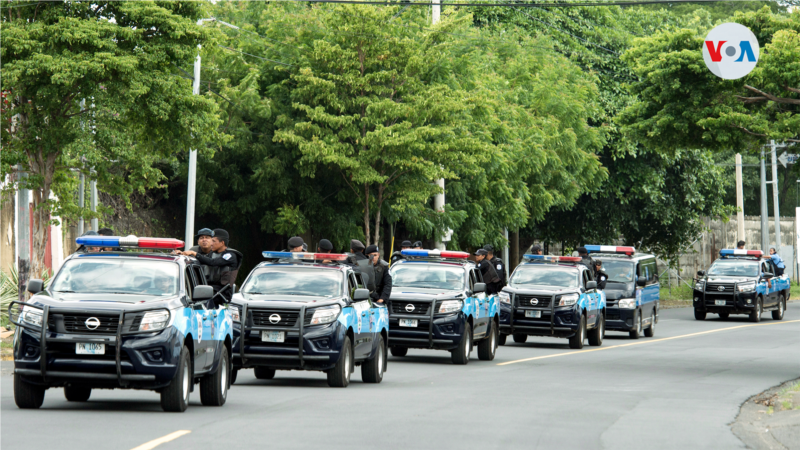 San Jose Costa Rica –
While this Wednesday the World Day of Press FreedomIn Nicaragua, the government of Daniel Ortega unleashed a repressive campaign, arresting opponents and a journalist, who were accused in the early hours of Thursday morning of crimes related to the issuance of false news and undermining national integrity, according to reports. human rights organizations.
Although at the moment there is no precise number of people arrested and accused, it is preliminarily known that there are about 30, including activists, relatives of victims of the 2018 protests against Ortega and peasant leaders.
Journalist William Aragón, a former correspondent for the newspaper La Prensa, was arrested at around 6:00 pm on Wednesday and taken to a hearing that was held in the capital, Managua, but was later "released" along with other opponents under the condition that he had to appear from Monday to Sunday to sign before a judge.
Aragon denounced the voice of america that during his detention the authorities seized his computers and cell phones. "Some eight police patrols arrived at the house and told me to accompany them…then they accused me and told me that I was promoting terror and false news, that I had to present myself from Monday to Sunday to sign," said the journalist.
María Bermúdez, mother of a young man murdered during the protests against Ortega, was also arrested; likewise the peasant leader Octavio Ortega Arana.
Opponents were released but under conditions
The human rights defense lawyer, Yonarqui Martínez, pointed out on Twitter that the accused "have not been fully released", but rather have a periodic precautionary measure for which "it can be revoked at any time" and detained.
He added that the hearings were irregular because the opponents "were prohibited the right to defense" for which he described the process as "a complete legal aberration" perpetrated by "prosecutors and judges" related to the Ortega government.
"30 people have been charged yesterday. A procedure that started with inconsistencies. Every Nicaraguan citizen deserves a fair trial if they are prosecuted. Respect for his rights and guarantees must be present at all times, "said Martínez.
sentence for arrests
The mass arrests were criticized by the opposition and international politicians such as former Costa Rican president Laura Chinchilla, as well as Paulo Abrão, former executive secretary of the Inter-American Commission on Human Rights (IACHR).
Abrão referred to the arrests "as a new repressive wave in Nicaragua" and said that they were "arbitrary detentions, captures and raids in different parts of the country."
"The repression never stopped. Ortega needs political prisoners for currency. Intolerable dictatorship. Let them be released with life and integrity!", he stressed.
For his part, Chinchilla classified the apprehensions as "another day of terror by the Ortega Murillo dictatorship."
"It is the 'tribute' of the Ortega Murillo dictatorship to journalists on International Press Freedom Day," he criticized.
Nicaragua has been experiencing a sociopolitical crisis since 2018, when protests against Ortega arose, which the president called an attempted coup against his government.
The Nicaraguan crisis has left at least 350 dead, according to the Inter-American Commission on Human Rights (IACHR) and thousands of exiles, among them journalists.
Connect with the Voice of America! Subscribe to our channel Youtube and activate notifications, or follow us on social networks: Facebook, Twitter and instagram.