Four Cuban baseball players hit at least 8 home runs in the Major Leagues in May, 5 finished with an OPS above .900 and 6 drove in 16 or more runs, numbers that clearly speak of the offensive impact of the Cuban sluggers in the best baseball in the world during the last month.
If we were to choose the best, probably Jorge Soler's 12 homers would immediately catch our attention. "El Crudo" was tied with Aaron Judge for the most homers in May among all MLB players, 2 ahead of Pete Alonso, the season's home run leader.
With his dozen hits beyond limits, Soler came just one away from equaling the Cuban record, held by José Canseco since May 1990, when he hit 13 home runs. This is also the third best mark of all time in a month for a West Indian, surpassed only by Rafael Palmeiro's 15 in August 1999 and the aforementioned record set by Canseco.
Soler led the Marlins in RBIs (25), extra-base hits (14), runs scored (20), slugging (.626) and OPS (.982), and ranked in the Top-10 of each of those departments in the National League, for which he was chosen in the MLB Team of the Month as the best designated hitter.
However, would you be surprised if I tell you that Jorge Soler was not the Cuban who hit the most in May? That honor falls to Lourdes Gurriel Jr., from Sancti Spiritus, who has been unstoppable with the wood, to the point of ranking third in the Majors in OPS (1,130) during the past month, only behind 2 monsters like Freddie Freeman (1,356) and Aaron Judge (1,184).
"Yunito", who was also included in the MLB Team of the Month as the best left fielder, left an impressive offensive line (Average / On-base average /slugging) batting .352/.416/.714 with 18 RBIs and an equal number of runs scored. In addition, half of his 32 hits were extra-base hits (7 doubles, 1 triple and 8 home runs).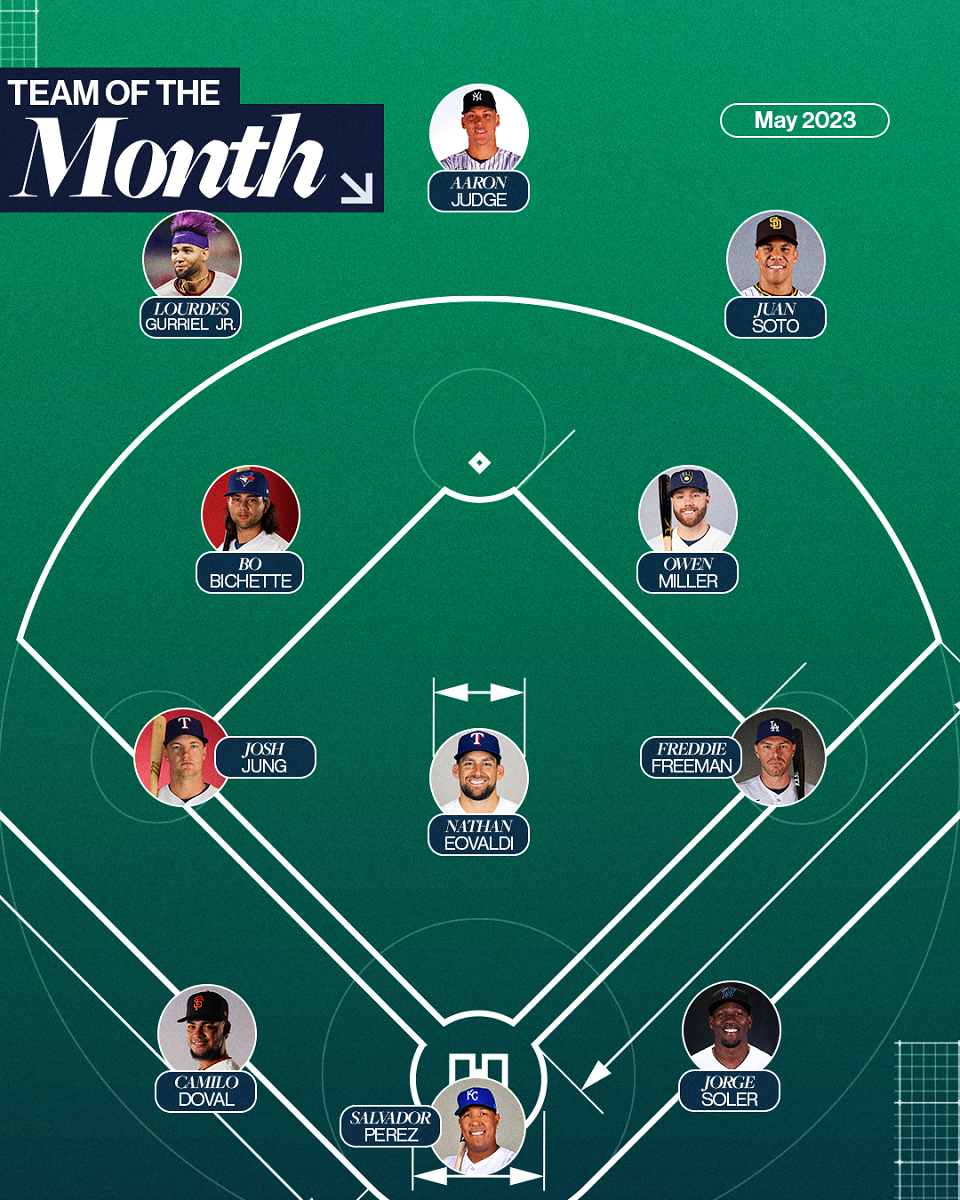 In most of these sections he was the great figure of the Arizona Diamondbacks, who won 17 games in May and placed second in the West of the National League, very close to the Dodgers.
Other outstanding Cubans in May were Luis Robert Jr., Yordan Álvarez, Yandy Díaz, Randy Arozarena and Miguel Vargas, all with very relevant figures.
Robert Jr. finished tied with Aaron Judge for the second most extra-base hits (17) in the Majors; Yordan led the Astros in home runs (8) and RBIs (21); Yandy maintained a consistent pace and continues to fight for the OPS reign in the season; Arozarena was the fourth with the most tickets (20) of the entire circuit; and Vargas drove in more than 15 runs for the first time in his fledgling MLB career.
As a summary, we present the best Cubans in some of the main offensive lines:
Offensive average: Lourdes Gurriel Jr. (.352)
On-base average: Randy Arozarena (.423)
Slugging: Lourdes Gurriel Jr. (.714)
OPS: Lourdes Gurriel Jr. (1,130)
Jits: Lourdes Gurriel Jr. (32)
Double: Louis Robert Jr. (9)
Triples: Yulieski Gurriel (2)
home runs: Jorge Soler (12)
Annotated: Louis Robert Jr. (23)
Driven: Jorge Soler (25)
extra base hits: Louis Robert Jr. (17)
stolen bases: Randy Arozarena and Adolis Garcia (3)
Tickets: Randy Arozarena (20)
Strikeouts: Jorge Soler (34)
Runs produced: Yordan Alvarez and Adolis Garcia (34)
Quick of the week
* Only two players woke up this Sunday with 50 or more RBIs in the Major Leagues, and both are Cuban. Yordan Álvarez (51) and Adolis García (50) lead the important department and are on pace to drive more than 140 touchdowns at the end of the season. In Cuban MLB history, Rafael Palmeiro (1996 and 1999) is the only one who has driven in more than 140 runs in a season.
Perhaps Yordan and Adolis will find it difficult to sustain this step, but if they remain healthy, I would bet that the two will exceed the figure of 120 RBIs, something that only Palmeiro (5 times), Tany Pérez (2) have achieved among the Antillean army. , José Canseco (2) and José Abreu (1).
* Cuban José Barrero hit a home run with the bases loaded last Tuesday that was lost in the depths of Fenway Park, in Boston. The drive traveled 421 feet (the second-longest homer of his career) and spun 106.5 miles against a sinker from pitcher Joely Rodriguez (Red Sox).
The habanero became the fourth Cuban to hit a grand slam playing for the Cincinnati Reds, after Tany Pérez (6), José Iglesias (2) and Leo Cárdenas (1). At the same time, he joined Yunieski "Riquimbili" Betancourt (May 2010 with Kansas) as the only island-born player to hit a home run with a bases load at Fenway Park.
* Last Sunday José Abreu ended to his worst homerless streak since his major league debut a decade ago. The man from Cienfuegos went 67 games without taking the ball out of the park, an astronomical figure for a hitter of his caliber. "Pito" cut the chain off Oakland reliever Sam Long, who hit a 363-foot drive over the left field fences.
Despite the home run, Abreu continues to struggle offensively in his first season in Houston, in which he has experienced a notable decline in traditional metrics. In addition, the quality of the turns of him, swing and contacts has declined considerably: more than swing against pitches outside the zone, the exit velocity of his hits has dropped and so has his percentage of hard hits.
* The pitchers cannot find a way to leave Marcus Semien without hits, who this Saturday massacred Seattle with 4 hits, a home run, 2 doubles, 4 runs scored and 3 RBIs. The Rangers waiter reached 22 straight games with at least one hit, the best streak of the season and the fifth in Texas franchise history.
Semien, who began his run on May 10, has placed himself just 6 games away from equaling the Texas record, held by Gabe Kapler (28) since 2000. During the chain, the second baseman accumulates 32 rockets, of which which 14 have been extra-base hits.
* Liam Hendriks, reliever for the Chicago White Sox and leader in American League saved games in 2021, reappeared this week in the Major League diamonds as the protagonist of one of the most relevant overcoming stories of the course. Hendriks was diagnosed with stage 4 non-Hodgkin lymphoma a few months ago, but has since recovered after a course of immunotherapy and chemotherapy. White Sox fans at Guaranteed Rate Field greeted the closer with a standing ovation and signs that read "Team Liam."
* We don't know if Spencer Strider will ever win a pitching Triple Crown, a Cy Young Award or a major league ERA title, but it's clear he has what it takes to make an epoch. The Atlanta Braves pitcher continues to portray opponents without compassion and this week he became the first pitcher of the season with more than 100 strikeouts.
The right-hander retired 9 Phillies players via strikes last Sunday and last night he killed 7 from Arizona. In this way, Strider has 278 strikeouts in his first 32 starts in MLB, the second most historical amount in this period, only surpassed by Dwight Gooden (282). Next on the list are Kerry Wood (271) and the Japanese Hideo Nomo (271) and Yu Darvish (249).
* Pete Alonso became the first player with 20 homers this season. After his poor performance in the V World Classic, the Mets first baseman has shown all his power and his candidacy to win the home run crown for the second time in the National League is already firm. The "Polar Bear" hit his first 20 homers of 2023 in 53 games, the second best mark since 2010 to date, only surpassed by the 21 hits by Josh Hamilton, Luke Voit and Aaron Judge in their initial 53 hits in 2012. 2020 and 2022, respectively.