The seven US citizens, including five Citgo executives imprisoned five years ago, were released in exchange for the release of the two nephews of Cilia Flores, who had received convictions for drug trafficking.
---
The government of Nicolás Maduro released, this Saturday, October 1, seven Americans imprisoned in the country in exchange for the release of the two nephews of Cilia Flores, Efraín Antonio Campo Flores and Francisco Flores, nephews-in-law of the president, who had been sentenced in the United States since 2017 with a sentence of 18 years in prison for drug trafficking crimes, reported a senior US official to the news agency AP.
The Maduro administration confirmed the information through an official statement, in which it only mentions – without specifying the identity – the release of "Two young Venezuelans unjustly imprisoned«, as part of the result of conversations that began on March 5 with representatives of the US government of Joe Biden.
The exchange of Americans, including five oil executives held for nearly five years, is the largest exchange of detained citizens conducted by the Biden administration.
"We are relieved and pleased to welcome back to their families today seven Americans who had been unjustly detained for far too long in Venezuela," said Joshua Geltzer, deputy national security adviser.
The agreement makes explicit the process of negotiations that the Maduro administration maintains with representatives of Biden and both governments officially confirmed it. Among those released are five Citgo employees, Tomeu Vadell, José Luis Zambrano, Alirio Zambrano, Jorge Toledo and José Pereira, who were in Venezuela in November 2017 to attend a meeting at the headquarters of the company's headquarters and once there were dragged away by security agents in Caracas. The other two US citizens released are Osman Khan and ex-Marine John Matthew Heathwho had been arbitrarily arrested for two years, after being accused by Nicolás Maduro as an alleged US spy.
Heath attempted to take his own life, end of June 2022, as warned by their relatives in a statement. Her aunt, Trudy Rutherford, told CNN that Heath had to be rushed to the Military Hospital in Caracas after inflicting injuries and asserted that his nephew "is now fighting for his life."
Days later, representatives of the high-level US delegation that was visiting Venezuela for the second time this year, visited detained former Marine John Matthew Heath. As revealed by Gustavo Heredia, Heath's lawyer, the US special envoy for hostages, Roger Carstens, along with two senior State Department officials, went to the health center.
the exchange
On December 14, 2017, Efraín Campos Flores and Franqui Flores de Freitas, nephews of First Lady Cilia Flores, were sentenced to 216 months (18 years) in prison and fined $50,000. for attempting to traffic 800 kilograms of cocaine into the United States. On April 9, 2020, the New York City federal appeals court upheld the 18-year prison sentence against him for drug trafficking crimes. However, although there were no further specifications by both governments on the conditions of this release, the measure indicates that the Flores nephews will be able to return to Venezuelan territory.
Through a official statement, the White House gave the list of the names of the seven Americans who "soon will return home", and points out that "it is a priority of (Biden) my administration to prevent Americans from having to endure the unimaginable pain of being taken hostage or unjustly detained" .
The document issued by President Biden reports that "this summer, I signed an executive order that will impose new costs, including sanctions and visa bans, against the perpetrators of such acts. Additionally, the State Department has introduced a new "D" warning flag that is designed to help Americans understand where and when travel may pose a higher risk of wrongful detention, possibly for extended periods of time."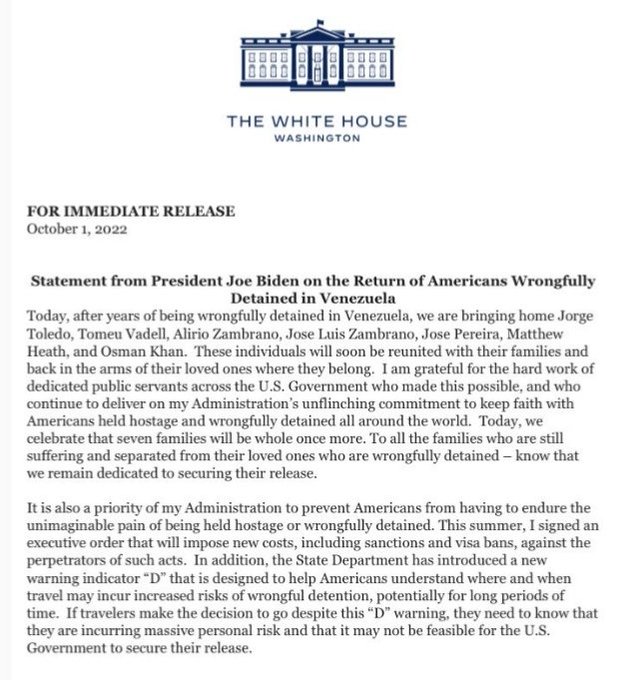 US Secretary of State Anthony Blinken ratified the information through his Twitter account. "We will never stop working until all U.S. citizens held hostage or wrongfully detained all over the world are at home".
We welcome the long overdue release and return of seven US nationals, wrongfully detained in Venezuela. We will never stop working until all US nationals held hostage or wrongfully detained around the world are home.

— Secretary Antony Blinken (@SecBlinken) October 1, 2022

Post Views:
733