The Department of Statistics and Cartography of the National Police records that during January 1 to March 31 this year in the Dominican Republic they stole 102 vehicles and 128 firearms.
The breakdown of robberies of vehicles during the first quarter indicates that 75 cars, 10 SUVs, nine trucks and eight vans were stolen.
The institution of order adds that during this time in Santo Domingo 42 vehicles were stolen and in the National District, 19. Seven were also stolen in the province of Santiago, seven in San Cristóbal, six in La Vega, three in Duarte, three in Espaillat and four in Monsignor Nouel.
Others robberies they were carried out in the provinces of Hermanas Mirabal (2), La Romana (2), Sánchez Ramírez (2), Valverde (2), Hato Mayor (1), La Altagracia (1) and Monte Plata (1).
The report details that most of the robberies occurred between Wednesday and Saturday. Regarding the time, it establishes that 18 robberies they were recorded between 12:00 midnight and 5:59 in the morning; 36 from 6:00 to 11:59 in the morning and six of the cases occurred between 6:00 in the afternoon and 11:59 at night.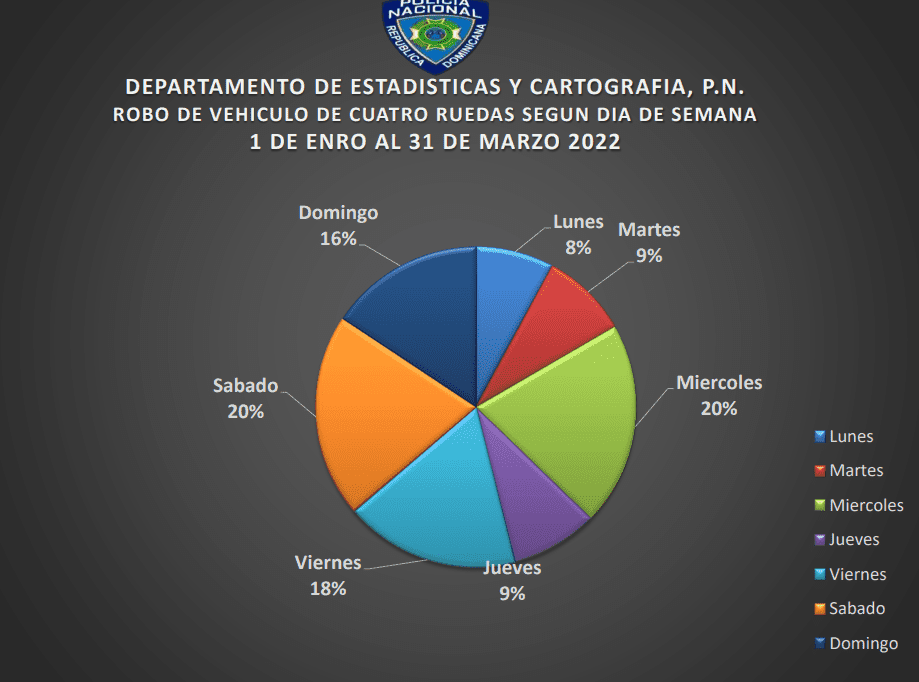 Over the robberies of firearms during this period, 98 cases occurred through violent action.
Of the 128 stolen firearms, 91 were pistols, 14 revolvers and 23 shotguns.
According to the Uniformed Department of Statistics, most of the robberies of weapons occurred between 12:00 noon to 5:59 in the afternoon. Between 6:00 and 11:59 in the morning, 43 were notified.
The most affected provinces during this period were Santo Domingo (41 robberies), San Cristóbal (10), La Altagracia (10), Distrito Nacional (8), La Romana (8) and La Vega (8).
Also Puerto Plata (7), Azua (6), Peravia (6), Espaillat (4), Barahona (3), María Trinidad Sánchez (2), San Juan (2), Valverde (2), Monsignor Nouel (2) , Dajabón (1), Duarte (1), El Seibo (1), Mirabal Sisters (1), Independencia (1), Samaná (1), San José de Ocoa (1), Sánchez Ramírez (1) and Santiago (1 ).