The wide and clear landscape of the Boca Chica Beachwith its white sand and blue waters of the Caribbean Sea, will be filled from this weekend with the crowd that will arrive at Easter in search of, mainly, three things: a dip, fried fish and alcoholic beverages.
The beach experience includes that and other pleasures that, like everything, have a cost. Before making the decision to choose small mouth As a destination, it is worth seeing the prices of fried fish, a cold beer, rum, yaniqueque, a table and chairs, a massage, braids, inflatable floats, protective goggles and even a plastic bucket and shovel for the little ones to play with.
Some of them could raise their price at Easter due to the increase in demand, some waiters have admitted, but the drinks and food have been set on menus printed by the Ministry of Tourism in the sales booths on the shore of the beach. in an effort to formalize those tasks.
The other restaurants also have their menus unchanged regardless of the season, they said.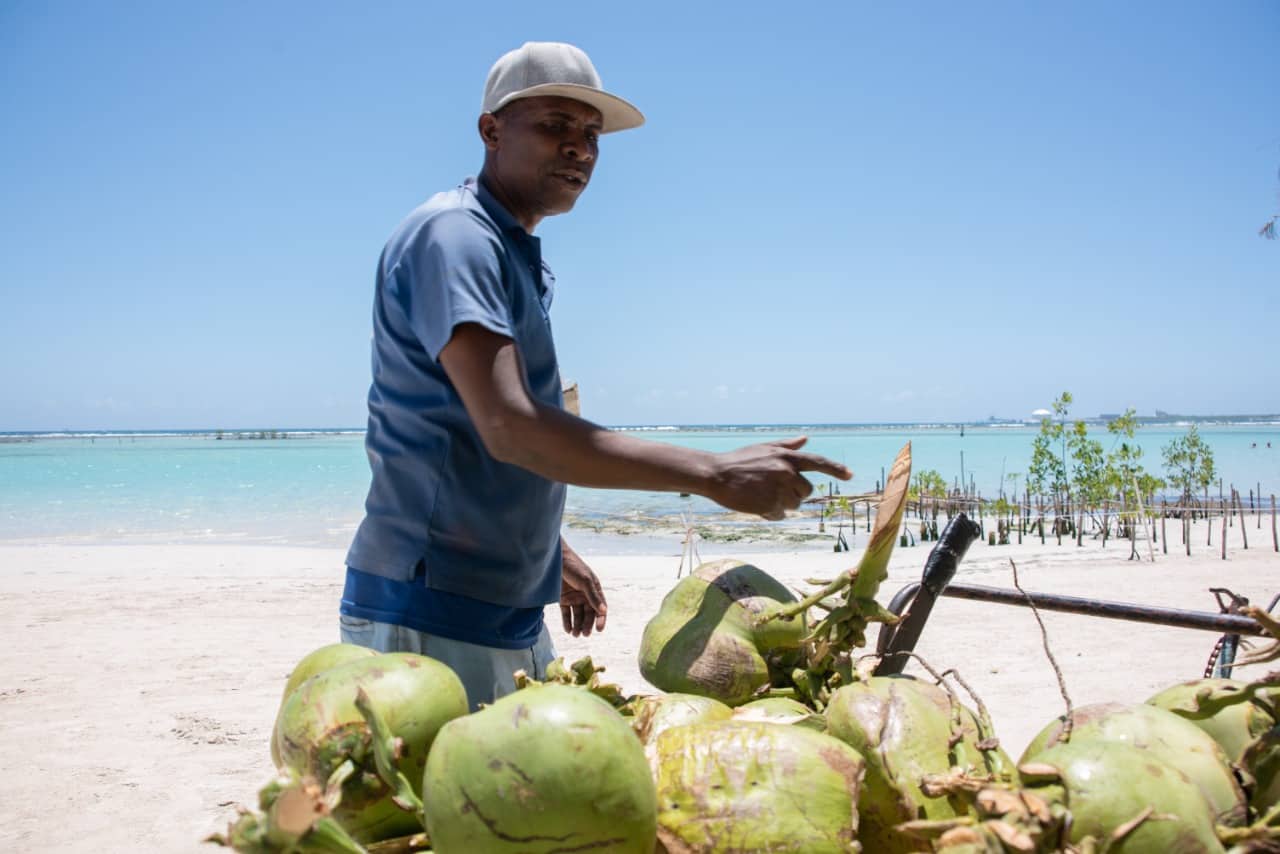 A part of the ushers, who normally aggressively harass visitors by fighting among themselves, are now organized in a union, wear distinctive shirts and cards and take turns serving those who arrive. They say they now earn a fixed percentage of sales: 5% on food and 10% on drinks.
How much a person who comes with their partner, family or friends will spend will depend entirely on the place they choose, since the price difference for the same product can be significant. It is also necessary to look at the minimum consumption established by each business for the right to use the table, because if that threshold is not reached, additional money has to be paid.
Food
Let's compare the prices of the style fried snapper small mouth of three restaurants that have their tables located near the beach, and a stand of the well-known Vendors Square. The three restaurants have prices of 650, 850 and 1,100 pesos for each pound of fish, while the establishment consulted in the aforementioned plaza charges 1,400 pesos per pound.
The two stalls with the lowest prices do not include the side dish, which, in the case of the tostones, is priced at an additional 100 and 250 pesos. The last two do have it included.
A pound of grouper is sold at 795 pesos without garnish, 850 and 950 with garnish, depending on the stall.
The shrimp service in the three restaurants costs 780 pesos with garnish, 800 and 950 without that additional. In the Seller's Squares the complete service costs 1,350 pesos.
To all these rates is added an 18% Itebis and a 10% legal tip.
Drink
The small Presidente beer is sold from 175 pesos to 200 pesos, and the medium one is around 300 pesos.
In the field of rums, the Brugal Extra Viejo small service, for example, can cost 1,200 pesos in the Plaza de los Ventas, while in restaurants it reaches 890 and 950 pesos.
Tables and chaise longue
Those who carry the traditional pots full of spaghetti and moro de habichuela or pigeon peas are not welcome on the beach, an usher jokes. He says that he is not interested in renting chairs and tables, but that people buy what is sold there.
People who do not consume at least 3,000 pesos at the tables in the Plaza de los Vendores and in another of the restaurants visited by Diario Libre must pay 1,500 pesos for having used it.
But those who carry everything from home and only need a table with four chairs can rent it from 400 to 600 pesos from other people who are dedicated to that work. The chaise longues are rented between 300 and 500 pesos.
Roberto Darío Mateo Flores, who works at small mouth Since 1978, he admits that at Easter "things change, because chairs and tables are going to be needed there." He estimates that the price reaches 800 or 1,000 pesos.
Massage, inflatables and games
Those who prefer to give themselves a massage lying on a chaise longue would pay 2,500 pesos for an hour, although if they only want about 10 minutes, people like Nilka could leave it at 500 pesos.
She herself explains that braids can cost from 2,000 pesos for a person with little hair, up to 5,000 for another with many strands.
Mario Díaz is a street vendor selling plastic buckets and shovels for children to play in the sand and protective goggles for water. He sells both things for 200 pesos.
The inflatable floats are offered by another man, who did not want to give his name, from 200 to 350 pesos for the largest ones.
The cheapest you can find small mouth are still the traditional Yaniqueques that the vendors walk along the beach and that are served with ketchup. For only 35 pesos you can taste one.
The yaniqueques can be accompanied with a coconut water, peeled on the spot, which the coquero offers for 100 or 150 pesos, depending on the profile observed in the interested party.