A total of 165 cases of COVID-19 infections were detected in the last 24 hours, 164 due to community transmission and one imported case, bringing the confirmed accumulated to 543,759, 1,847 active cases, while the number of recovered It places 536 thousand 105 patients, thanks to the free treatments guaranteed by the Bolivarian Government.
This was announced this Saturday by the Executive Vice President of the Republic, Delcy Rodriguez, during the customary daily balance offered by the Presidential Commission for the Control and Prevention of COVID-19, through its account on the social network Twitter @delcyrodriguezv.
He reported that the community cases are located in the states: Carabobo (44), Caracas (31), Miranda (27) and Zulia (21), among others, which are shown below:
Carabobo is the state that registers the most new community cases (44), with active infections in seven municipalities: Valencia (13), Puerto Cabello (13), Naguanagua (6), San Diego (6), Los Guayos (4), among others shown below: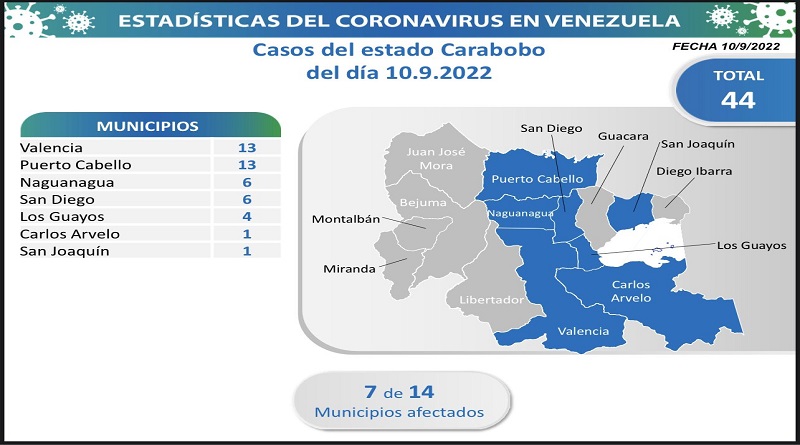 The only imported case is a woman from Panama with entry through La Guaira.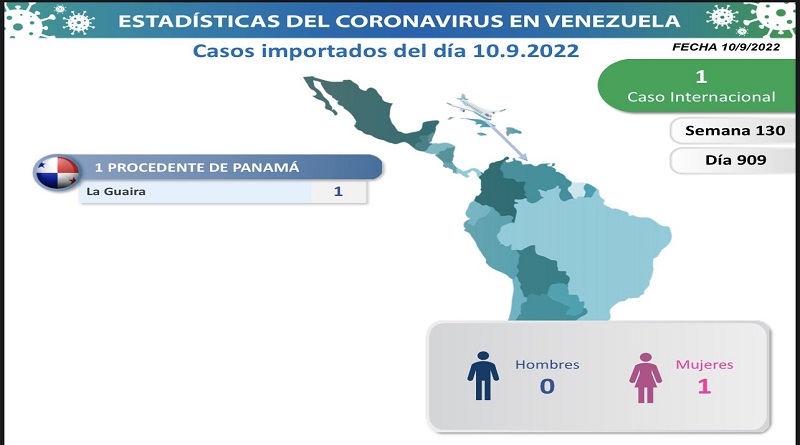 Unfortunately, the death of a 76-year-old woman was reported in the Portuguesa state and an 82-year-old man in Nueva Esparta, to reach 5,807 in the national territory. Condolences to his family and relatives.
In week 130 and day 909 of the pandemic in Venezuela, these are its general statistics:
– Total infections: 543 thousand 759.
– Recovered patients: 536 thousand 105 (99%).
– Current active cases: 1,847.
– Total deceased: Five thousand 807.
5/5 The Coronavirus has not gone away and protection continues to be essential to cut the chains of contagion. The call is to comply with biosecurity measures and get a booster vaccine every 4 months against #COVID19. Tod@sa take care of yourself and don't let your guard down.

– Delcy Rodríguez (@delcyrodriguezv) September 11, 2022
VTV/BH/SC