A total of eleven new infections of COVID-19 were detected in the last 24 hours, of which they are all communal what elevates to 550 thousand 624 the accumulated confirmed, with thousand 291 active caseswhile the number of recovered stands at 543 thousand 501 patientsthanks to the free treatments guaranteed by the Bolivarian Government.
This was announced this Monday by Sector Vice President of Communication, Culture and Tourism, Freddy Ñáñezduring the usual daily balance offered by the Presidential Commission for the Control and Prevention of COVID-19through his account on the social network Twitter, @luchaalmada.
#BalanceCovid19➡️➡️ 1023 days after the pandemic in Venezuela, we inform that the country registered 11 new cases, all community

— Alfred Nazareth (@luchaalmada) January 3, 2023
He reported that the community cases are located in: Caracas (8), Miranda (3).
Caracas presents the highest number of infections in two of its 22 affected parishes: Sucre (5), El Recreo (3).
Likewise, he highlighted that to date we have 908 patients who are asymptomatic, 246 with mild Acute Respiratory Failure, 88 with Moderate Acute Respiratory Failure and 49 in the Intensive Care Unit.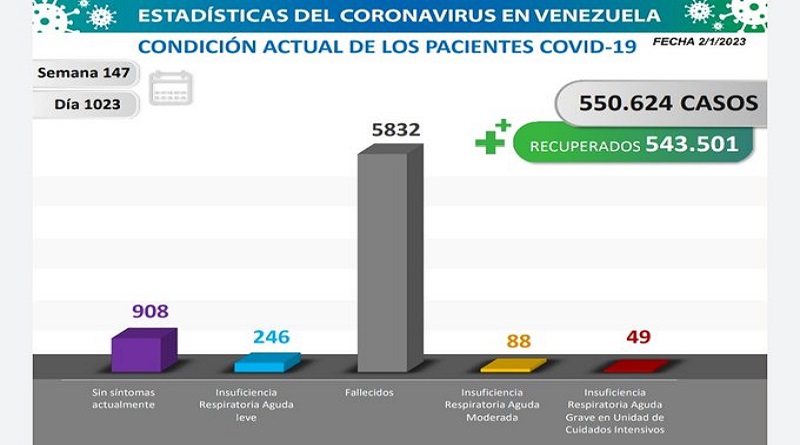 In week 147 and day 1,023 of the pandemic in Venezuela, these are its general statistics:
– Total infections: 550 thousand 624.
-Patients recovered: 543 thousand 501 (99%).
– Current active cases: thousand 291.
– Total deaths: Five thousand 832.
VTV/YR/EL/CP