Andres F. Hoyos decided to publicly tell about "the mess" he has with a bank, including, presenting all the documents, "the irregularities in the bank statements and collections continue", they are charging him 20 million purchases that he did not make, he was in Bogotá and they did them in Medellín.
Colombia News.
Andrés commented in detail that since November 2021, when he purchased a purchase online and paid through his bank, Banco de Occidente.
According to Hoyos, these months he has tried to get a solution and return the money for his purchase, because this was not done in the end and Amazon returned the money to his bank, "he does not receive a response."
On the contrary, with some documents he denounced, more problems have arisen.
Dilation in the process, denounced Andrés
One mail after another, calls, among other procedures to the bank and control entities such as the SuperFinanciera, he has done so that the bank solves him, because in addition to the first claim and apparently charges that were made to him and did not correspond to him, they are also charging interest and even risk of a report to centrals.
Since November, Andrés decided to acquire products through the Amazon platform, given the time of December and the difficulty of transportation, some products were canceled or delayed.
Therefore, the business gave him 2 options, give him a bonus or return the money to his credit card, for which he preferred the second.
Of 5 transactions carried out by Amazon, the bank only reflected 3 and the rest remained pending within 30 days.
Due to Amazon logistics regarding "purchase segmentation" and the claim filed, the response was that depending on the financial status, the lead time was 30 days or more.
Andrés insisted that he did not want to obtain reports from the bank since it was an error between the bank and the merchant, to which Amazon replied that the pending value had already been repaid.
After 30 days and with a new delinquent statement, the bank replied: "Pay calmly and then we'll solve it." He did not agree because "it is a bank error."
He proceeded to send his receipts and pertinent evidence to the Financial Superintendence of Colombia, @SFCsupervisor. "That there was no effective response«
Second abnormality
Despite this, Andrés did not expect the response he received from the bank a few days later.
He also had a problem with a purchase of 20 million pesos in a notary in Medellín, to which he emphasizes that it is something absurd«I am not in Medellin nor do I have that quota».
As time passed and by February the answers were more confusing and the entities he turned to were not very helpful.
The entity agreed with him and promised him a prompt solution in each response by mail and call that they made. However, the mess was far from over.
Third anomaly
When he was waiting for the reimbursement of his money and the exoneration of everything else that he had not consumed, he received an extract for 1 million pesos and this time, for income to VIP rooms x10 that are included free, due to the platinum status of the Credit cards.
Andrés proceeded to expose the case in public relations of the Banco de Occidente to which he was assigned an advisor who asked him for peace of mind and agreed with him.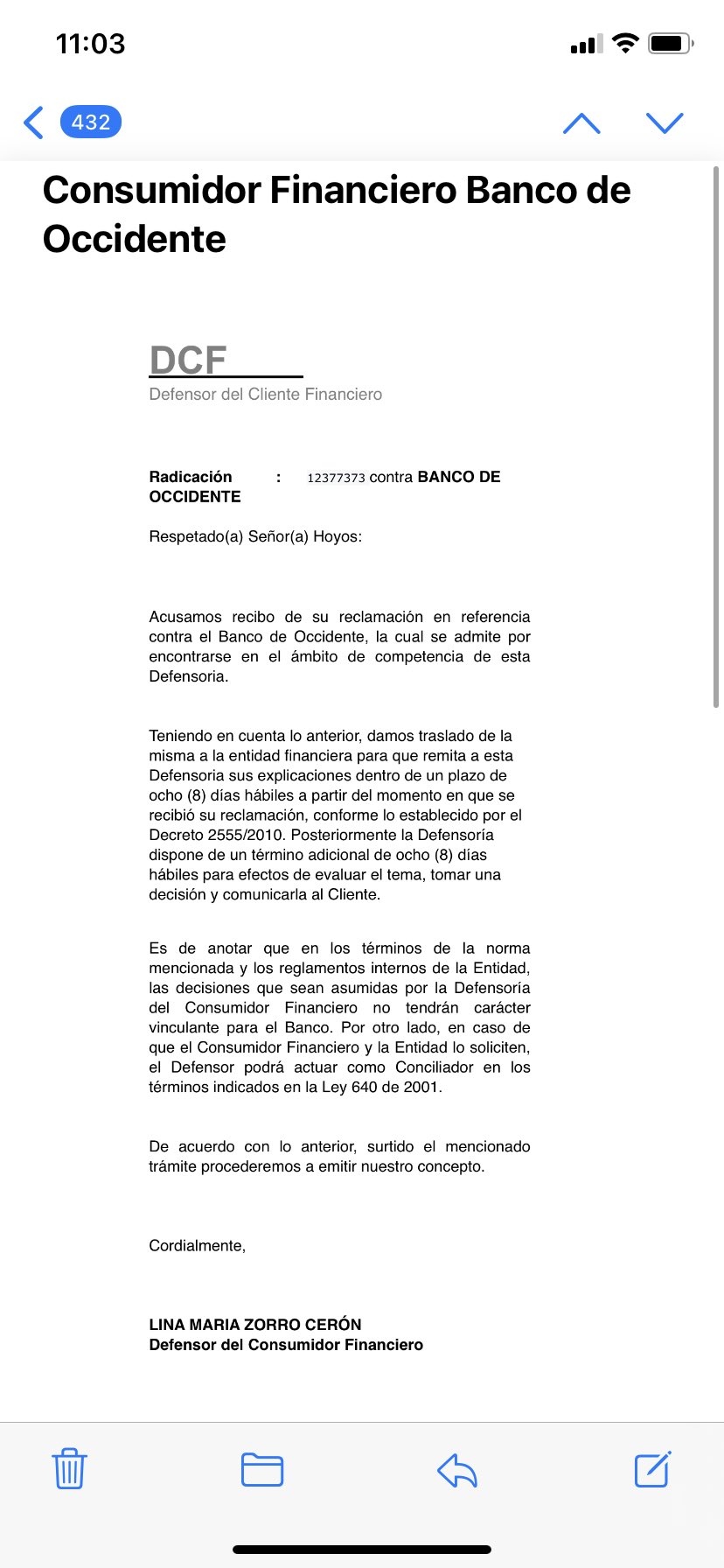 The answers were: "Pay and then we will refund you" , by ignoring he received many calls for delay and even threats to report to the law office.
He continued to trust the SuperFinanciera entity to continue with the case "and they stopped responding more than 20 days ago", however the calls continue from different numbers.
fourth anomaly
From one moment to another, the 'Priority pass' card that he has used for more than 10 years was charged, turning it into 'Gold', practically forcing him to pay for that transition.
Andrés continues to fight to fix this situation with the financial institution, it has not been an easy road, he denounces.
Finally, he received an email where they sent him the solution of a problem in his name with data from another client, creating more confusion and inconsistency.
Once he revealed his case, many exposed different messes that arose not only with Banco de Occidente, but with other entities.
They denounce that to deliver credit cards and services to people, they attend quickly but "to deal with complaints, manage solutions to customers, no."
Friends. Never have products from @Bco_Occidente Never! I am going to tell you a macabre story that has been happening to me for 6 months and has not been resolved despite escalating all internal consumer protection processes @SFCsupervisor @sicsuper (touches me in thread) stop him balls…

– Andres F. Hoyos (@donandreshoyos) April 12, 2022